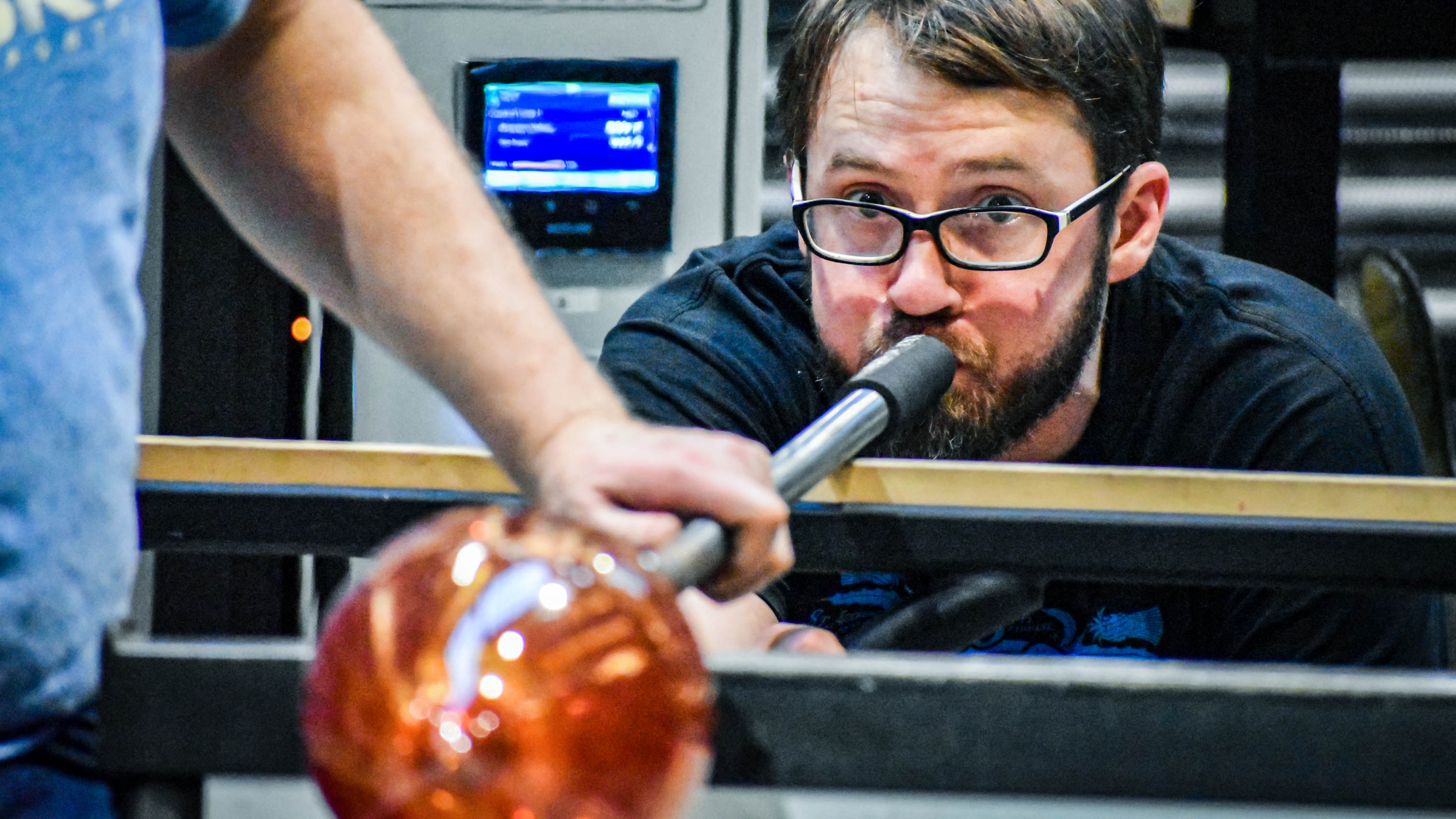 During the cold and dark Michigan months, it can be easy for the winter lull to affect your business. Although a lot of corporate team building activities take place through the spring and summer, winter could be a great time to get out of the office and get motivated together.
There are several beautiful and unique locations in Flint & Genesee available for booking your next corporate-team building workshop. Some are rather new; others have been around for many years.
One of the newest locations is the Flint Institute of Art's Hot Shop. Describing it as a hands-on, intense team activity where participants must work together to complete a finished product, instructor and Glass Programs Manager Brent Swanson has been busy helping local corporate groups build camaraderie while learning the foundations of glass blowing.
"This is a typical practice at glass facilities around the country," said Swanson. "In other glassmaking companies, I have seen hundreds of companies participate in these types of team building workshops.
"The medium of glass is seductive and has the ability to capture the spirit of art and experience. The glassmaking process is rooted in teamwork, communication, choreography, science, history and practice. It's only natural to bring to the table the years of experience in glass teamwork to the world."
Offering workshops, soirées, courses, private lessons, classes, events and residencies, the FIA Hot Shop has glass classes for all ages (16-99) as well as free glass blowing demonstrations hourly on Saturdays from 11 a.m.-4 p.m.
The YMCA Camp Copneconic offers team-building activities – both indoor and outdoor – as one of its year-round programs. Located on 750 acres in Fenton Township, it offers a faraway feel to a variety of local businesses.
"We've done everything from hosting local church team building and schools looking for an offsite professional development day, to a recent visit from the Hurley Pediatric Unit, who was here for some training and offsite bonding experience," said Katie Comack, who directs the summer camp and adventure learning programs. "A lot of these groups benefit from just the change of scenery."
Camp Copneconic offers great flexibility in terms of space. Depending on the group's size, it accommodates smaller meetings in the cabins and have other spaces for larger groups, up to 400 people.
"Any time that people can get outside and in nature, people do feel energized," Comack said. "On top of that, working with the group programs we offer, they leave with a better understanding of themselves and who they are working with."
Just like the sizes of groups vary, the focus and length of the team-building session varies and is built off what the business needs.
"We focus on what kinds of needs the group has and what they want to get out of it," said Comack. "Sometimes they need to work on things like communication, collaboration and trust, so we build the activities around those things. Other times the focus is more on fun and getting to know each other."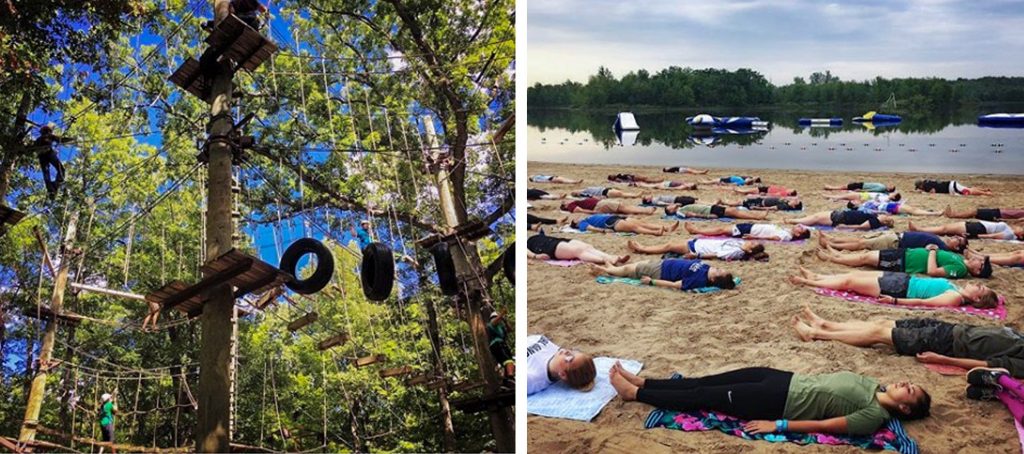 Camp Copneconic features three zip lines, a climbing wall, a high-ropes course and a giant swing. Although all activities are not available depending on the weather, Camp Copneconic has outdoor, physical activities as well as indoor initiatives to help businesses during the winter months.
Another destination is Base Camp Challenge Center, a program of the Genesee Career Institute. Located on Torrey Road in Flint Township, Base Camp broke ground in 2000 and offers team building based on the business's specific needs.
"For example, GM will bring in a group who are working on a new part or product to make sure that the team is communicating to the best of their ability. Or, if a company just got new administrators or new management, they will use Base Camp to incorporate them into the program and get them communicating," said Director Beau Munsell. "When they learn about each other, they feel more like a group rather than the employees versus the new administrators."
Base Camp features a high-ropes course and low-ropes course along with an escape room as part of the high rope activities. It also boasts a rock wall unlike any other in Michigan, Munsell said.
"Most are plastic peg walls with parts that are rock while this one is a real rock wall," he said. "It was put in with a rock mixture and rock sediment so that it behaves like rock, withstands all the weight and even sweats like real rock."
The rock wall stands 32-feet, with 10 different routes. Each route is leveled to accommodate a range of skill levels. To make it more challenging, climbers can be blindfolded, wear weighted vests or be tethered to another person so they have to move at the same height.
"Ninety percent of all the climbers we see here will have a route that they can handle and be successful," said Munsell. "Maybe not the first try, but, usually by the second try they will get to the top."
An important element of Base Camp is that every member of the group feels successful. With its motto "No participant left behind," Munsell and the rest of the team do everything they can to make all of the activities as accessible as possible.
"There is always a way to do something," said Munsell. "Our facilitators will work on individual and group goals to make sure everyone leaves feeling like they were successful at their challenge."