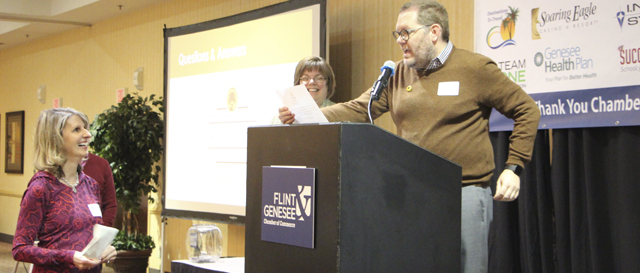 Congratulations to our members on the move featuring FGCC members' grand openings, promotions, new hires, recognition and milestones
(Featured) At the Feb. 13 Chamber Luncheon, Dale Weighill (right), associate vice president for institutional advancement at Mott Community College, presents Suzanne Carnes (left) of Sorensen Gross Construction Services with a prize for winning the trivia contest. Weighill and Michelle Glenn, MCC acting vice president of academic affairs (center) later share information about the college's new state-of-the-art Culinary Arts Institute in downtown Flint.
Member News
---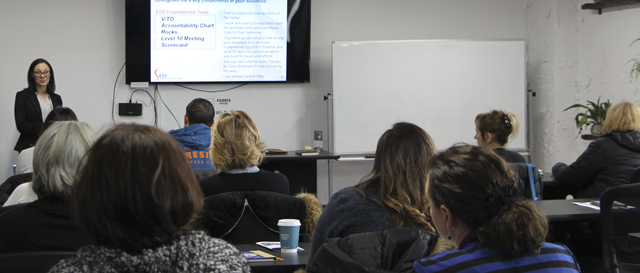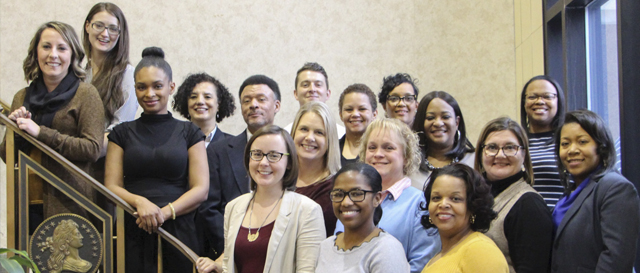 Promotions, New Hires and Recognition
---
Doug Glazier has joined McLaren Flint as the new vice president of the McLaren Flint Foundation. Glazier was previously the executive director of the Michigan Chapter of the Leukemia and Lymphoma Society. Prior to that he was the chief development officer in Henry Ford Health System's Philanthropy Department.
Lewis & Knopf, CPA, P.C. announce the following promotions: Joel Gibbons, CPA, is a principal of the firm. Gibbons specializes in servicing medium-size businesses with complex multi-state tax issues in a variety of industries. Allen Gamble, CPA, is a senior staff accountant and specializes in governmental and not-for-profits auditing and small- to medium-size businesses.
ROWE Professional Services Co. has three new associates. Steven L. Clifford, CST II, Brian M. Sarkella, PE, and Nathan G. Whiting, PE, join the group of 19 current associates, which are company shareholders who participate in the firm's long-range goal development to improve the quality of services provided to clients. Clifford is survey project coordinator in the Survey Department in ROWE's Lapeer office. Sarkella is a project engineer in the Construction Services Division in the Farmington Hills. Whiting is a project manager in the Construction Services Division in the Flint corporate office.
Kettering University has named Scott Travis the new director of admissions. Travis began at Kettering in September 2013 as an admissions counselor. He has served in various roles in the Department of Enrollment Management and Marketing, including associate director of admissions.
The Community Foundation of Greater Flint named six local leaders to three-year terms: Dr. Nita Kulkarni, a board-certified obstetrician/gynecologist; Robert Landaal, president of Landaal Packaging Systems; Carma Lewis, community outreach coordinator, Flint Action Coordination Team; Marjory Raymer, Flintside publisher and managing editor; Julie Serra, a retired kindergarten teacher for Grand Blanc Community Schools; and Ron Stack, Cyclefit Multisports founder.
Brian G. Glowiak is the new CEO of Metro Community Development. He is formerly vice president of the Society of Manufacturing Engineers Education Foundation, where he developed an innovative vocational training program linking local manufacturers with school districts. Glowiak succeeds Ravi Yalamanchi, who stepped down after 23 years of leadership.
The State Bank promoted the announced the following promotions: Sarah Emery to assistant vice president of the wealth management division, with responsibility day-to-day marketing and sales operations for The State Wealth Advisors; Chris O'Connor to assistant vice president for the retail operations division, with continuing responsibility for overseeing retail operations and project management; Jessica Slieff to retail banking officer, with responsibility for managing and expanding the retail portfolio in the Fenton region.
Nine attorneys at Howard & Howard are shareholders of the firm, including: Daniel R. Chojnowski, Johnathan W. Fountain, Timothy D. Gronewold, Johnathan F. Karmo, Alexander M. Leonowicz, Paul S. Mazzola, Laurie A. Perez, Jason P. Weiland and Evonne Xu.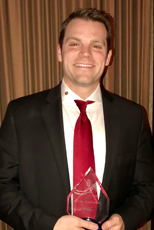 The Ruth Mott Foundation promoted Todd Bakos to director of estate operations at Applewood Estate. He oversees and coordinates maintenance of Applewood, including the gardens and grounds, security and facilities. Bakos succeeded Deb Elliott, who retired after 39 years at Applewood.
Financial Plus Credit Union is proud to announce that Howell Branch Manager Jake Andrews was awarded the prestigious "Young Professional of the Year" from the Howell Area Chamber of Commerce. The award recognizes a young professional who is growing and excelling within the Howell community.
Willie Buford, site manager at the YouthQuest afterschool program in Flint & Genesee, was selected as a National Geographic Education Fellow in recognition of his thought leadership in the education space. As an Education Fellow, Buford will help to elevate the work and reach of the National Geographic Society's educational offerings.
E&L Construction President & CEO Greg Krueger announced the addition of three new members to its' ownership team: Jeff Krueger, Mike Carlyon and John Ray. Krueger, chief financial officer, over-sees accounting, financial and treasury management areas. Carlyon, vice president of field operations, leads all field operations and activities. Ray, vice president of indus-trial operations, continues to lead E&L's industrial construction market. E&L Construction Group, Inc. is the 84 largest contractor in the Midwest and headquar-tered in Flint with offices in Orlando, Fla., Fort Wayne, Ind., and Grand Rapids.
---
Business News
Rassini Brakes, LLC was awarded a $300,000 Michigan Business Development Program performance-based grant to expand its Mt. Morris Township facility. The company plans to construct a 50,000-square-foot addition that will house additional manufacturing space and some warehouse/distribution space and add 50 new jobs. Mt. Morris Township provided a 50-percent property tax abatement to support the $8.5-million project.
Huntington Bank has again been recognized by Greenwich Associates for excellence in the delivery of small business banking, middle-market banking and cash management services that help customers' businesses thrive. Greenwich Associates awarded Huntington Small Business Banking with two national Greenwich Excellence Awards for Cash Management Overall Satisfaction and Cash Management Customer Service. The business also received two Greenwich Best Brand Awards for Best Brand – Overall and Best Brand – Cash Management.
Fentura Financial, Inc., the holding company for The State Bank, has been named to the 2019 OTCQX® Best 50, a ranking of top performing companies traded on the OTCQX Best Market last year. The OTCQX Best 50 is an annual ranking of the top 50 U.S. and international companies traded on the OTCQX market. The ranking is calculated based on an equal weighting of one-year total return and average daily dollar volume growth in the previous calendar year.
Mott Children's Health Center (MCHC) and University Pediatricians, the physicians of the Children's Hospital of Michigan, have launched a pediatric cardiology clinic at MCHC in Flint to serve the children of Genesee County.
The 61 primary care physicians and 17 advanced practice providers of Genesys Integrated Group Practice – one of the largest independent practices in Mid-Michigan – are now part of Ascension Medical Group in Michigan. This acquisition also includes three imaging centers, seven physical therapy locations and an urgent care clinic.
The area's newest sports franchise is now known as the Flint City Bucks. The soccer team, part of the USL League Two, will play its games at Atwood Stadium sporting new team colors and crest. The new name pulls from European convention using the name of the town followed by the word City.
The State Bank reported a record- breaking year with its fundraising campaign for the Food Bank of Eastern Michigan, bringing in $37,842.50. Fourteen bank branches in Genesee, Shiawassee, Oakland and Saginaw counties participated in various fundraisers, including collecting donations from customers, candle and candy bar sales. The State Bank has contributed $224,706 – or 1,348,236 meals – to fight hunger in the community in the 17-year partnership with the Food Bank.
GST Michigan Works! announced that Michigan's Going PRO Talent Fund (GPTF) awarded 38 businesses in Genesee, Huron, Lapeer, Sanilac, Shiawassee and Tuscola counties a total of $983,095 to assist in funding training to enhance local workforce, increase company capacity, retain talent and acquire new work. "The (GPTF) award for 2019 will have a direct impact on our company's continued growth as a Michigan mechanical contractor," said Cheriè Parks of Goyette Mechanical Co., Inc. "The funding is an important financial benefit for our company that helps us to retain employees through promotions, increased wages, and creates opportunities for new hires. GPTF ensures that Michigan's employers have the talent they need to compete and grow, and individuals have the skills they need for in-demand jobs.