In most industries, a qualified, well-trained workforce is critical to ensuring a healthy bottom line.
That's important, sure.
But in the medical field, you could say workforce development is literally a matter of life and death.
And Genesee County is doing its share in providing training opportunities to budding medical professionals.
All three of Genesee County's major health care systems – Hurley Medical Center, Ascension Genesys Hospital and McLaren Greater Flint – are teaching hospitals where recent medical school graduates hone their skills in residency programs before embarking on careers as fully certified physicians.

"Having teaching hospitals in your community — and Flint is uniquely positioned to have three — is very meaningful," said Tonya VanOrder, director of medical education at Ascension Genesys Hospital. "It's really an example of local workforce development."
And, of course, there's also the Michigan State University Flint Area Medical Education facility in the former Flint Journal building in downtown Flint, which serves as the Flint campus for year-three and year-four students in the MSU College of Human Medicine, many of whom participate in community health and research initiatives, serve clinical rotations at local hospitals and eventually become residents there.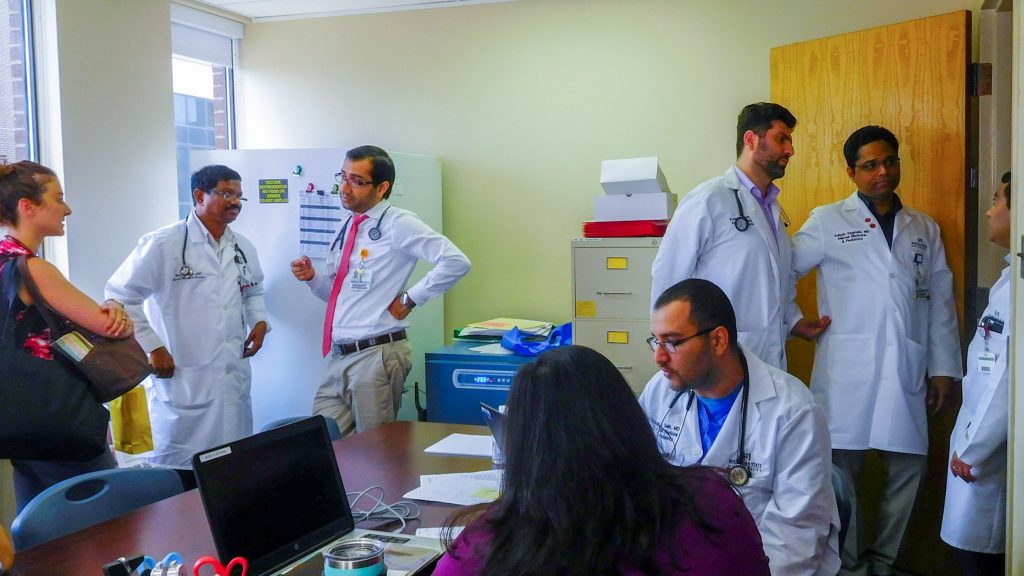 At any time, more than 350 residents and fellows are stationed at local hospitals where, after graduation from medical school, they train for another three years or more, depending on the specialty in which they are concentrating. Fellowships are an additional year or more of specialized training beyond a residency program.
While some residents and fellows wind up permanently joining a local hospital's staff, most move on after completing their specialized training.
But while they are here, they have an economic and community impact that is often underappreciated or not understood by the general public, say residency program administrators.
A family affair
First, there's the simple fact that they are residing in the community – and often with their families, including spouses who typically also are well-educated and work in a white-collar profession plus children who require schooling and child care services.
And while residents are paid only a fraction of what they will earn upon completion of their program, it's money that otherwise wouldn't circulate in the local economy if not for the medical residencies.
"The economic impact of medical residency programs on the community is pretty broad," said Jim Buterakos, chief academic officer at Hurley Medical Center. "But at the most basic level, the residents are out there spending money in the community. They're bringing their families and they're going to need housing."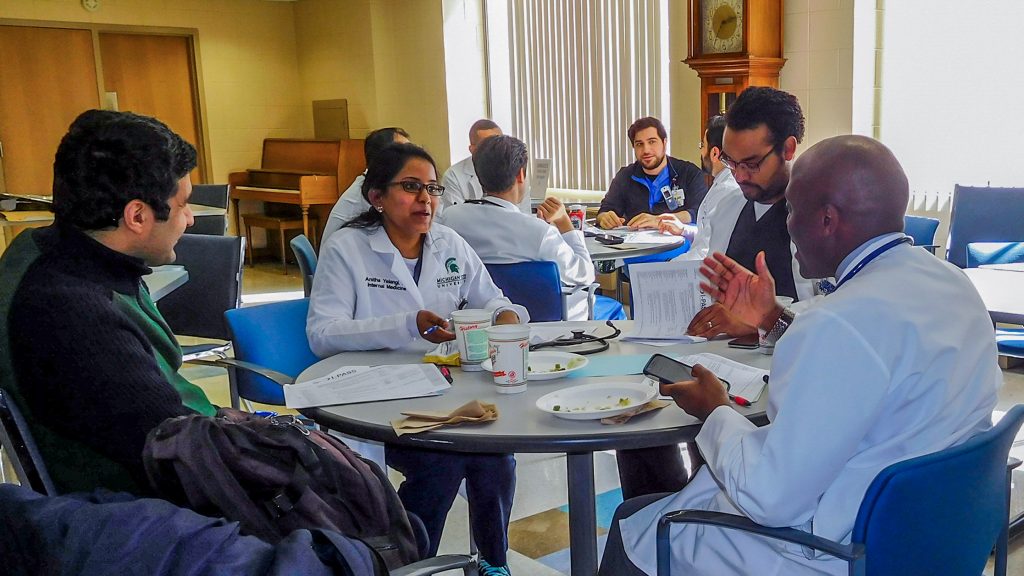 That observation is echoed by Erin Reis, director of medical education at McLaren Flint.
"They work here and live here, and they love downtown Flint, I can tell you that," she said, noting the recruitment that goes into attracting medical residents to the community. "There are a lot of things that attract people to the city of Flint. Everybody who comes here says they didn't know it was so great."
Residency programs are one part of Genesee County's health care tapestry. According to labor market analytics firm Emsi, health care and social assistance is the region's largest employment category, accounting for 16.71 percent of jobs in the county in 2018.
Furthermore, residents, like other medical doctors, are a key component of the county's health care infrastructure, with the duties they perform generating need for the services of other health care professionals, such as medical transcriptionists and physical therapists, VanOrder said. "Residents are a big part of creating that demand," she said.
Ensuring access to care
Beyond the hard economic impact that results from having highly trained professionals living, working and spending in the community, residency programs offer other benefits to the community — centered, of course, on health care.
"Residency programs provide access to care to the community that may not otherwise be available, particularly in pediatrics," said Buterakos, noting that Hurley participates in residency or fellowship programs involving pediatrics, pediatric clinical health psychology, pediatric dentistry and pediatric emergency medicine. "I think the residents are really part of the fabric of the community when they are providing access to care."
Indeed, residents are typically called on to staff community clinics that provide basic medical services at no cost to uninsured or underinsured patients, McLaren's Reis noted.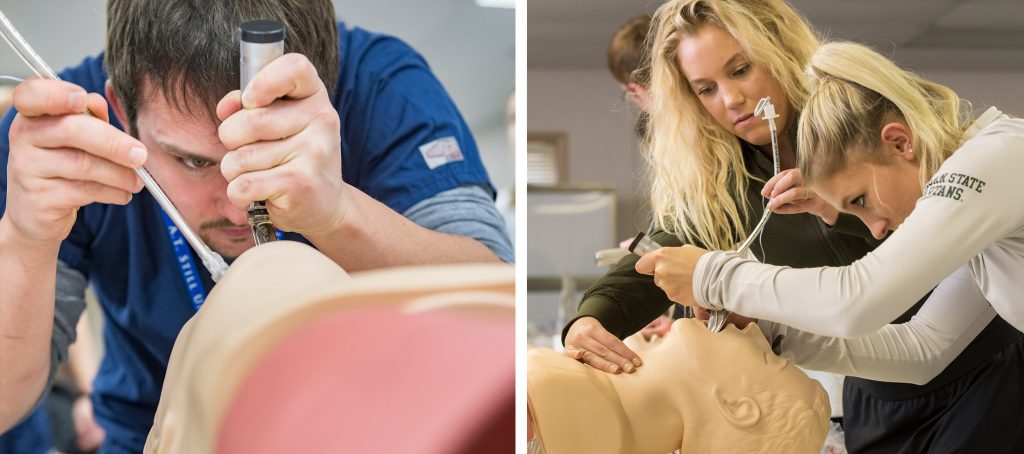 They also are likely the first doctor most patients encounter during a hospital visit, she said. "Residents are the first line of physicians at the hospital, and they're here 24/7 so they can see people immediately and help out right away," she said, noting that more experienced staff physicians are summoned as necessary.
But make no mistake: Residents have already earned the title of medical doctor upon their graduation from medical school. As residents, they're building on their skills under the supervision of attending physicians, earning increased responsibility and independence as they gain experience.
"By the time they are finishing their residency, they should be able to perform procedures autonomously," VanOrder said.
Residents also are crucial to patient relations, helping to explain a doctor's orders or other aspects of medical care in greater detail.
"Residents have more time to spend with patients," Reis said. "What I see is resident physicians being patients' biggest advocates."
Teachable moments
Residents are recruited from medical schools within Michigan and elsewhere in the U.S. (Genesys, for example, takes many from Kirksville College of Osteopathic Medicine in Missouri), as well as internationally.
On top of that, the hospitals also host third- and fourth-year medical students who are completing clinical rotations in various programs as part of their degree requirements. "The rotations also help students decide on an area to specialize in during their residency training", VanOrder said.
"They get exposed to what that kind of life is like," she said.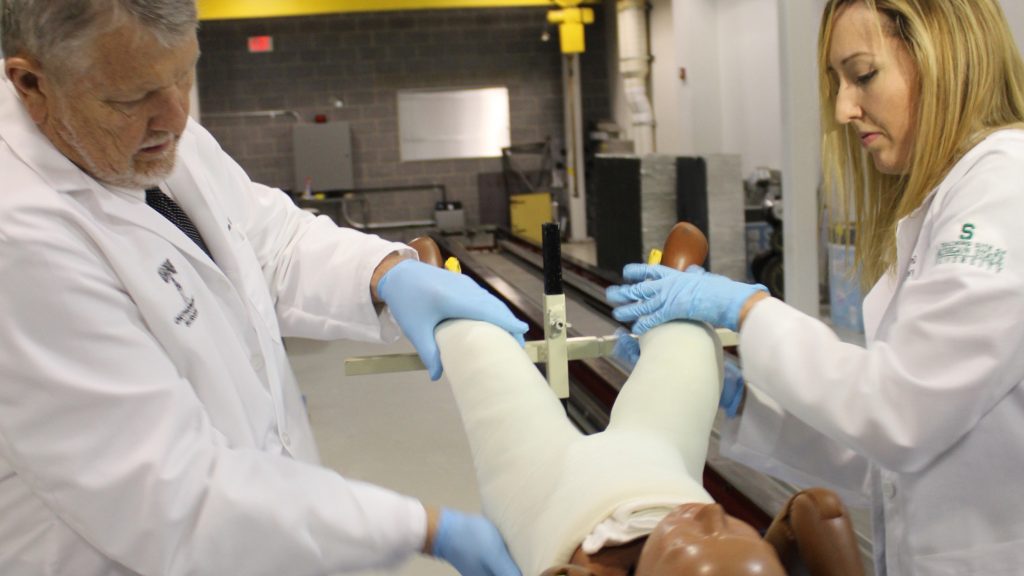 Hosting medical students also helps hospitals identify desirable residency candidates, just as residency programs serve to distinguish prime candidates for permanent staff positions, according to Reis.
"The idea is to train them and keep them here because we invest so much time in training them," she said. "A lot of people wind up staying here because they fall in love with the community."
However, more residents complete their training each year than hospitals have staff openings for, so the bulk of them move on and further their careers elsewhere. At McLaren, Reis said, the goal is to at least retain within the health systems service areas throughout the state.
But it's not only residents and medical schools who benefit from hospital training programs. The full-time medical staff does too because — since teaching hospitals are expected to train residents in the latest techniques – they can stay up to date on the latest developments in their fields, Buterakos said.
"Without residency training, some specialists and access to some types of care wouldn't be available to the community," he said.
Reis noted that medical residency governing bodies require programs to include research to ensure a well-rounded education. McLaren's research partner for residents specializing in orthopedics is Kettering University, where residents spend four months of dedicated research.
"It really raises the bar," Reis said of the staff-wide impact residency programs can have at hospitals. "These young doctors are coming in with fresh ideas and fresh minds. They're not afraid to challenge the status quo."