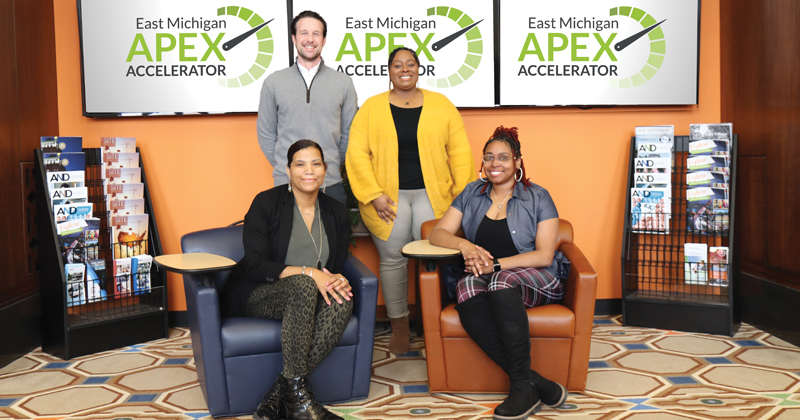 (Featured above) The East Michigan APEX Accelerator team
As of Feb. 1, what was previously known as the Flint & Genesee Economic Alliance Procurement Technical Assistance Center (PTAC) is now the East Michigan APEX Accelerator. It is one of more than 90 former PTACs nationwide that is — or will soon be — rebranding following a change in where the program is housed at the federal level.
Previously managed by the Defense Logistics Agency, the APEX Accelerator program now operates under the direction of the Department of Defense (DoD) Office of Small Business Programs (OSBP). At the state level, it's now overseen by Pure Michigan Business Connect.
Locally, Jasmine McKenney is program director of the East Michigan APEX Accelerator, which provides businesses with the tools, resources, and support needed to successfully explore government contracting. Specifically, her team provides seminars, workshops, and direct consultation to help businesses identify and navigate government contracting opportunities on the federal, state, and local levels.
AND magazine recently caught up with McKenney to learn more about these changes as well what's on the horizon for the program.
---
AND: There have been a lot of changes for your program in recent months. How did they come to be?
JM: A few years ago, a group of professionals came together as the Section 809 Panel to identify gaps in contracting and provide recommendations to Congress on what direction to go. One of the things they recommended was to move (what was formerly) the Procurement Technical Assistance Programs to the DoD — which finally came to fruition in October 2022.
AND: Given the new ownership, is the program geared toward businesses interested in pursuing defense contracts?
JM: No. We're here to help businesses pursue contracts with the DoD, but also with other federal agencies, state, and local governments.
AND: Beyond the name change, what else is different?
JM: Previously, we could only work with businesses that had been in operation for at least two years. Now, we can help startups as well as nonprofits. These services are provided at no cost and include seminars, workshops, and direct consultation to help businesses identify and navigate government contracting opportunities on the federal, state, and local levels.
AND: How are you feeling about the transition?
JM: I'm excited. I think it will allow us to provide an even stronger program to our clients. We're looking at being able to leverage the connections of our federal stakeholders and bring in more diverse buyers for our businesses. The DoD has relationships with General Dynamics and Boeing. Between that and the support they can offer, there's a lot to look forward to.
AND: What are the most impactful services that you offer?
JM: One is the work we do around certifications. The government sets aside a portion of its federal contract money for businesses that have certain certifications, such as Woman Owned Small Business, HUBZone, etc. I'm proud of the work our team does in this space because our clients have a very high acceptance rate in these certification programs. We're able to look at their applications before they're submitted to the reviewer, and we can see the kind of gaps that might be missing in telling the story of that business.
Another way we're able to help is through the bid-match program, which is available to all our clients. We put in a business' capabilities, and then they receive a daily email that lets them know about relevant contract opportunities. This is a free service that has a value attached of around $2,500 to $5,000. That alone is worth the connection to APEX Accelerator.
AND: What's coming up?
JM: We're partnering with Saginaw Future on our Meet the Buyer event on June 15. Businesses get the chance to meet with contracting officers from all over. It doesn't guarantee anyone a contract, but it does put them in front of people making purchasing decisions. And the one thing that we all know about business is that it is about your network. We've definitely had some clients who have walked out of the room, if not with a contract in hand, then with the connection to that contract.
It's a great opportunity for small businesses, and it's also helpful to contracting officers. This gives them the chance to get out from behind the computer and get to know some of our area businesses that may be able to provide the resources and services they need.