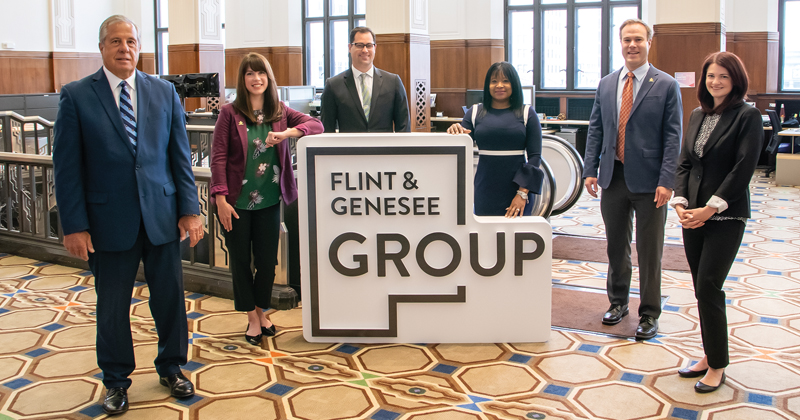 They're now operating under a new name, but they're still pursuing the same mission — to promote economic prosperity in Flint and Genesee County.
Each of the newly created divisions under the Flint & Genesee Group umbrella — Flint & Genesee Education & Talent, Flint & Genesee Chamber, Explore Flint & Genesee and Flint & Genesee Economic Alliance — has an executive director in place to oversee its daily operations. They're all veterans in their field, so the realignment largely serves to shine a brighter spotlight on services they were already providing. We asked each one to discuss their division's role, responsibilities and plans for the future.
Dr. Kimberly Leverette, Executive Director
Flint & Genesee Education & Talent
What's the overarching mission of your division?
Our education and training is intended to develop the workforce of today and tomorrow. We support the region's growing workforce. We provide programs and services designed to prepare community members for success in the 21st-century workforce. In our view, workforce development starts well before high school graduation, which is why we offer a variety of programs supporting the academic and professional success of our students as well as the community.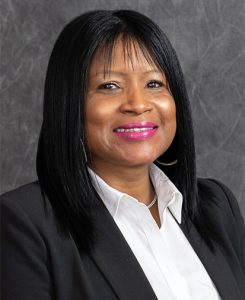 What are the specific programs that your division offers?
YouthQuest is a high-quality after-school enrichment program that serves K-12 students in Flint Community Schools and International Academy of Flint. It takes a holistic approach to learning, and it focuses on six core components: academic support, enrichment, physical fitness, nutrition, youth development and leadership, and family and community engagement.
TeenQuest is a pre-employment and leadership-training program available to all high school students ages 14 to 19 in Genesee County. It's a hands-on workshop series that gives students a basic understanding of skills that are required in the workplace, such as communication and conflict management, how to apply for and interview for a job and open their own checking and savings accounts.
Students who successfully graduate from TeenQuest are invited to interview with local employers during the annual Summer Youth Initiative jobs fair.
Those aren't the types of programs that are typically associated with a chamber of commerce, are they?
We're unique in having these programs aligned with what is now the Flint & Genesee Group. We have career prep, we have talent tours. We are also committed to increasing the number of students in the Flint and Genesee career and college pipeline. We are the administrator of the Flint Promise Scholarship, which was launched in 2018 to invest in the future of Flint students.
Our messaging with the rebranding is to show and communicate to the community that students and families have lots of opportunities that they can take advantage of.
What we do in Flint & Genesee Education & Talent all interconnects with the Flint & Genesee Group's other divisions, and we're being more intentional about that. For example, we're working with the Economic Alliance on a manufacturing job fair, which is historically something that has not been done. So we're making sure that across divisions, we're really true partners working to support economic vitality.
Andrew Younger, Executive Director
Flint & Genesee Chamber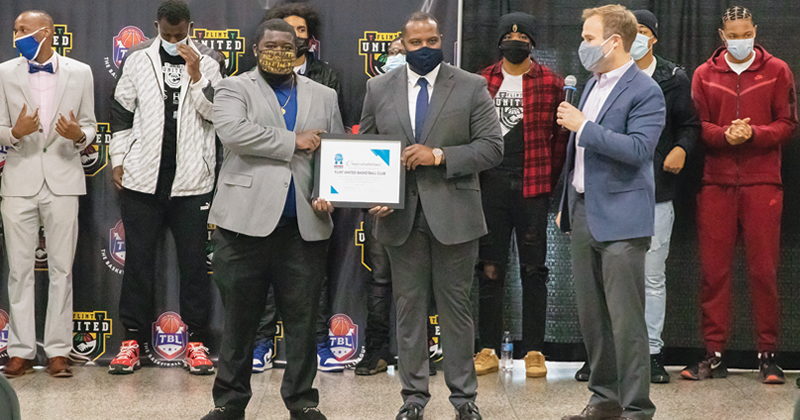 What was your role before the rebranding and realignment?
I was the director of member services. For the most part, the focus and ultimate goal of what I'm doing really hasn't changed. We are the arm that tends to serve more of those traditional chamber of commerce functions, like having special events, welcoming new businesses to the community and highlighting the products and offerings that our members have. We tend to focus on the retail. Our mission is to help businesses in Flint and throughout Genesee County thrive and grow so that they can offer the goods and services that our residents need to create a great quality of life here.
Are any new programs or initiatives in the works?
This is kind of specific to this point in time, but one of my very important charges is to help our businesses recover from the impact of the pandemic by helping them shift from survival mode to sustainability and growth mode. A lot of that will very much have to do from the input that we get from them. Because we have these four separate divisions, it positions us to position our members as well as possible.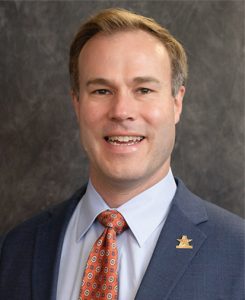 So the rebranding, to you, is largely a matter of just putting a sharper focus on the types of services the organization was already offering?
Exactly. I wouldn't say there will be new programs or initiatives created because of this brand change, but I think what's extremely helpful about this — you can't really call it a reorganization; it's more of a reassertion about who we are and what we have to offer — is that it will help our members understand what our scope of services are. So when they come to me with a challenge or opportunity, then I can better direct them to resources directly within my Chamber world or, say, if they're looking to grow, I can connect them with the Economic Alliance.
Frankly, I think the Flint & Genesee Chamber and the Flint & Genesee Group have set a higher standard for what chambers of commerce can and should do. When I look at what other chambers have to offer, it makes me realize the extent of what we do. I am just simply impressed by what we have to offer.
How do you see the Chamber's role evolving?
One imperative for me is to constantly seek input from our members and use that to determine what we can offer and bring them the most value. I like data and like to use it to make decisions. While I don't have any immediate plans, we're intend to examine what our member structure even looks like. One of the things we really want to do is make some of the benefits of being a chamber member accessible and available to even more businesses. We don't want cost to be a barrier, and we also want members to be comfortable making a choice on what chamber services they want to use and take advantage of. We want to make sure that everything we do is providing value to at least some significant portion of our membership.
Alaina Wiens, Executive Director
Explore Flint & Genesee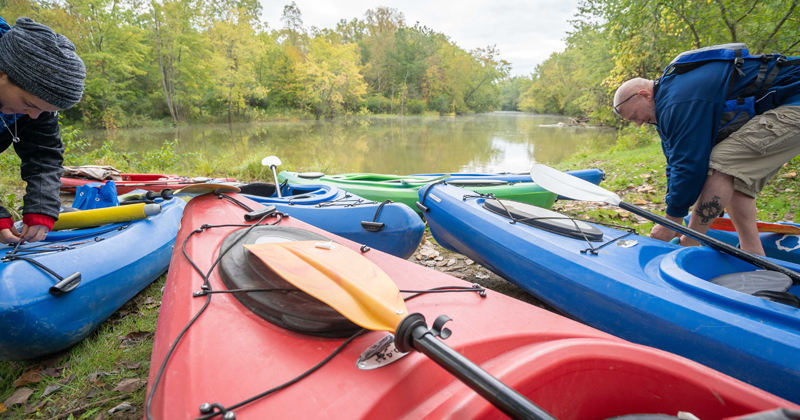 Your division previously operated as the Flint & Genesee Convention and Visitors Bureau. Why the significant name change?
The thing we like about Explore Flint & Genesee is that it's kind of a call to action that we've been using for several years now. It's more than just a description of what the division is — it's an invitation for our audiences to explore what we have in Flint and Genesee. And that works for people who live here, and it works for people who are traveling here. It's really more in line with what you would expect a travel organization to be called. It's the kind of nomenclature that really lines up better with how people search online. "Convention and visitors bureau" is something meeting planners and group organizers are probably familiar with, but I don't know if your individual travelers have a convention and visitors bureau top of mind as a resource.
But ultimately, our mission remains the same: We want to increase tourism. We want to bring folks and new dollars into Genesee County to help the economy. That's really it at its base core.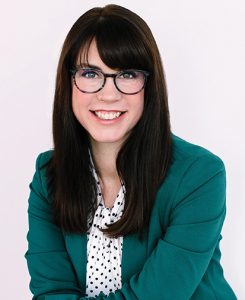 Perhaps more than any other Flint & Genesee Group division, the businesses you serve have been impacted by the COVID-19 pandemic.
It certainly has presented its challenges. As a convention and visitors bureau, we're funded by an accommodations tax, so in essence we are funded by those folks who we help bring in and who stay overnight in hotel rooms, which in turn brings in more money for us to market the county and bring in more people to continue the cycle.
So obviously when COVID happened and people couldn't travel and hotels couldn't operate in the same way, it hampered a lot of things — for the hotels and us. We've really tried to focus on being a good partner right now. Obviously, we have our challenges, but so do all of our hospitality partners. We really see our role as helping them through it as best we can. Any information, any resources or any guidelines we find out about, we just want to make sure we're supporting our partners with any of those things the best we can.
What are some other ways you serve the hospitality industry?
One of the things we keep hearing from hotels particularly is that, as things start to pick up a bit, they're having some real challenges with staffing. Obviously, lots of businesses are experiencing the same thing, but we've been hearing from hotels specifically. Our team partnered with the Economic Alliance and Education & Talent divisions and put together a jobs fair specifically for hotels to try to get some good candidates.
We want to try to offer actual resources and actual solutions for folks right now. We want to try to solve actual, tangible challenges when we're able to.
What will it take for the hospitality industry to rebound from the pandemic?
All the projections right now are that the meetings market and group travel market will be closer to recovery in 2023 and 2024, but there will be incremental improvements along the way. If we're going to get there, it's going to take a lot of partnerships within the community. And that means if you are a member of an organization that's planning an event and maybe Flint and Genesee would be a good place for that, we would love those folks to think of us as someone they can work with to bring that group here. We obviously want to be a resource to people outside our county who are planning to come here, but we really want to also be a resource for people who are already here so we can work together to bring it all back.
Tyler Rossmaessler, Executive Director
Flint & Genesee Economic Alliance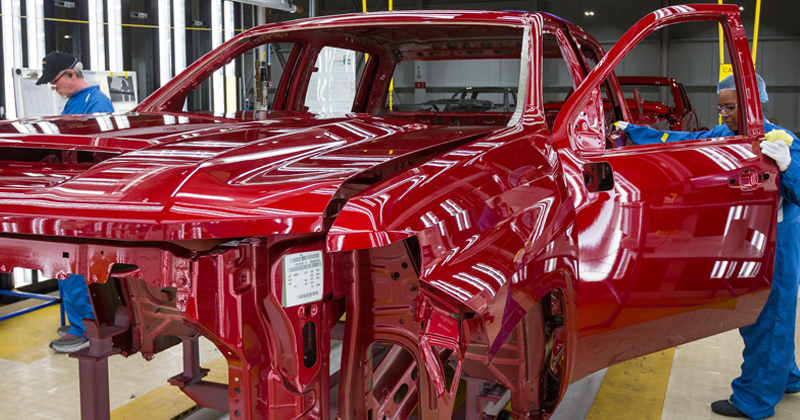 Every Flint & Genesee Group division, at its core, aims to boost the local economy. What's your division's specific role?
The Flint & Genesee Economic Alliance's role is to market the county and its locations, buildings and sites to businesses as a great place for them to grow and expand their operations. Sometimes those are businesses in our county and sometimes those opportunities lie with businesses and decision-makers who aren't here. Our goal is to spur jobs and investment so that we have a more vibrant economy in Genesee County.
What tools do you use to help accomplish that?
There are several things we do to help businesses grow here, no matter their stage or current location. For new businesses, we offer the Small Business Help Desk. Through this, our staff connects businesses to the various local resources that can help them grow. That might be a loan program. It might be an angel investor. It might be access to no-cost business coaching.
Our business retention services serve more established local "economic base" businesses. Our team of professionals come along side these businesses to help them address the challenges they are facing in their efforts to grow. It might be assistance as they navigate various processes, such as zoning, international trade or incentives. We also host the Region 6 Procurement Technical Assistance Center, which helps businesses navigate the complex world of government contracting at no cost. The No. 1 challenge right now that all businesses are facing is finding available talent. So, we do a lot of work to connect our companies to various talent pools.
Our attraction efforts actively market our community as a place for businesses to locate and grow. We use traditional and digital techniques to get our message out. Recently, the adoption of tools like Zoom has made meeting with decision-makers from Europe, Asia or the West Coast a lot more accessible. In addition to these active efforts, we continue to respond to RFPs and RFIs. These formalized responses allow us to provide detailed site-specific information to companies that are conducting national site searches.
Does the rebranding aid those efforts?
This has really been a chance for us to refine our communications. The types of clients we are working with often do not sell their product to strictly local customers. So, a local chamber of commerce does not always apply to their business. It often got confusing to our clients when they were called on by the chamber. Prior to this rebranding, we had to take extra effort to explain that we were there to help them grow because of our focus on the county's economic growth without an expectation of a membership. In addition, our attraction clients do not necessarily call the local chamber of commerce first. They may call the local economic development organization like they would in other communities.
Now we have an efficient and effective way to communicate to our audience of businesses who we are and how we can help them.