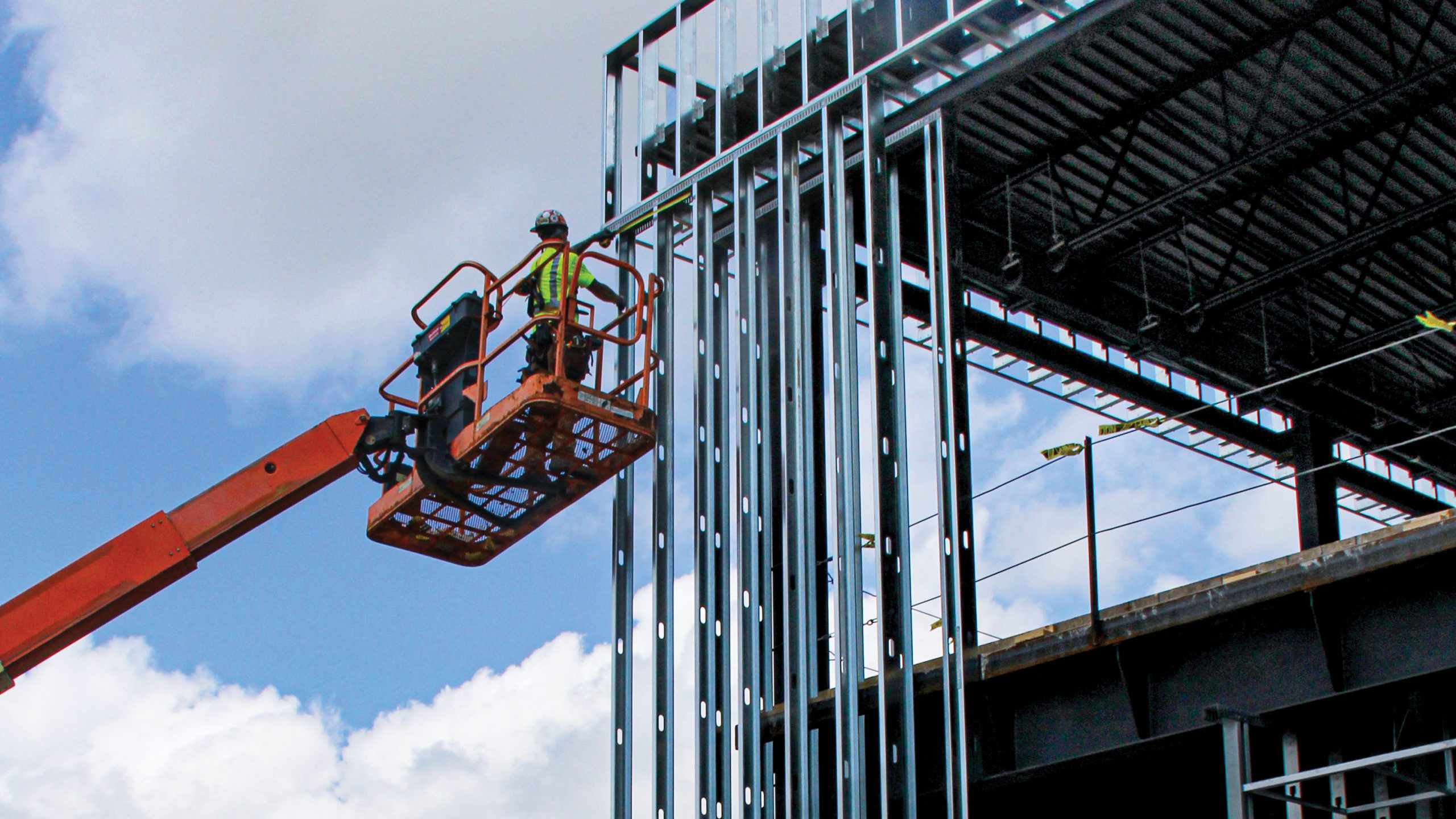 Key forward-looking indicators of construction activity up sharply from 2020 levels
It's the height of construction season, the annual period when the local landscape is altered for the next several years.
Drive around the community and you'll see various multimillion-dollar projects that are certain to become anchors or mainstays in their neighborhood or commercial district, including the Kettering University Learning Commons building; ELGA Credit Union's new headquarters off Hill Road in Grand Blanc Township; Goyette Mechanical Co.'s expansion of its Flint headquarters; the ongoing renovation of the Flint Public Library and renovation and expansion of the Sloan Museum of Discovery in the Flint Cultural Center; redevelopment of the former Target outlet at Center and Lapeer roads in Flint into an Ashley Furniture HomeStore; and construction of the 111 Building, a four-story office, retail and apartment complex in Fenton.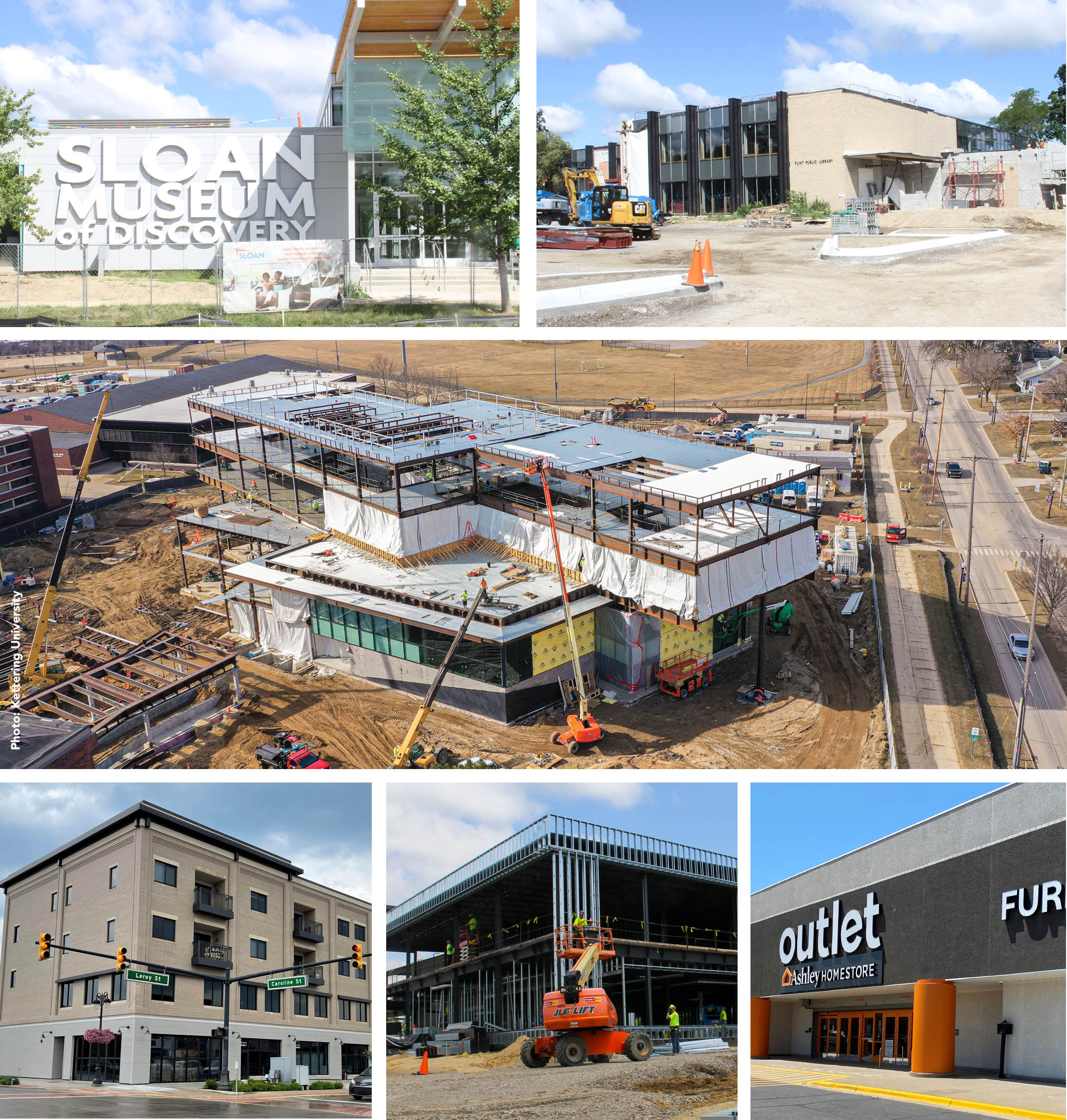 All that activity — and more — is taking place even amid the hardships that the COVID-19 pandemic has produced for the construction industry.
"COVID has certainly disrupted our projects," said Ghassan Saab, CEO of Flint Township-based Sorensen Gross Construction Co. "It is largely behind us, but it has left some projects behind schedule."
That's because construction firms are contending with both workforce and material shortages, as well as higher input costs, although lumber prices were starting to decline after unprecedented increases this spring.
"Everything has accelerated in cost," said Jimmy Greene, president of the Associated Builders & Contractors of Michigan statewide trade association. "That's had some influence on builds – some stoppages, some revisiting of plans, some remodeling. I think that more than anything has given us some pause."
And while the workforce shortage isn't as acute for the construction industry as it is for some other sectors, such as restaurants, it's certainly an issue. That's particularly the case in skilled trades such as plumbing and sheet metal, where workers are retiring faster than they're being replaced, Greene said.
Ken Simonson, chief economist for the Associated General Contractors of America, noted that the size of the nonresidential construction was down 3.4 percent nationally at the end of the May compared with a year earlier. At the same time, residential construction was 9.9 percent higher. Those opposite trends are at least partly a reflection of soaring demand for housing compared with general sluggishness in the nonresidential sector.
"It does seem like the nonresidential side has less demand for workers," Simonson said. "At the same time, we know there were a very high number of job openings at the end April. Anecdotally, I hear all the time from contractors that they're having a hard time getting and retaining workers."
Indeed, 59 percent of Michigan contractors who responded to an AGC survey indicated they were having a hard time filling some or all positions.
"The problem is we still need a more robust workforce," Greene said. "There's no question that we're shorthanded, and at some point, that's going to delay timelines and that's going to be problematic for consumers and our customers. It's going to be kind of an interesting strategy on how to get the work done and with whom. We're spending a lot of time trying to get young people interested in the skilled trades."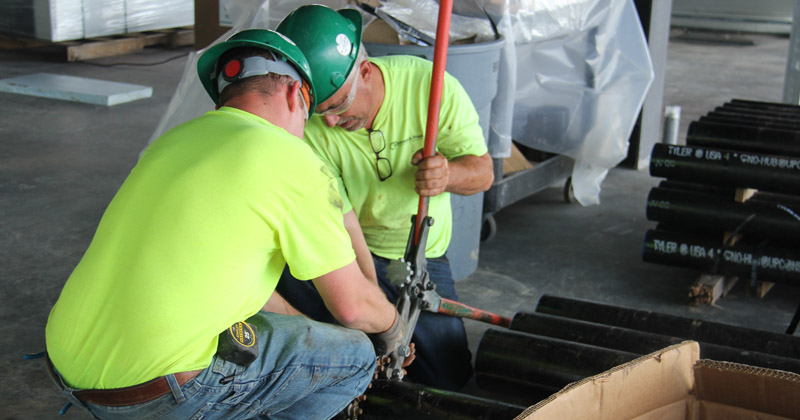 At the same time, demand for nonresidential construction has yet to fully ramp up in the wake of the pandemic.
While spending on private residential construction soared 22 percent nationally during the first four months of the year, nonresidential expenditures were down 8 percent and 2 percent in the private and public sectors, respectively, Simonson said.
The longer-term trends for nonresidential builders are more positive, however, as more work enters the pipeline.
Both the Architectural Billing Index and Dodge Momentum Index, key forward-looking indicators of construction activity for roughly the next year, are up sharply from 2020 levels, Simonson said.
"I'll put it this way — orders are fantastic," Greene said.
But even then, a sporadic recovery appears likely. Talk of increased infrastructure spending on the federal level is one reason for hope, even though any resulting projects are probably years away, Saab said.
"Our infrastructure is in sad shape," he said. "Compared with Europe, we're not looking so good."
The outlook for commercial properties is cloudier, given how the pandemic accelerated the movements toward remote working and online shopping.
"There are articles every week about how employers are differing in the approach that they're taking in having workers come back, including having some work remotely indefinitely or using coworking spaces," Simonson said. "We'll continue to see remodeling to do away with close spacing in offices, but it will be a while before we see a lot of new construction."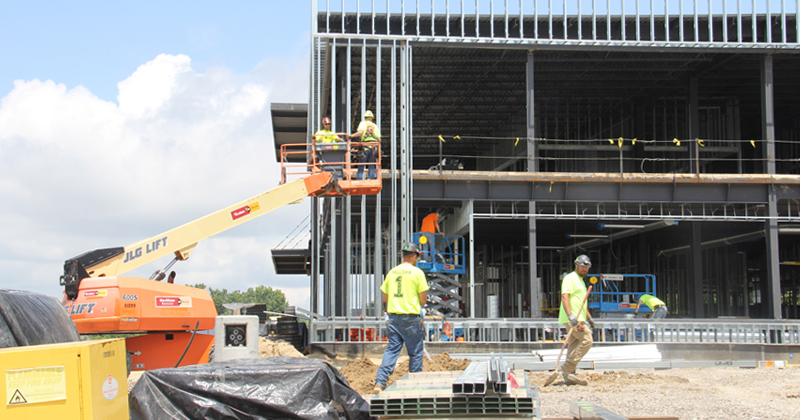 Simonson foresees a pattern similar to the last financial crisis, the Great Recession of 2009, when construction was hit more severely than other industries and for a longer period.
"That's not to say the industry is done for — there's always going to be a need for construction — but it's going to be a long adjustment process," he said.
'A beautiful addition to Hill Road'
In the meantime, those who are so inclined can track the progress of plenty of local projects, including ELGA's suburban headquarters and Kettering's new building in the heart of the city.
Ground was broken last summer on the ELGA project, which is situated on 11.5 acres on Grand Pointe Boulevard.
A full-service, 4,400-square-foot branch — the credit union's 14th location — is already open and serving ELGA's 5,000 Grand Blanc-area members, and the three-story, 60,000-square-foot headquarters is slated for completion in February 2022, said Sahar Abdallah, Sorensen Gross's vice president – Midwest. Around 200 ELGA employees will occupy the property.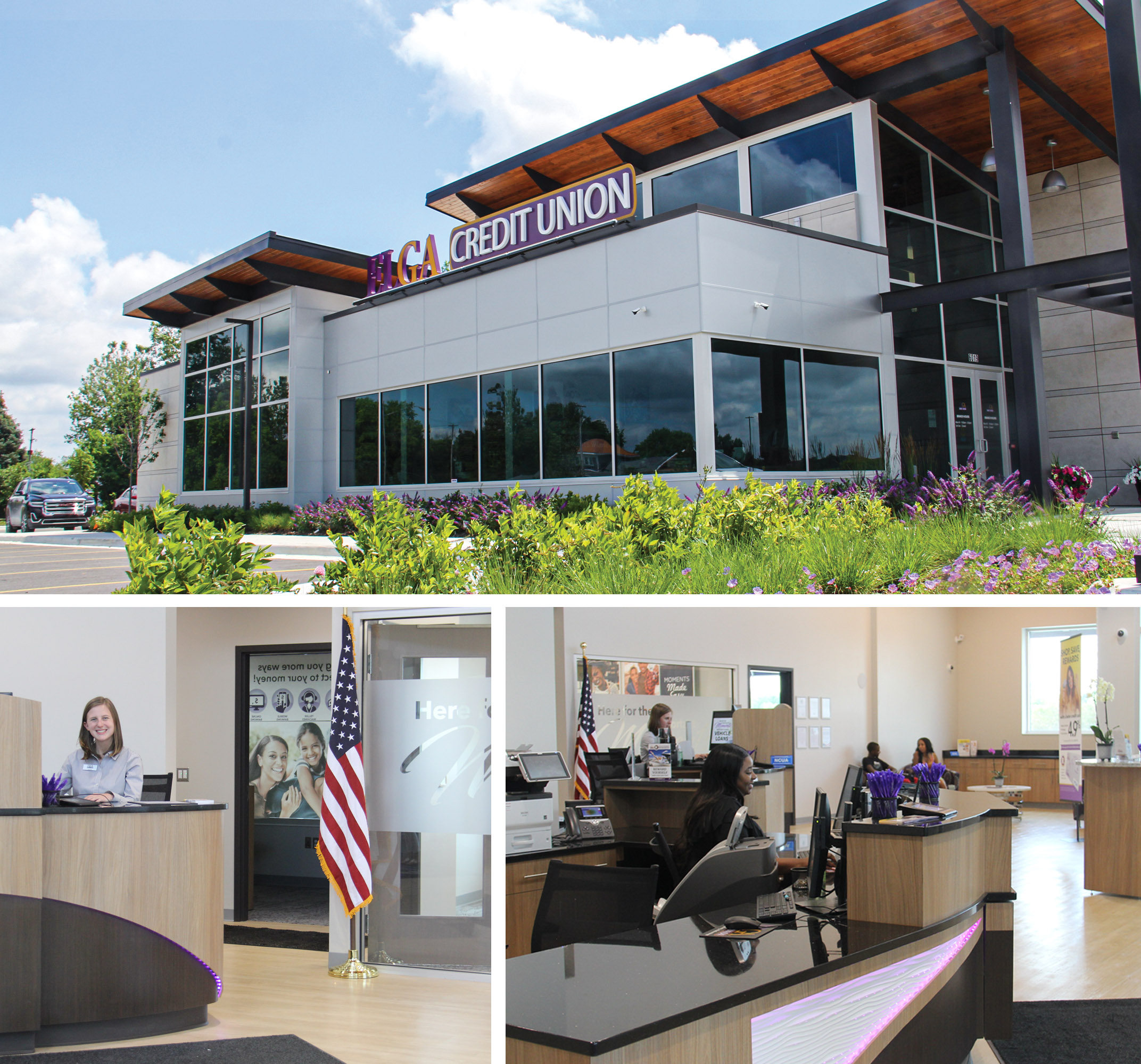 The glass-and-steel headquarters structure will feature such interior touches as exposed baffle ceilings, she said.
"It's a really nice atmosphere," Abdallah said. "It's a creative, unique design."
It's also reflective of ELGA's level of financial sophistication, Saab said. The credit union, which now has administrative offices on Center Road in Burton, was formed in 1951 to serve Consumers Energy employees and now has a presence in Genesee, Lapeer, Oakland and Saginaw counties.
"Credit unions today are like what regional banks were 40 years ago," Saab said. "I have to comment about what a beautiful addition that development is to Hill Road and the whole community."
'Conceptualized very differently'
Kettering University President Dr. Robert McMahan believes that the Learning Commons is also more than just another building.
"I do believe this project becomes part of the resurgence of this region," he said.
The $64 million, four-story, 105,000-square-foot structure, under construction since February 2020, is meant to serve as far more than a typical utilitarian, functional higher education facility with standard classrooms and other defined spaces.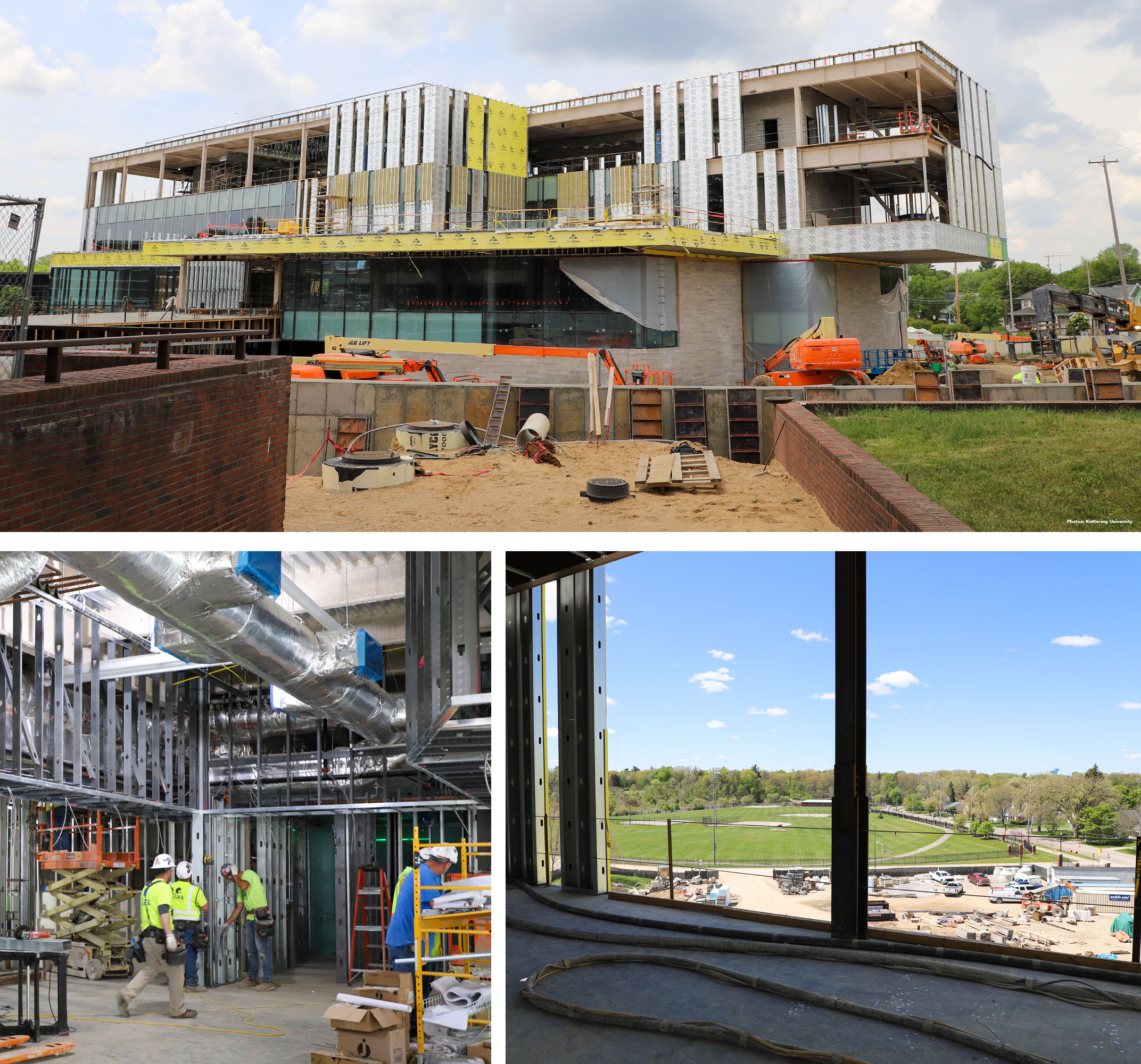 "This building was conceptualized very differently. It is unique in higher ed, and it's not just me saying that," McMahan said, adding that other universities are watching to see how the Learning Commons' delivers on its promise to reimagine space organization when it opens in fall 2022.
With its wide array of open spaces that are intended to promote collaboration and interaction, the facility is also designed to reflect Kettering's education model that combines campus instruction with off-site, on-hands co-op stints at companies that match students' career aspirations.
The literal centerpiece of the Learning Commons is the four-story-high open-air atrium that is meant to connect all aspects of the building. Stairwells between floors are not stacked and are visible in different areas of the atrium, as is an upper-floor conference room that cantilevers into the space.
Floor-to-ceiling glass is another central design aspect, and the building will also house features such as
a 300-seat theater and performance venue for lectures and presentations, an apartment for campus visitors, a maker space with 3D printers and other tools, and a room containing heavy equipment such as machine tools.
The overriding goal, McMahan said, is to offer a vibrant, central location where students want to stay instead of merely attending a class and then immediately leaving campus.
He likens the Learning Commons' design to the architecture of famous museums, in the sense that the space itself is as much of an attraction as what is contained inside.
"We created this building to operate as a whole," McMahan said.