Congratulations to our members on the move featuring FGCC members' grand openings, promotions, new hires, recognition and milestones
Participanting businesses (above and below) in the Our Town' Gift Card Match Program, sponsored by Consumers Energy. For every gift card purchased at participating businesses, a second gift card of equal value was received for FREE (up to $100)! (The program sold out.)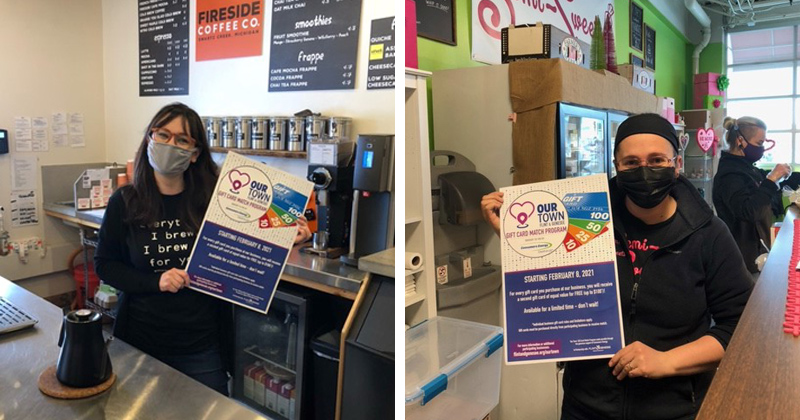 Promotions, New Hires and Recognition
---
Consumers Energy named Kyle McCree, a regional public affairs manager for Consumers Energy and former director of core initiatives for the Flint & Genesee Chamber, director of state governmental affairs and strategy. McCree will support Consumers Energy's state governmental affairs strategic planning, legislative research and analyses, in addition to advocacy work with legislators and state government officials in Lansing. He replaced Chris Iannuzzi, who has taken another position within the company's rate and regulatory affairs function.
Brian Larkin is the new director of the National Land Bank Network (NLBN) at the Center for Community Progress in Flint. He will help create and implement a formalized, national platform for NLBN members to connect and share knowledge, and develop innovative programs and policy reforms, reporting to the president and CEO, he will also collaborate with stakeholders to address common challenges facing land banks. Larkin was previously chief of staff for Flint Mayor Sheldon Neeley.
Gov. Gretchen Whitmer appointed new members to the bipartisan Protect Michigan Commission. Housed within the Department of Health and Human Services, the commission will help raise awareness of the safety and effectiveness of an approved COVID-19 vaccine, educate the people of this state, and help protect the health and safety of all Michigan residents. The commission includes the following members from Flint & Genesee: Dr. Mona Hanna-Attisha, Michigan State University and Hurley Children's Hospital Pediatric Public Health Initiative; Dondre Young, Community Foundation of Greater Flint; Dr. S. Bobby Mukkamala, Michigan State Medical Society and American Medical Association Council on Science and Public Health; and Dr. Lawrence A. Reynolds, City of Flint. Angela Hood-Beaugard, executive director of the Flint & Genesee Literacy Network, was appointed to the Child Lead Exposure Elimination Commission.
City of Flint Assessor Stacey Kaake is the new president of the Michigan Assessors Association Board of Directors. The Michigan Assessors Association is an organization dedicated to advancing the field of assessing statewide, especially through education.
Flint Mayor Sheldon Neeley on Jan. 15 honored five individuals and one organization with Lifetime Achievement Awards in recognition of Martin Luther King Jr.'s legacy. The honorees: Community Roots, a nonprofit organization run by four Flint natives using their 100 years of combined professional experience to bring the community together; the late Dr. Samuel Dismond, the first African-American chief of staff at Hurley Hospital and a trail-blazing physician who served the Flint community for more than 50 years; Chief Chris Miller, retired chief of public safety at Bishop Airport; Rev. Lewis Randolph, pastor of Antioch Missionary Baptist Church for 41 years; Dr. Lawrence Reynolds, medical adviser for the City of Flint, a pediatrician, former president and CEO of the Mott Children's Health Center; and Sheryl Thompson, recently retired deputy director of the Michigan Department of Health and Human Services Economic Stability Administration and former MDHHS director for Genesee County.
Genesee County Commissioner Mark Young on Jan. 6 was selected chairman of the county Board of Commissioners for 2021. Young (5th Dist.) then announced the chairs for the following committees: Finance – Commissioner Gary Peppin (9th Dist.); Governmental Operations – Commissioner Bryant W. Nolden (1st Dist.); Human Services – Commissioner Charles H. Winfrey (2nd Dist.); Public Works – Commissioner Domonique Clemons (4th Dist.); Community & Econ. Development – Commissioner Debra Newman (8th Dist.).
The Flint & Genesee Chamber announced Andrew Younger as the new director of Member Services. Younger is formerly the race director for the Crim Fitness Foundation.
Jet Kilmer is retiring as president of the Grand Blanc Chamber of Commerce after 17 years. The Grand Blanc Chamber had just over 200 members when Kilmer took over. Today, it has nearly 375. Kilmer said chamber board of directors is working with a recruiter to hire a new president.
Business News
---
President Joe Serra on Feb. 1 announced the newest addition to the Serra Automotive Group. Buff Whelan Chevrolet in Sterling Heights will become Serra Whelan Chevrolet. Founded in 1970, Buff Whelan Chevrolet has been the top Chevrolet dealer (No. 1 in New Vehicle volume) in Michigan since 2001 and the No. 1 volume Chevrolet dealership in the United States since 2017. Serra Whelan Chevrolet will be led by Ben Brown, Serra's business partner. Serra Whelan Chevrolet is Serra Automotive eighth Chevrolet point.
Andrews Hooper Pavlik PLC (AHP) on Jan. 1 merged with Flint-based Fromholz, Paauwe & Baker, P.C. The addition of the new office brings AHP to ten offices throughout the state of Michigan and 175 team members. "Merging with a firm that offers the same client-focused philosophy as our own makes this merger even more beneficial to both firms and our clients," said AHP Managing Partner William J. Mulders Jr., CPA, CVA, CGMA. "I am excited to offer our clients the wider array of business solutions that comes from a merger with a firm such as AHP. Even more advantageous is that we can do this while maintaining the same level of service our clients have come to expect from FPB," said FPB Partner Carroll G. Baker, CPA. The Flint office will continue to provide quality service to their clients from the same location of 5080 W. Bristol Road.
ELGA Credit Union on Feb. 15 celebrated its 70th anniversary. ELGA founded Feb. 15, 1951, to serve employees of Consumers Power Co., known now as Consumers Energy. The name ELGA is derived from the first two letters of electrical and gas. Today, ELGA, which has nearly 80,000 members, likes to say it stands for "Everyone Loves Goals Achieved."
The Ruth Mott Foundation announced an extension of its commitment to focus on north Flint for at least another five years. Launched in 2016, the Foundation's place-based strategy focuses on north Flint residents' top four priorities—youth, public safety, economic opportunity, and neighborhoods—chosen and reaffirmed by hundreds at forums across the northern half of the city.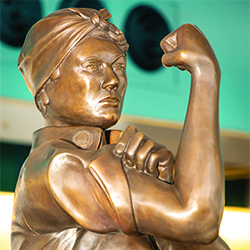 Back to the Bricks® and the Flint Women's Forum on Jan. 29 unveiled of the tenth statue in the Automobile Heritage Collection, Rosie the Riveter at Bishop Airport. Back to the Bricks Executive Director Amber Taylor was the principal in spearheading the fundraising efforts with the Flint Women's Forum where she serves as president. The virtual live unveiling was conducted in partnership with ABC12. Joining Taylor at the presentation was sculptor Joe Rundell, Flint native who made the Rosie Statue out of clay. John Gazall, president at Gazall Lewis Architects and chairman of the Automobile Heritage Collection, Stacy Shea Fields, dealer principal of Shea Automotive Group, emcee Gary Fisher, president of G.L. Fisher Management and vice president of the Genesee County Historical Society and Airport Director Nino Sapone.
GST Michigan Works! facilitated applications for 37 businesses located in Genesee, Huron, Lapeer, Sanilac, Shiawassee, and Tuscola counties for Michigan's Going PRO Talent Fund. All 37 businesses were awarded funds, with a total of nearly $1.8 million to assist in funding training to enhance local workforce, increase company capacity, retain talent and acquire new work.
The University of Michigan-Flint on Jan. 28 held a virtual grand opening and ribbon-cutting for the 61,000-square-foot expansion of the Murchie Science Building. The new wing is also an important first for the campus. With an initial goal of LEED Silver certification for energy efficient design, construction, and operations, the project is now tracking toward LEED Gold status, making the MSB expansion UM-Flint's first building to attain that status for a commitment to sustainability.