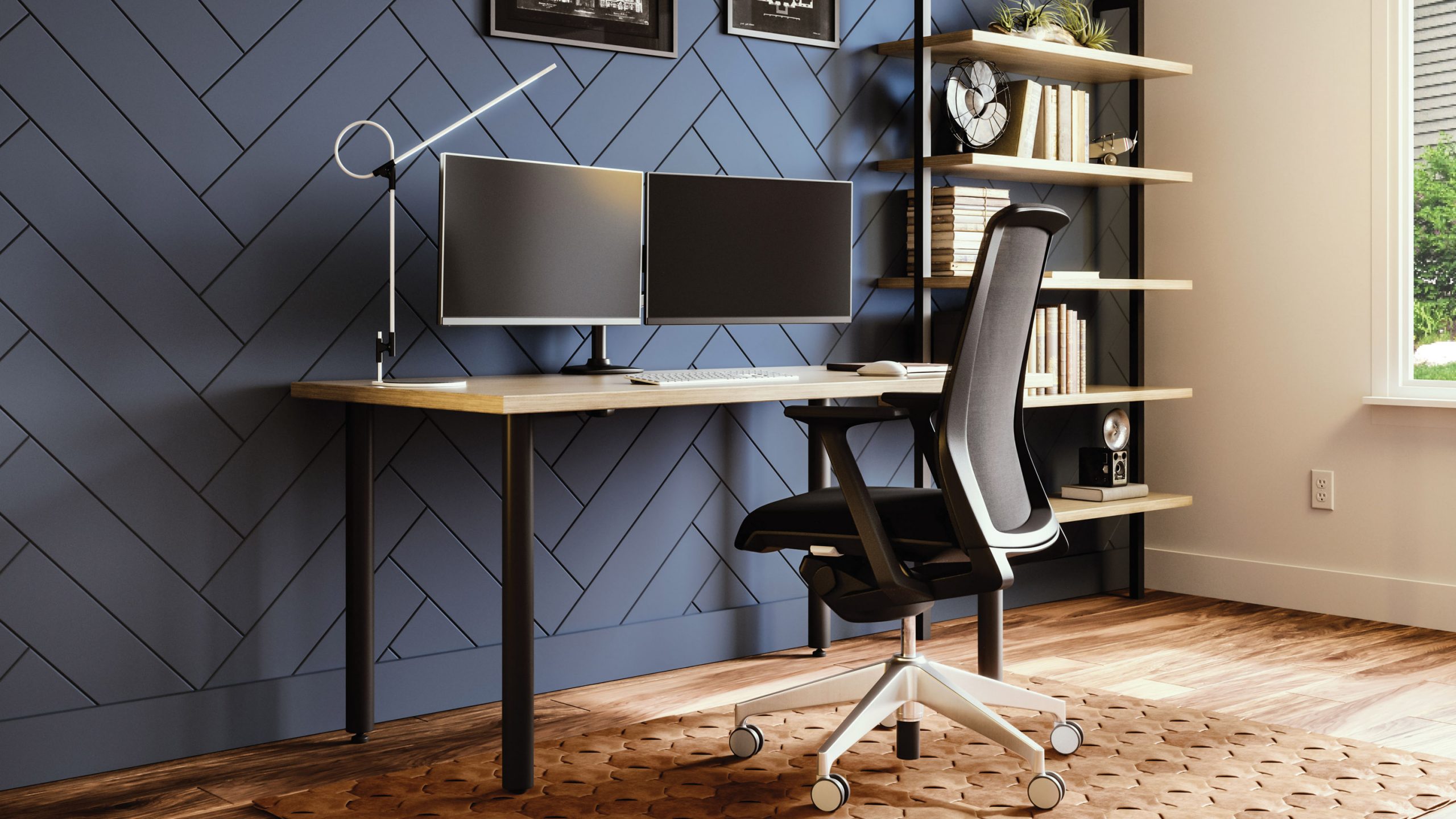 Working remotely poised to enter a new era
Talk to area businesspeople about the current and future state of working in an office, and you'll hear a lot of similar words.
For example, there's "pivot," a reference to how some office-centric companies tweaked their business model in the wake of the COVID-19 pandemic.
Then there are "flexible" and "adaptable," which relate to how many businesses have changed their office operations to protect workers and combat the virus's spread, including, of course, having employees work remotely.
And there is also "uncertainty" about whether office work will ever go back to how it was pre-COVID or if some of the changes are here to stay.
Jeffrey Ferweda, president of Sedgewick and Ferweda Architects in Flint, is one local business owner who's largely certain that remote work will remain central to his firm's operations for the foreseeable future.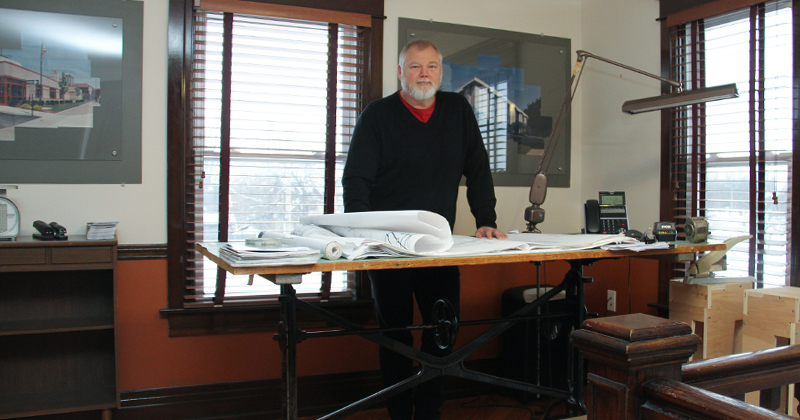 In fact, he's considering leasing a portion of the building Sedgewick and Ferweda occupies on East Court Street because it won't need so much physical space after adapting so well to working remotely.
"At this point, it's working for us," he said. "We've got a couple of people who would like to come back into the office because they miss the social interaction, but nobody wants to risk it at this point. Plus, with our profession, we don't need to be face-to-face to do our work."
But at least a certain level of office presence will remain necessary, Ferweda said.
"I still come into the office every day because I just am not good at working from home," he said. "There's laundry to be done and that kind of stuff, and it's just distracting to me. So I come into the office every day and make sure that the mail gets picked up and any clients that happen to walk in get taken care of."
A new model?
Similar shifts are happening nationwide, with people who have become accustomed to working remotely now having new expectations about flexibility, working conditions and life balance that can't be undone, research conducted by the Slack business communication platform discovered. Of 4,700 knowledge workers surveyed, the majority never want to go back to the old way of working. Only 12 percent want to return to full-time office work, and 72 percent want a hybrid remote-office model moving forward.
"We all know that work will never be the same, even if we don't yet know all the ways in which it will be different," Slack CEO Stewart Butterfield told the British Broadcasting Corp. (BBC). "What we can say with certainty is that the sudden shift to distributed work has provided a once-in-a-generation opportunity to reimagine everything about how we do our jobs and how we run our companies."
Sarah Green, broker/owner at The Brokerage Real Estate Enthusiasts, with offices in Davison and Clarkston, doesn't foresee any significant, lasting changes to the firm's office environments, largely because of the nature of the real estate business.
Agents were not reporting to their offices late last year, which was no major hindrance because even pre-pandemic, the bulk of the action took place virtually or in person at properties that are being sold, she said.
"Real estate offices in general are not a normal situation where you stop by and have a cup of coffee while looking at the MLS (multiple listing service)," Green said. "All that stuff is done online anyway. So that really hasn't changed much for us."
During the pandemic, real estate agents have had to contend with disruptions such as bans on open houses and not being allowed to attend closings to limit gatherings of people. But, except for a total shutdown of in-person showings during the spring, residential real estate sales have continued largely unabated, Green said.
"I've had the best year I've ever had," she said. "It's crazy to say it out loud, but the market for us has been fantastic. Has it been exactly how it's supposed to be? No. Are we still selling a lot of houses and figuring out how to do it? Yes."
While The Brokerage primarily deals with residential properties, a couple of its 32 agents specialize in commercial sales, which have a fuzzier future, Green said.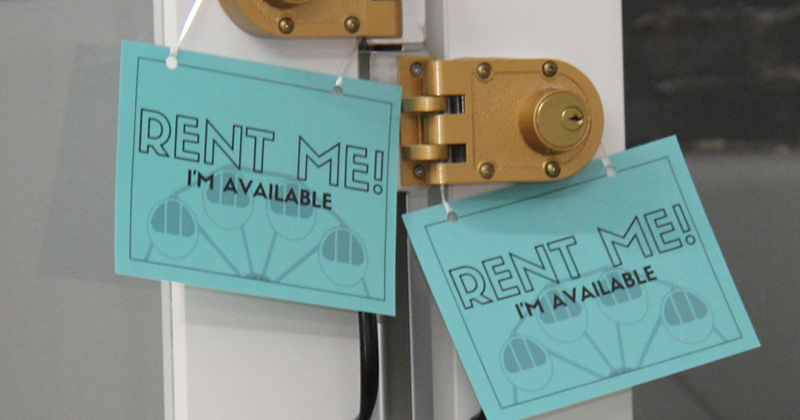 "Commercial's definitely got major changes coming," she said, noting the effects of offices rethinking the amount of space they need and many storefront operations closing because of lost revenue during the pandemic.
She had a client who got a bargain on a local commercial property after the previous owner went out of business. But ultimately, the commercial market will be poised for a rebound once the virus is under control, she said.
"I don't think it's going away. The people who were affected by COVID are still business owners. They're not going to just roll over and die. They're not just going to sit around and collect unemployment."
And for many businesses — including real estate firms — an office or storefront presence will remain a necessity, she said.
"It makes you more professional," Green said. "There is a stigma if you work only from home. People wonder if you're just part time and fully invested. I don't think storefront is ever going away."
A matter of size
Nicole Zyla, general manager with DBI, one of Michigan's largest office supplies companies, said that many small and medium-size offices were having workers return — and relying on DBI to create safe environments by supplying PPE and designing spaces with more space and barriers between employees.
Larger corporations, however, have been slower to reopen offices because they face more complicated situations, she said.
"The reality on corporate clients is they have a larger space to consider and manage," Zyla said. "The larger the number of employees you have, the more difficult it is to put a process in place."
DBI, which is based in Lansing and has a Flint office, has tweaked its offerings to meet the needs of workers wherever they are.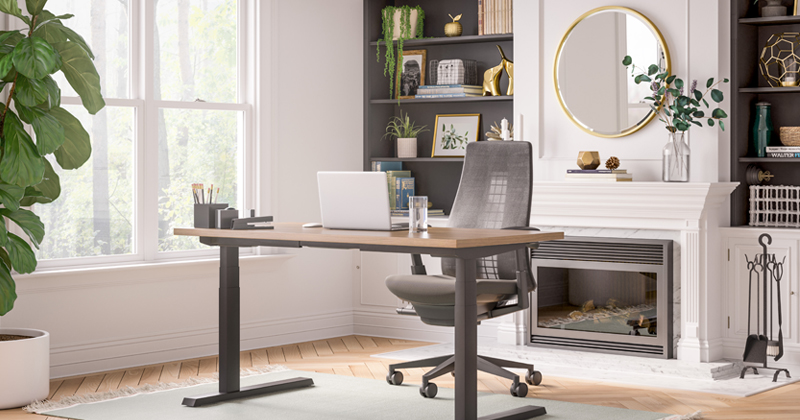 It has created work-from-home packages – such as chairs, tables, lamps and desks – at price points that account for the fact that, in many cases, employees are paying for them out of their own pocket.
As for its internal operations, DBI's employees were working largely from home, with certain exceptions, such as design teams overseeing large projects that require collaboration that's achieved only in person. Workers involved with those were coming into the office under strict health and safety protocols, Zyla said.
"We have a found a way to make it work," she said. "It really forced us to take a closer look at our technology and make sure we are more flexible moving forward. But, I think when you look at it from an executive level, we would love to see everyone back in the office. We're a creative group and a lot of our work requires collaboration, and we just feel that happens best when you're in an office environment having face-to-face conversations."
A return to a semblance of normal is also important to DBI's bottom line, she said.
"It's imperative for our business that people return to the office, because we are office experts. Without people working from an office, it changes the dynamics of our business. We're hopeful that in the near future people will get back at it. But as for now, we're making the best of it, that's for sure."
Flexibility is key
Like Zyla, Heather Kale believes that traditional office buildings that lease lots of space to large corporate tenants are most at risk of seeing their business models disrupted if remote working takes permanent hold.
And as general manager of the Ferris Wheel office building in downtown Flint, she also senses an opportunity.
"I've had a few people come in and say, 'Well, we've closed our corporate office and everyone is working from home, but I don't really have the setup,'" Kale said. "After things shut down the first time, they realized real quick, 'Oh my God, I have to work at home and I have four kids and they're all online.' So they needed to get back to an office environment somewhere."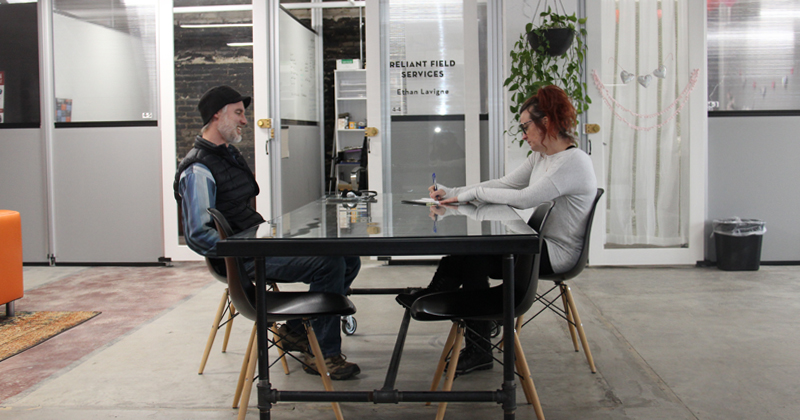 That's where the Ferris Wheel's co-working specialty came in. The building allow tenants to purchase co-working memberships of a month or more for access to an office area with furniture and amenities such as Wi-Fi, printing and resource sharing with other occupants.
After Michigan's stay-home orders were implemented in March, Kale left it up to co-working members and other tenants to decide if their operations were considered essential and people would continue to report to their offices.
"We just encouraged everybody to use their best judgment and be empathetic with those around them," she said. "Obviously, we still saw it impact our bottom line to some degree. But I guess I was a bit shocked it didn't consistently go down."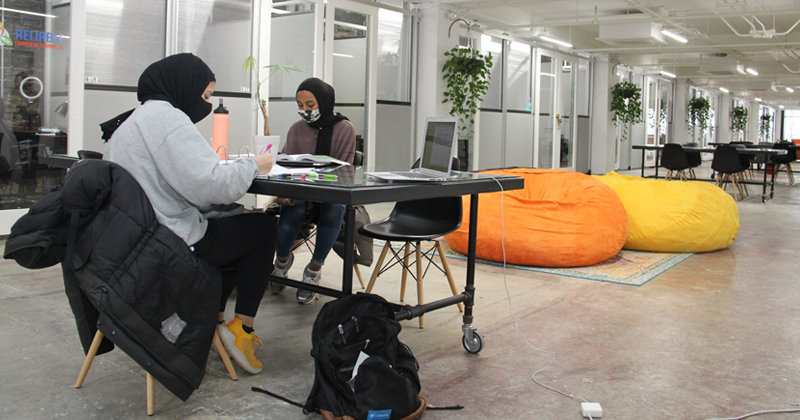 Pre-COVID, Ferris Wheel occupancy was at 94 percent occupancy, the highest in its three years of operation. It dipped below 50 percent immediately after the pandemic struck, but it has since rebounded to around 70 percent, Kale said.
Now, she is preparing to contact human resources departments and promote the Ferris Wheel's co-working spaces as a compromise for employees who can't return to their employer's offices but also can't or don't want to work from home.
"They might not have the right tech setup or they need a mental health break, and our model lends itself to dealing with something unfortunate like this. We're set up to roll with punches," she said, noting that the Ferris Wheel can design an office with modular wall systems within a day.
"You have to be malleable and realize the opportunities," Kale said.