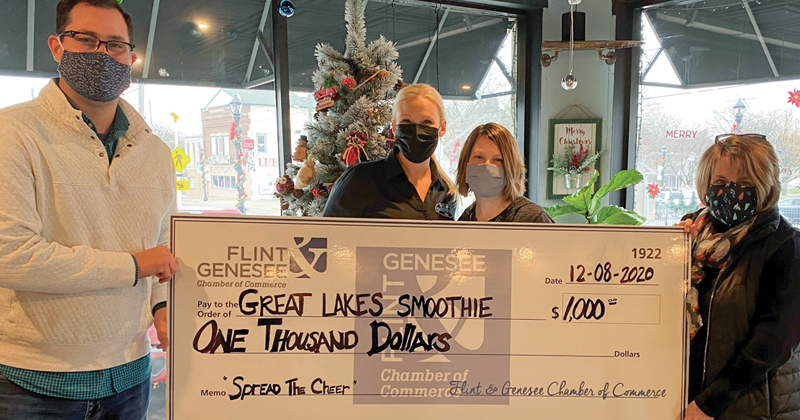 Congratulations to our members on the move featuring FGCC members' grand openings, promotions, new hires, recognition and milestones
Winners (above and below) of the Spread the Cheer Sweepstakes conducted Nov. 23 through Dec. 20. Each independently owned business was randomly selected from the names submitted by community members. The contest shined a light on area small businesses and encouraged consumers to shop locally.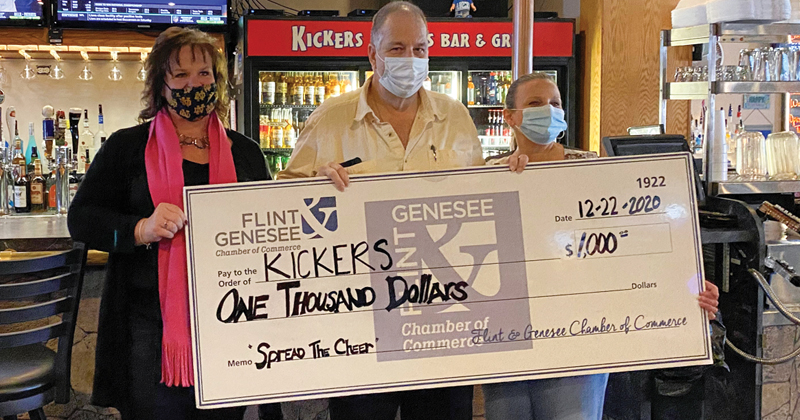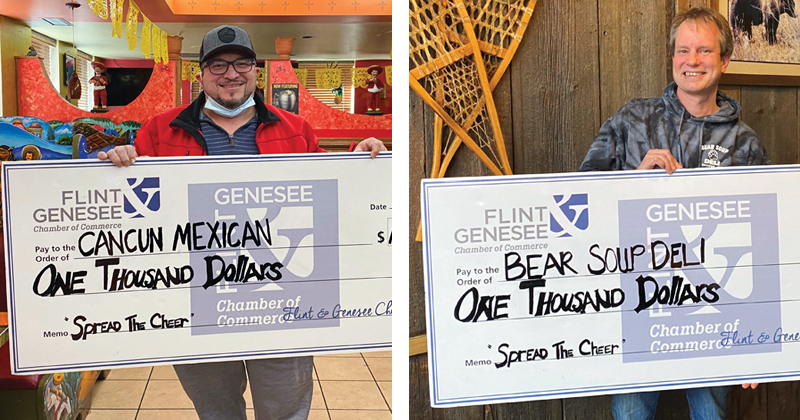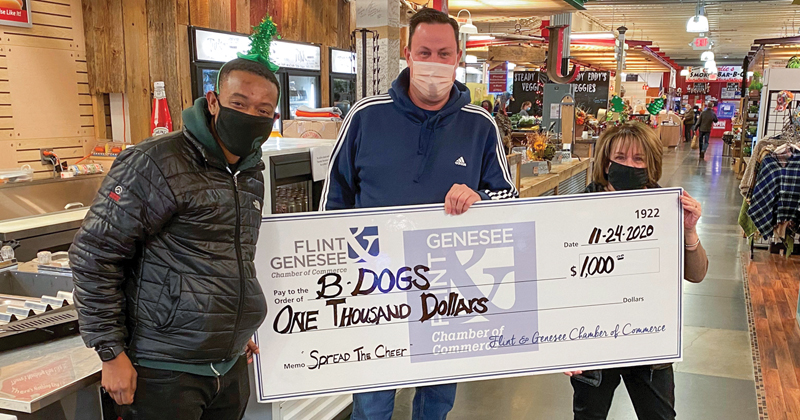 Promotions, New Hires and Recognition
---
Financial Plus Credit Union celebrated the one-year anniversary of CEO Brad Bergmooser. He joined the Flint-based Credit Union in January 2020 and brought with him a wealth of knowledge and excitement for serving the community. During the first year under his leadership, Financial Plus has been committed to delivering on the strategic vision of best-in-class member service, and over-investment in employee development and new technologies. Financial Plus also announced the additions of Rachelle Kippe as the vice president of mortgage lending and Heidi Zuniga as a mortgage loan originator.
Gov. Gretchen Whitmer has appointed Flint Police Chief Terence G. Green to the Michigan Committee on Juvenile Justice, an advisory body within the Department of Human Services that promotes the effective implementation of juvenile justice policy and greater administrative efficiency for juvenile justice programs. In addition, Flint residents Christopher Burtley and Theresa Roach were appointed to the Black Leadership Advisory Council. The council brings together a diverse group of Black Michiganders to serve in an advisory capacity to the governor and develop, review, and recommend policies and actions designed to prevent and eradicate discrimination and racial inequity in Michigan. Burtley is an associate attorney with Foley & Lardner LLP. Roach is program director of active communities for the Crim Fitness Foundation.
Christopher A. Pearson is the inaugural dean of the new College of Innovation and Technology at the University of Michigan-Flint. Pearson, who began his duties on Nov. 1, is a highly regarded scholar. He has been published in top peer-reviewed journals and conference proceedings, and given numerous professional presentations.
Buckham Gallery announced the appointment of Michele Leclaire as its new executive director. She succeeds Lynn Penning, who ran the organization for three years. As executive director, Leclaire will further develop Buckham's organizational capacity and community impact.
Click Control Marketing welcomed Christina Cypher in the newly created position of director of marketing. She is responsible for driving the growth of the company by setting and implementing marketing goals and objectives and will report directly to the CEO Walt Conger. Cypher brings several years of marketing, project management, and team management experience to the company.
Brian Larkin is the new director of the National Land Bank Network at the Center for Community Progress in Flint. Larkin is formerly chief of staff for Flint Mayor Sheldon Neeley.
Business News
---
The Ally Challenge presented by McLaren on Nov. 16 announced that the third playing of the PGA TOUR Champions event raised $801,563 for charitable organizations in southeastern Michigan and beyond. Since its inception in 2018, The Ally Challenge presented by McLaren has donated a total of nearly $3.2 million in support of local charities in Genesee County and beyond. The tournament also announced that GRAMMY, ACM, CMA and AMA award-winning country music artist, Little Big Town will headline the annual Community Concert presented by Ally. The event will take place on the driving range on Saturday evening, Aug. 28, following the conclusion of the tournament's second round. As in years past, access to the Community Concert is only offered for those with a valid tournament ticket. Like with Big & Rich and Dierks Bentley, there will be a private area reserved for members and their families to gather and watch the performance.
Genesee Health Plan, along with President & CEO Jim Milanowski, received the University of Michigan-Flint's 2020 Agho Community Partner Award for their continued partnership with the university's College of Health Sciences and outstanding service to Genesee County and its residents. The Agho Award is named after Dr. Austin Agho, who served as founding dean of the School of Health Professions and Studies at UM-Flint from 2001 to 2008. GHP has worked collaboratively with UM-Flint's College of Health Sciences since 2003.
McLaren Flint was awarded an 'A' in the fall 2020 Leapfrog Hospital Safety Grade, a national distinction recognizing McLaren Flint's achievements protecting patients from harm and providing safer health care. The Leapfrog Group is an independent national watchdog organization committed to health-care quality and safety. The Safety Grade assigns an 'A', 'B', 'C', 'D' or 'F' grade to all general hospitals across the country and is updated every six months. It is based on a hospital's performance in preventing medical errors, injuries, accidents, infections and other harms to patients in their care.
MRI imaging services at Ascension Genesys Hospital will soon be easier, faster and more comfortable for patients using new advanced MRI technology. Ascension Genesys Hospital will be the first hospital in the mid-Michigan region to have an MRI scanner using blanket-like AIR coil technology. The new system will be ready for advanced imaging in mid-January 2021. With the new advanced MRI scanner, Ascension Genesys will now be able to offer cardiac imaging, prostate imaging, whole body oncology imaging, pediatric imaging and sedation services to calm claustrophobia patients.
Back to the Bricks has postponed its 6th Annual Chrome & Ice event until 2022. The event, which was scheduled for February 2021, was pushed back in the interest of public health safety and the concerns about hosting a large indoor gathering amid the ongoing COVID-19 pandemic. However, the Promo Tour slated for June 2021 is still on and registration will open in late January or early February.
The women of The Pink Par-Tee of Warwick Hills Golf and Country Club presented representatives from Karmanos Cancer Institute at McLaren Flint and the McLaren Flint Foundation with a $36,000 check to help support breast cancer patients. The donation was made possible with the amazing turnout of the Pink Par-Tee's 8th annual charitable event at Warwick Hills in June. The proceeds will be used to assist women undergoing breast cancer treatment and help some women receive mammograms. Pink Par-Tee Chairperson Nancy Gignac said this year's event required some extra creativity to protect public health. "Our golf and tennis events allowed for social distancing and we moved all activities to the course, including a silent and live auction and many fundraising games. Numerous committed volunteers were required to make the events truly memorable for participants." Title sponsors for this year's events were Security Credit Union and Eagle Excavation. To date, the Pink Par-Tee has raised over $420,000.
Professionals and recent graduates seeking a complex business solution and advanced leadership skills to elevate their science, technology, engineering and mathematics (STEM) careers can enroll now in Walsh/Kettering University's Tech MBA for Winter Term 2021. Classes, which began Jan. 4, will be offered virtually for the term. Launched in Fall 2020, the Walsh/Kettering Tech MBA is an interdisciplinary program combining Walsh's internationally ranked Master of Business Administration with a technology leadership certificate from the renowned Kettering University. Courses taught by Kettering faculty as part of the technology leadership certificate for the Winter Term include "Virtual Reality Systems: Modeling and Control," "Introduction to Thermal Science" and "Lean Six Sigma."
Big John Steak and Onion in December donated $100,000 to the Food Bank of Eastern Michigan to help provide 1.2 million meals to people in need. Since 2005, Big John has partnered with the Food Bank to feed hungry families. Big John and their patrons have donated more than $260,000 to fight hunger and feed people in need over the last 15 years, including a $50,000 donation in the spring to help the increased need for food in the face of the COVID-19 pandemic. "The restaurant industry is struggling this year, just like many families," said Jack Goodfellow Jr., advertising and purchasing director for Big John Steak and Onion. "But with a dramatic increase in people in need during the pandemic, we are more committed than ever to fight hunger in our community."