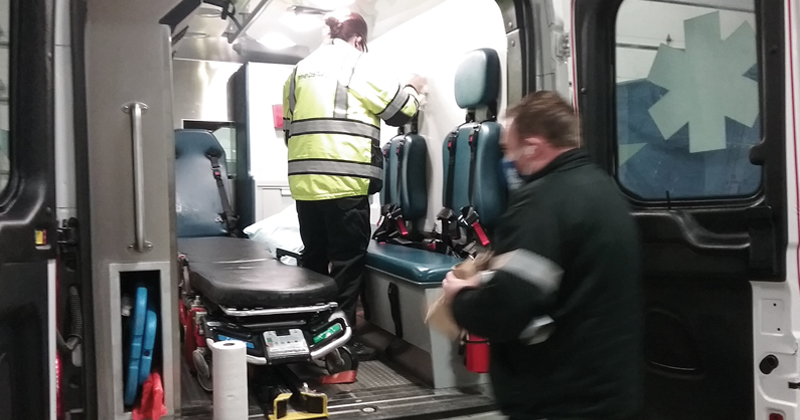 In 1986, a young Kolby Miller of Flint worked nights as a disc jockey and at an ice arena. During the day, he volunteered at the Swartz Creek fire department.
Friends there told him of job opportunities at the area ambulance service.
"At first I rejected the idea," he said. "Then I decided to enroll in an EMT class and loved it."
That began a career in emergency medical services that has led to his current position as president and CEO of Medstar Ambulance, one of the largest ambulance providers in Michigan.
Medstar recently opened a site on Hill Road in Mundy Township to accommodate a growing need in the surrounding communities. In the process, it closed its Flint station with four ambulances — its only presence in the area — and now provides 40 new trucks serving Genesee County and area hospitals.
Building staff with incentives
In addition to adding to the number of ambulances in the county, Medstar plans to increase its staff through incentives, such as sending budding EMTs to a recruit academy and paying them as though it were a full-time job. After they graduate and pass the state EMT test, they will be assigned to a regular full-time schedule.
It also is offering military veterans credit for duty served by starting them at a higher wage.
"We understand that the time that our veterans have served our country doesn't translate as well as it should into either seniority or wage," Miller said.
"Those who return from military service have the discipline, structure and sense of getting the job done — sometimes in difficult situations — which translates well into EMS service."
Its plan is to give a pay raise for every year of military service and a half year's bump in pay for every year of service in the National Guard or Reserve.
Looking to the future
Medstar does not sit on its laurels. It is taking steps now to ensure that it continues to provide safe and high-quality care and emergency transportation for its patients and the health systems it serves as the industry moves more to home care to reduce costs while improving patient outcomes.
"We are looking at how we can deliver top care to people where they are — the right care, the right place, the right time, for the right patient in a way that reduces their dependence on the higher levels of care and the moving around that some of that takes. That's our goal in Genesee County and everywhere else.
"And as we continue to take care of the people — and the people who take care of the people — we will continue to be successful in Genesee County and the other areas we serve."