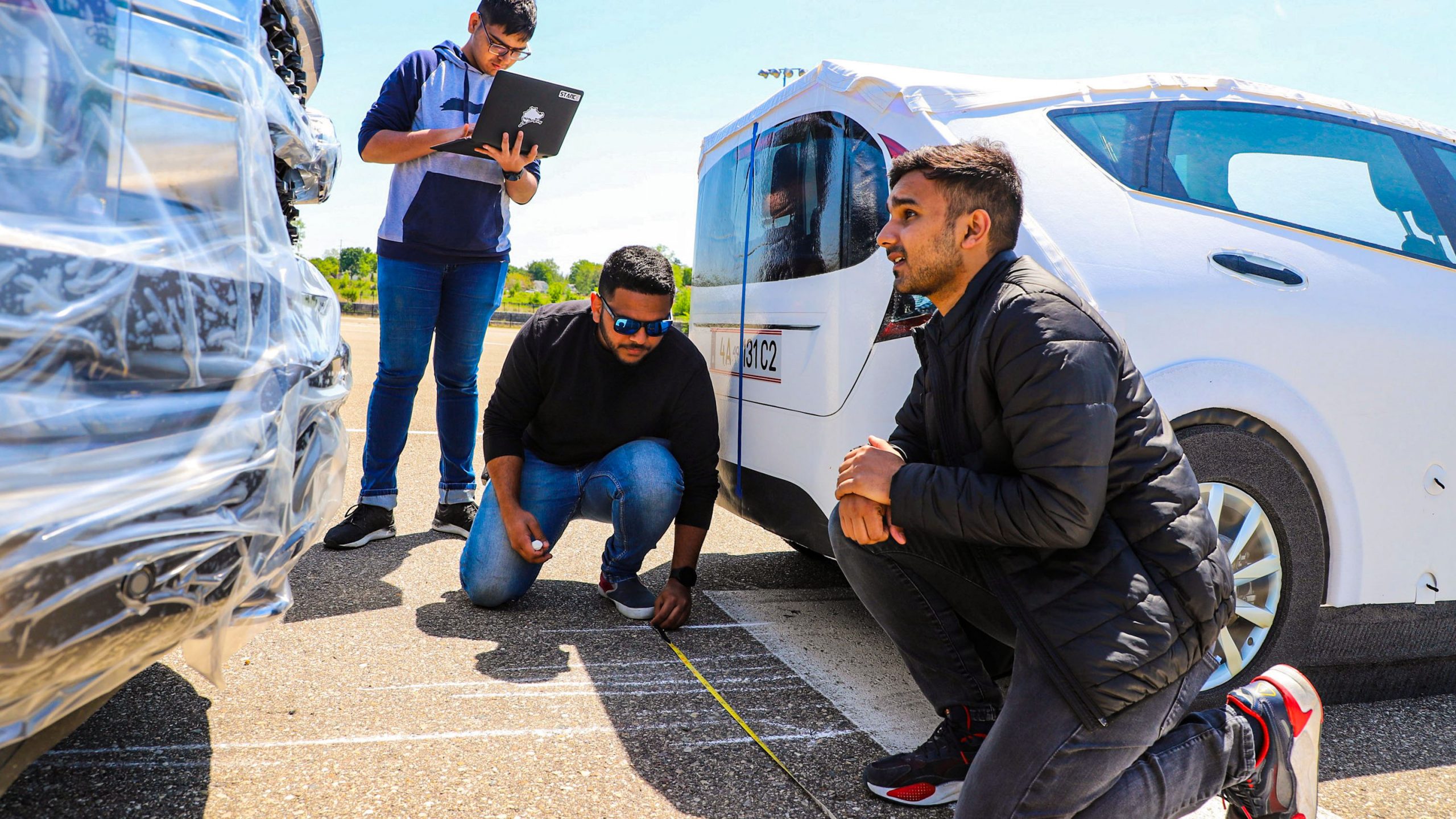 The trends shaping the future of the automotive industry are disruptive and technology-driven, focused on autonomous driving, electrification, and connectivity. And thanks to Kettering University, Flint and Genesee County aren't just along for the ride – in some ways, they're in the driver's seat.
"In Genesee County, we are standing on the shoulders of giants," said Dr. Diane Peters, Associate Professor of Mechanical Engineering at Kettering. "Many people have done tremendous things here in the automotive industry, and we need to honor their legacy by moving forward, by building on what they did.
"Not just standing on their shoulders and staring ahead — but reaching up to the next rung on the ladder and pulling us all up. Kettering has the resources to do that."
A strong heritage and reputation
Like Flint—which is the birthplace of General Motors— Kettering is woven into the fabric of Michigan's auto industry.
Originally named the School of Automobile Trades, it opened in 1919 in Flint as a night school for engineers, managers, designers, and technicians in the rapidly evolving automobile industry. General Motors Co. took over financial support of the school in 1926 to develop its own engineers and managers under a new name: the General Motors Institute.
For the next 56 years, GM operated the school as GMI, and it became for the company one of its best sources of creative and successful engineering and managerial talent. In 1982, GM divested itself of ownership of the school, and it became the private, non-profit university it is today.
Renamed in 1998 as Kettering University, the school consistently tops national and international rankings for its academic programs, return on investment, and graduate success, according to university officials.
Today, Kettering offers undergraduate and graduate degree programs, as well as fully online degrees and certificates through Kettering Global.
The university still has deep ties to the automotive sector, offering a range of specialized programs and research in areas such as engineering, computer science, business, and applied science.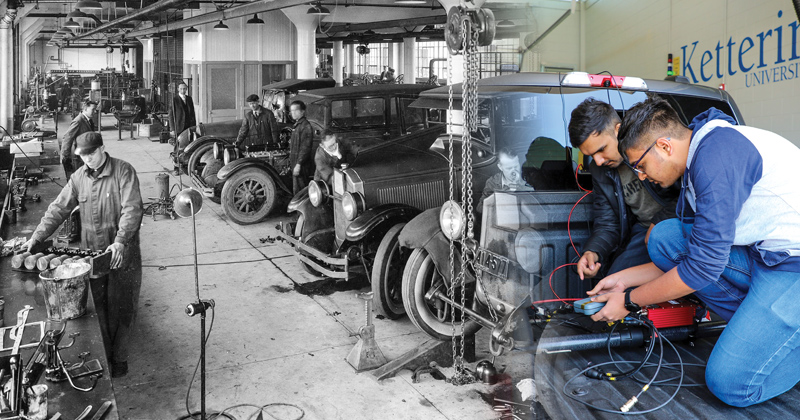 "Our commitment to Flint and Genesee County bears witness to the better than 100-year relationship between a family and its home," said Kettering University President Dr. Robert K. McMahan. "From our founding in 1919—the early years of automotive innovation—to today, we are equipping the next generation of pioneering minds to go into a workforce where automotive has now become mobility, electrification, artificial intelligence, and sustainability—all which now sit at the dawn of explosive periods of growth.
"At Kettering, we are meeting these challenges head-on and have set our sights on creating that future."
Looking to the future
The university is renowned for its co-op programs. Every three months, students alternate between classroom learning and practical work experience with leading industry partners. Kettering's top five co-op employers — all automotive-related — are General Motors, Ford Motor Co., Magna International, Lear Corporation, and BorgWarner, said Dr. Scott Grasman, Dean of the College of Engineering.
"Kettering students aren't just in class learning about what they might potentially be doing in the future," Grasman said. "They're implementing the technologies available today, getting them to work, and getting them on the road."
Experts say a collaborative environment between "town and gown" encourages knowledge sharing, innovation, and the development of new technologies. That's especially true as the auto industry continues its shift toward electric vehicles (EVs), autonomous driving, and artificial intelligence.
"There's an actual synergy between the university and the workplace which is really extraordinary," Grasman said.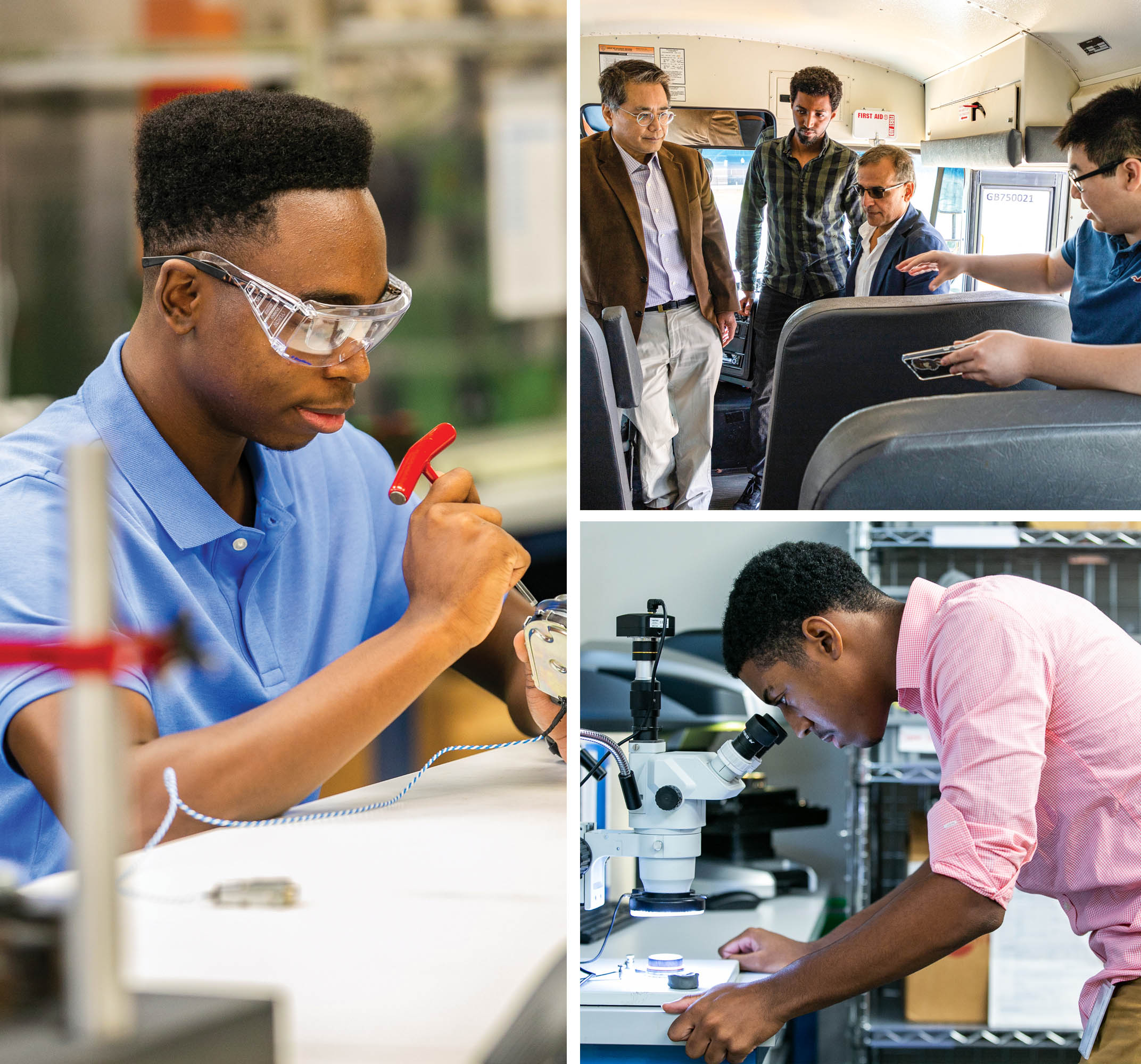 To better align the university with the needs of corporate partners in the auto industry, Kettering leaders updated their vision and academic strategy in the last year. Their five academic focus areas are: advanced mobility, new energy vehicles, sustainable practices, intelligent manufacturing, and artificial intelligence, Grasman said.
Degree programs today are more interdisciplinary, too. An engineer needs to be aware of the connective nature of parts or functionality coming through computer hardware and software in order to ensure alignment.
"It's not about putting out engineers that are disciplined in one specific area anymore; they have to understand the whole package a little bit better because that's what we're seeing in companies like Stellantis and GM," Grasman said.
An experiential learning process beyond the classroom
Many Kettering students take part in national or international team competitions to gain experience in designing, building, and solving real-world challenges in robotics, EVs, self-driving vehicles, and more. Many of these competitions are sponsored and often mentored by industry partners.
Kettering University's AutoDrive team, called the Bulldog Bolt, wrapped up its second year of the AutoDrive II Challenge in June. The four-year competition, sponsored by SAE International and GM, tasks 10 teams with developing and demonstrating a completely autonomous-driving passenger vehicle. Each year, the competition builds on the next by adding more challenges.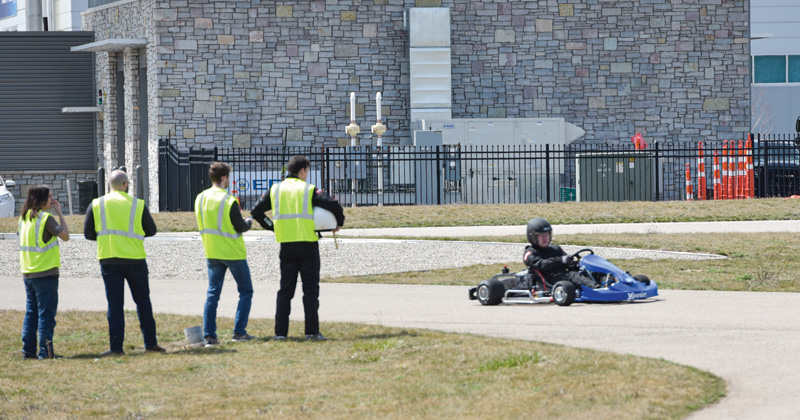 This year, students were asked to develop and demonstrate a Chevy Bolt that navigates urban driving courses with Level 4 automation, or without any human interaction.
The team won third place in the Mobility Innovation Challenge.
"I'm really proud of the students," Peters said. "Not only did they receive third place in the Mobility Innovation Challenge, but they worked hard on all of the other challenges where they didn't place. They've learned a tremendous amount about both the technical aspects of autonomous vehicles and how to lead teams in large, multidisciplinary projects."
Peters said it's not uncommon for AutoDrive team members to go on to work for GM or top automotive suppliers connected with the competition.
"It's really a very realistic engineering project that they are carrying out," Peters said. "You can't even begin to describe what they're learning from these real-world problems that they're trying to solve. At the same time, they're also getting the opportunity to put ideas out that other people can build on."
Through the years, other Kettering teams have also proven they have the right stuff. In April, Kettering's EV Kartz team earned multiple awards at the annual evGrandPrix, giving the team its best-ever finish. Kettering earned first place in the engineering design category and was named the most technologically advanced team.
It's all part of the learning process, which also includes automotive research and development.
Kettering's faculty and students collaborate with industry partners to conduct research at Kettering University's GM Mobility Research Center (MRC), an autonomous vehicle testing track and the only one of its kind in the nation located on a college campus.
The 21-acre outdoor lab space and proving ground have been a game-changer for Kettering.
The center not only enhances faculty and student research, it provides a state-of-the-art facility for corporate partners to use when researching, developing, and testing new mobility and transportation technologies.
The MRC has proven invaluable in testing vehicle safety standards, hybrid and electric vehicle technologies, and performance. The track features an S-curve, elevation, surface changes, and straightaways, and is available for year-round, 24-hour testing.
The MRC and Kettering students caught the attention of Navistar International, an Illinois-based manufacturer of school buses and semi-trucks. Over the last five years, a group of undergraduate computer science students at Kettering have been working to make school buses safer.
Students use artificial intelligence, algorithms, autonomous sensors, and other techniques to develop a low-cost platform to take photos of the children and keep a count to report to the driver. This helps ensure that drivers won't leave students on the bus when they park and leave the garage for the day. Other artificial intelligence-based software will detect if a child and/or their backpack or clothing is in the danger zone of getting pinched in the door.
Navistar is pleased with the students' work.
"This is thinking outside of the box," said Teik-Khoon Tan, a Navistar senior technical specialist. "We need innovation, so our strategy is to partner with universities. Without it, we lack other innovative perspectives."
Other collaborations abound.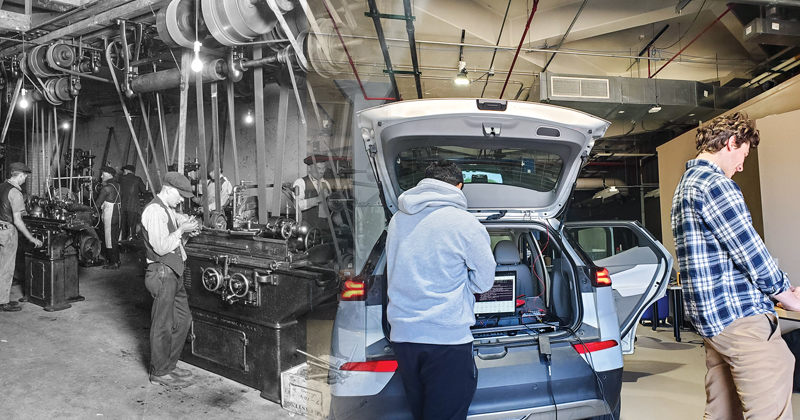 In research commissioned by Rimkus Consulting Group Inc., an engineering and consulting company headquartered in Texas, faculty and students from Kettering worked to discover the limitations of vehicles' automatic emergency braking systems to help owners better understand their vehicles.
Through faculty and student research endeavors like these, Kettering contributes to the development of new technologies and solutions that are powering the future of the automotive industry, Peters said.
"I believe Flint and Genesee County's automotive history equips us to move into the future," she said. "We have the resources, we have the culture, and we have the people who care very deeply about the automotive industry.
"We're all in this together, trying to solve really hard problems to make a better world."
---

When Albert Sobey started Flint's School of Automobile Trades in 1919, Charles Kettering was right by his side in its construction.
An accomplished inventor, Kettering held 186 patents at the end of his life. He was the founder of DELCO Electronics Corp. and head of research at GM from 1920 to 1947.
Kettering revolutionized the auto industry with the invention of the electric-start motor and leaded gasoline. He worked with DuPont to develop freon and invented the first practical-colored paints for automobiles. His accomplishments led to him being featured on the cover of Time magazine in 1933.
His other inventions include: the electronic cash register, two-stroke diesel engine, the world's first aerial missile called the "bug," and an incubator for premature infants.
In 1982 GM divested of General Motors Institute, resulting in the creation of GMI Engineering and Management Institute as a private non-profit university. 1998, the University changed its name to honor Kettering.