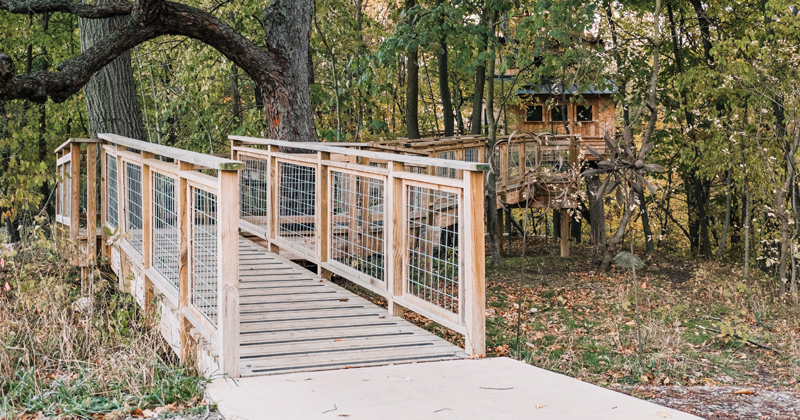 All Andi Lau wanted was a place where her grandson, who has attention-deficit/hyperactivity disorder (ADHD), could be himself.
"The Flint Children's Museum is where Noah learned to share and build things and play with other kids. That's only been possible because there are so many great hands-on activities there and because the staff is very accepting of him," said Lau, a retired teacher who lives in Fenton.
At the Flint Children's Museum and across Genesee County, businesses and attractions are committed to creating a welcoming and inclusive region for all residents and travelers to enjoy and explore.
"We don't want anyone to experience barriers when they come here," said Amari Steward, executive director of Explore Flint & Genesee. "That's why it's so important for our community to be inclusive and accepting of people with disabilities and anyone else who needs better accessibility."
Accessible tourism means that people with or without disabilities have equal access and enjoyment of tourism activities and travel in general. That includes access for those with physical disabilities that require assistive devices like wheelchairs, walking aids, or handrails; sensory access for neurodiverse individuals; and communication access for those with disabilities involving speech, vision, or hearing.
In Genesee County alone, more than 71,000 people, or 17.6% of the population, identify themselves as having a disability, according to the 2023 Annual Disability Statistics Compendium. The true number is considerably higher since many people may not self-identify as having a disability, experts say.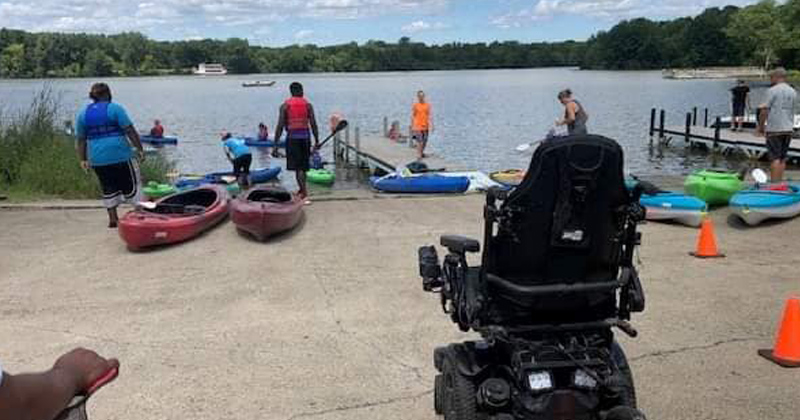 A disability is any sort of barrier that prevents you from doing daily life activities, said Jessica Dixon, community advocacy and peer specialist at The Disability Network in Flint.
"I think that's really surprising to many folks," she said. "People who are blind or who use wheelchairs is the old-school definition of disability. Disabilities aren't just what you can see. We live in a world where people have ADHD, mood disorders, diabetes, epilepsy; those are all now considered disabilities."
And when you factor in the baby boomers expected to acquire a disability as they age, those numbers could nearly triple by 2028, according to MMGY Global, an integrated marketing company specializing in the travel, tourism, and the hospitality industry.
To serve this growing population, accessibility and inclusion are key – but they're not the same thing.
Accessibility is about removing barriers that may prevent people with disabilities from taking part in services, physical spaces, communications and in their communities. Inclusion is about actively welcoming and creating an environment where everyone feels respected and has the opportunity to reach their full potential.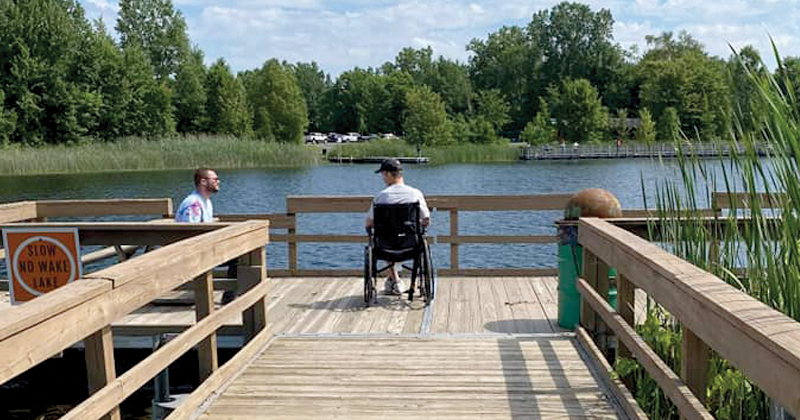 Flint and Genesee County are making progress in both areas, said Katie Curnow, advocacy and associate director at The Disability Network.
Many local organizations like Genesee County Parks have made inclusion their mission, working with purpose to meet the needs of all people — including those with disabilities.
As the largest county park system in Michigan, all Genesee County parks have varying levels of accessibility. Their points of pride include a barrier-free treehouse, Bluebell Beach with the county's first universally accessible playground, and inclusive kayaking workshops.
"Our parks go above and beyond what's required, and they're really thinking about what residents and visitors' lived experiences look like in Genesee County," Curnow said.
Amenities like paved trails make navigation easier not only for those in wheelchairs or with low vision, but also for families with strollers and people who have difficulty walking on uneven ground.
Mundy Miracle Commons is a new, 100-acre public park near US-23 at 1286 W. Hill Road offering outdoor recreational activities for people of all abilities. In addition to barrier-free nature trails, plans are underway for the Miracle League Field, a fully accessible baseball facility for kids and adults with special needs.
"We are dedicated to delivering on the promise of creating an inclusive recreational experience for our residents that will also create new economic impact for our business partners along the Hill Road corridor," said Chad Young, Mundy Township manager.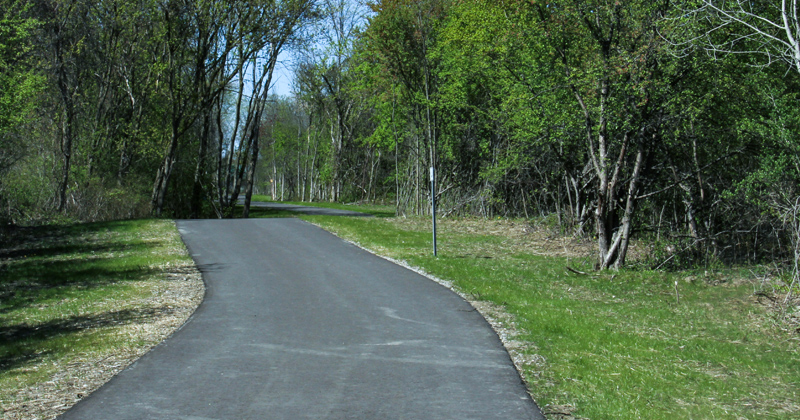 Additionally, sensory-friendly programming helps visitors with autism spectrum disorder, sensory processing disorders, and developmental delays to feel more comfortable. Smaller crowds, less noise, and fewer stimuli can make for a more pleasant experience for many.
That's why on the second Saturday of every month, Longway Planetarium turns its lights up and the sound down to provide a safe, welcoming environment.
At the newly renovated Sloan Museum of Discovery, its many interactive exhibits were intentionally designed to make all visitors feel welcomed and included, said Todd Slisher, CEO and executive director.
Sloan's staff went the extra mile and requested suggestions and training from The Disability Network to ensure the museum meets the needs of all visitors.
"Sloan recognizes that disability is just a part of the human experience," Dixon said.
The Flint Children's Museum also took suggestions from The Disability Network to make its spaces more accommodating. Changes, for instance, included providing a lower table in its Best Friends Animal Hospital so children who use wheelchairs can more easily view animal X-rays.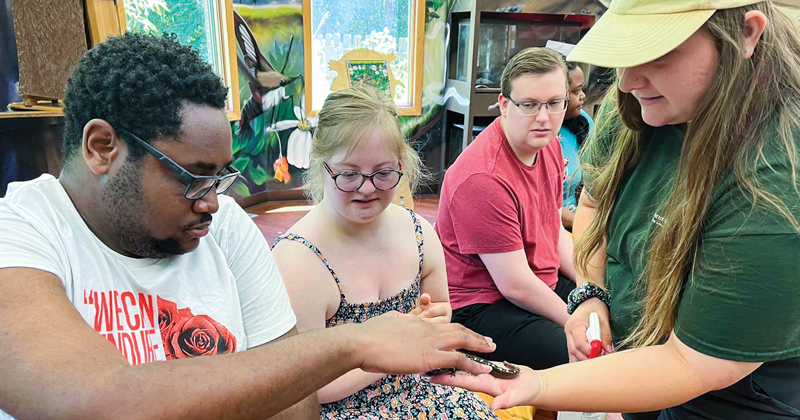 The museum's new Sensory Sundays, held once a month, offer a chance to play and explore in a quieter setting. Sensory bags filled with fidget spinners, sunglasses, noise-canceling headphones, and a stuffed animal are always available for children who struggle with too much stimulation, said Jacky Metcalfe, visitor services manager.
"Our staff says, 'Welcome friends,' when families come through the door. So, it's really important to us that we make everyone feel welcome … everyone," Metcalfe said.
Investing in accessibility and inclusion are not only the right thing to do for communities, it's also critical to success as a travel destination, Steward said.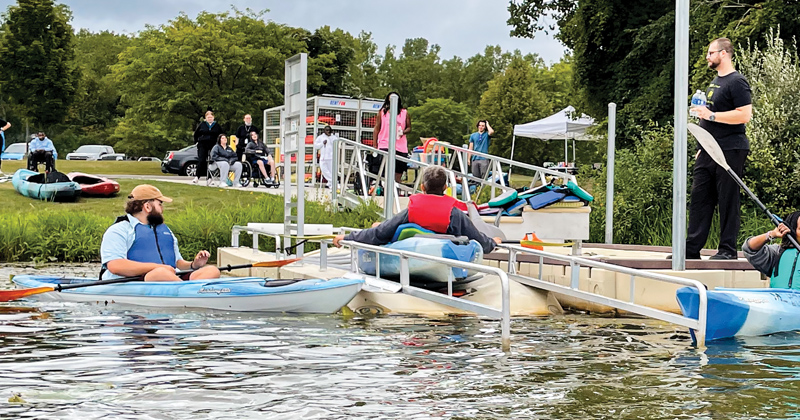 The National Federation of the Blind of Michigan (NFBMI) selected Flint for its first-ever program aimed to support blind youth and their families on their academic, professional, and vocational journeys. The June 23-25 conference is expected to draw more than 100 participants, said Robert Parsons, NFBMI president.
In addition to accessible STEM activities for youth ages 8-13 and a career fair for older students at Hilton Garden Inn, there will be dining and shopping opportunities for everyone. The Flint/Genesee Chapter is also hosting a black-tie gala June 24 at the Flint Institute of Arts.
It's a weekend the organization and its members from across Michigan are excited about.
"I think it's truly a blessing to have the city be so accommodating and so open to our program and our vision," Parsons said.
Curnow said Flint & Genesee have reason to celebrate, too.
"I do see our community striving to be a great place that provides quality of life for everyone," Curnow said.
Lau and her grandson Noah couldn't agree more.
"Even though Noah's a third grader now and reads and plays chess and loves math, he still likes going to the children's museum," Lau said. "It's the place he always feels safe and welcome."