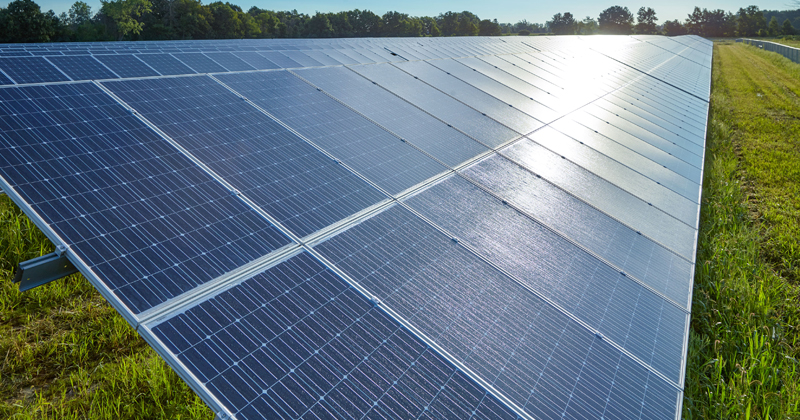 (Photo credit: Consumers Energy)
The announcement earlier this year that two General Motors facilities in Genesee County will use only clean energy over the next couple of decades helped juice a steady trend that is occurring locally, statewide and nationally.
GM's agreement with Consumers Energy calls for only clean energy use at its Flint Assembly Plant and Parts Processing Center in Burton, as well as the GM Components Holdings Plant in Wyoming in West Michigan. The commitment supports roughly 70 megawatts of emission-free renewable energy in Michigan, Consumers Energy estimated.
"General Motors is committed to combatting climate change and transforming the communities where we work and live by striving toward zero crashes, zero emissions and zero congestion," said Rob Threlkeld, senior manager of energy strategy and grid decarbonization at GM. "Procuring renewable energy is key to accomplishing these goals. Our collaboration with Consumers Energy brings us closer to our target of sourcing 100-percent renewable energy in the U.S. by 2025 and will advance our local Michigan communities' transition to a clean grid."
The GM pledge and other local initiatives are also in keeping with Consumers' Clean Energy Plan, which calls for closing the utility's five remaining coal-fired plants in Michigan by 2025.
"One very noticeable impact is that we will be largely replacing these with solar energy," said Consumers spokesman Brian Wheeler. "So that's going to mean we're going to be building a lot of large solar projects throughout the state. That's pretty exciting. It's going to be a new thing for Michigan because traditionally solar has not been a large part of the picture in the past. But that will change."
Indeed, the way businesses and homes are powered is changing rapidly as utilities and their corporate customers focus on sustainability to combat the widely accepted principle of climate change.
In fact, renewable energy is the fastest-growing energy source in the United States, increasing by 42 percent from 2010 to 2020 (and up 90 percent from 2000 to 2020), according to the Center for Climate and Energy Solutions.
Overall, renewables made up nearly 20 percent of U.S. utilities' electricity generation in 2020, with the bulk coming from hydropower (7.3 percent) and wind power (8.4 percent). Solar generation, which made up 3.3 percent of total U.S. generation in 2020, is the fastest-growing electricity source.
Genesee County is part of that trend. Last year, Consumers Energy announced that it was purchasing energy from five solar projects that had recently came online in Genesee County. The projects — named Captain Solar, Interchange Solar, Jack Francis Solar, May Shannon Solar and Coldwater Solar — were built and are operated by North Carolina-based Pine Gate Renewables and are owned by Kayne Anderson Capital Advisors of Los Angeles. Consumers Energy has 20-year agreements to purchase the energy from the solar farms, each of which has a 2-megawatt capacity.
Furthermore, by 2040, Jackson-based Consumers — which provides natural gas and/or electricity to 6.7 million of the state's 10 million residents — aims to become carbon neutral by 2040, at which point the utility will meet 90 percent of its energy needs with clean energy sources.
Fueling the move is the increasing affordability of renewable energy, Wheeler said.
"There are a few factors that work nicely together," he said. "One is that we know we have a role to play when it comes to fighting climate change. Protecting the planet is a core value of what we do. At the same time, solar and wind power is much more affordable than it used to be."
The energy market used to offer two choices: clean but expensive energy, or cheap fossil fuel. "That's not the equation anymore," Wheeler said, citing such technological advancements as solar panels that pivot throughout the day to maximize sunlight exposure and improved battery storage capabilities.
At the same time, demand for clean energy is surging among large corporate customers.
"There are large companies like GM that want to say they are being powered 100 percent by clean energy," Wheeler said. "It becomes sort of critical to their corporate responsibilities that they want to demonstrate."
GM's agreement involving the two Genesee County plants is part of Consumers Energy's Renewable Energy Program, which puts Consumers on a path to add more renewable power to its generation fleet. Through new and existing GM plants in the program, GM is offsetting 235,000 metric tons of carbon dioxide annually. That is equivalent to greenhouse gas emissions produced by 51,000 cars, according to U.S. Environmental Protection Agency calculations. Consumers Energy and GM started partnering on clean energy projects in 2018.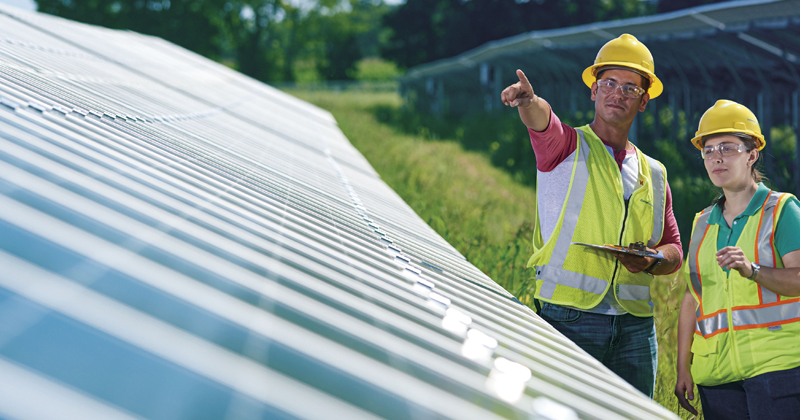 The Renewable Energy Program provides large corporate customers with a flexible, turnkey solution to use solar and wind energy, the utility says, adding that enrollment not only advances greening Michigan's grid, but also supports Michigan jobs created through building and operating renewable energy projects.
For smaller companies or individual homeowners who want to promote clean energy development, Consumers offers the Solar Gardens program.
Solar Gardens participants subscribe to their desired amount in 0.5 kilowatt-hour SolarBlocks. Consumers then generates energy at Michigan solar power plants, allowing subscribers to support clean energy going onto the energy grid.
Subscribers pay a fee on their monthly energy bill and receive a credit for the solar energy produced.
The program avoids the upfront cost and hassle of having solar energy panels installed directly on your building or home, Wheeler said.
"It's a simpler way without that initial investment to allow people to be part of the development of renewable energy," Wheeler said.