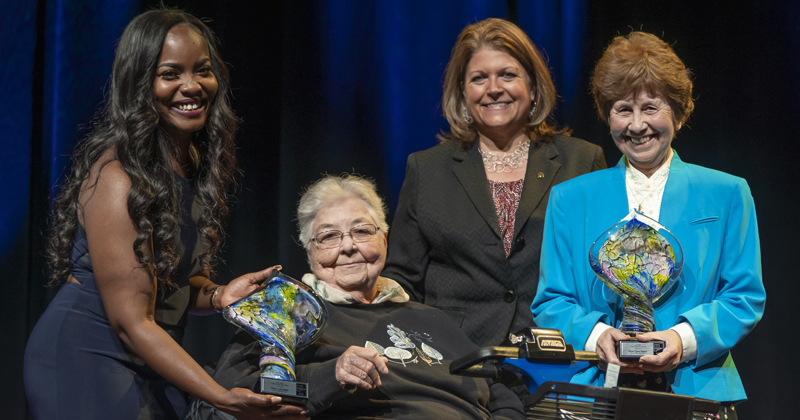 Sisters Carol Weber and Judy Blake and Greg Viener have helped improve the lives of an untold number of Genesee County residents.
But the recipients of two of Genesee County's most prestigious philanthropic awards are also quick to credit others for fine-tuning or instilling their sense of community service.
"It all started with my parents and how they raised us. That kind of started this value system in me of service above self," said Viener, president of Huntington Bank's Flint-based Mid-Michigan Region and recipient of the Art Hurand Award, which recognizes an individual or organization that exemplifies outstanding community spirit.
For Weber and Blake, a Good Samaritan whom they met while operating a street ministry that offered clothing and food to Flint's homeless population 20 years ago helped drive their formation of the St. Luke N.E.W. Life Center in Flint, which they co-direct.
Their work through St. Luke N.E.W. Life Center has earned Weber and Blake the Charles Stewart Mott Award, which honors Greater Flint citizens who have made significant contributions to the advancement and well-being of the community and who, by their actions, carry on the traditions of Charles Stewart Mott.
"Our mission is to help at-risk families become self-sustainable," Weber said. "We feel the best way to do that is to help men and women take hold of their lives and then help them prepare for and find a job."
She still vividly remembers the day in January 2002 when a woman showed up at their street ministry looking for baby clothes. They weren't for her but for the woman who gave birth in an abandoned house next door and whom she took in the next day. The new mother needed baby clothing and a car seat to move into a shelter.
The display of selflessness by the women who visited them that day inspired Weber and Blake to refocus their mission.
"We drove away from that experience saying to each other, 'We've got to do something more. We can't just take clothing out on the street'," Weber said.
Today, St. Luke N.E.W. Life Center provides life skills, education and workforce training that is designed to empower men and women to become self-sufficient.
The centerpiece is a 16-week program that begins with twice-a-week classroom discussions. If after the fifth class participants pass a drug test, they are hired for on-the-job training in either the greenhouse, pallet making company, commercial sewing operation or lawn care service that St. Luke N.E.W. Life Center operates.
"From there, they attend class two days a week and work three days," Weber said. "It really helps them come to grips with their work ethic and getting to work on time, so they get into a routine before we help them find a job away from here."
Weber said the center has produced numerous success stories over the years. One involves a disruption to the generational cycle of poverty. A 3-year-old was watching his dad getting ready for work in St. Luke N.E.W. Life Center's lawn care program and asked where he went every day.
"After the dad sat him on his lap and explained, he said, 'Daddy, when I get as big as you, I want to go to work too,'" Weber said. "So that's changing a mentality because so many of our people have never known someone to go out of the home every day for a job. You can't get out of poverty until you have a job."
Other offerings from St. Luke N.E.W. Life Center include a food pantry, literacy center that prepares people to obtain their GED diploma, afterschool tutoring program, and a support group for pregnant women and those who have been abused.
"It's been a powerful mission," Weber said.
Viener recalls how, growing up on a farm in rural Byron, he watched his parents offer food and otherwise help neighbors in need.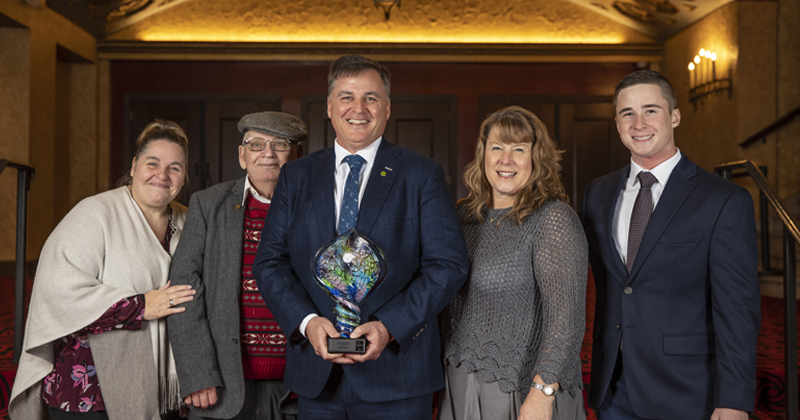 "The values really started with my family that I grew up with," he said. "I learned that no matter the challenges you're facing, you always have a chance during the day to make a difference."
After spending nine years in the Air Force, Viener returned to Michigan in 2000, working as treasury manager at the University of Michigan in Ann Arbor.
He moved to Genesee County in 2004 to work in municipal banking for what was then Citizens Bank. After Citizens became FirstMerit, he was named community president and commercial bank president for the local market. For Huntington, he oversees a region that stretches along the I-69 and U.S. 127 corridors.
But even with those expanded duties, he still finds time to stay involved with several local charities and institutions.
"What I'm fortunate with is that Huntington Bank is a company that really has a purpose that includes helping to make our communities stronger," he said. "It's defined as striving to help make people's lives better, make the businesses stronger and strengthen the communities we serve.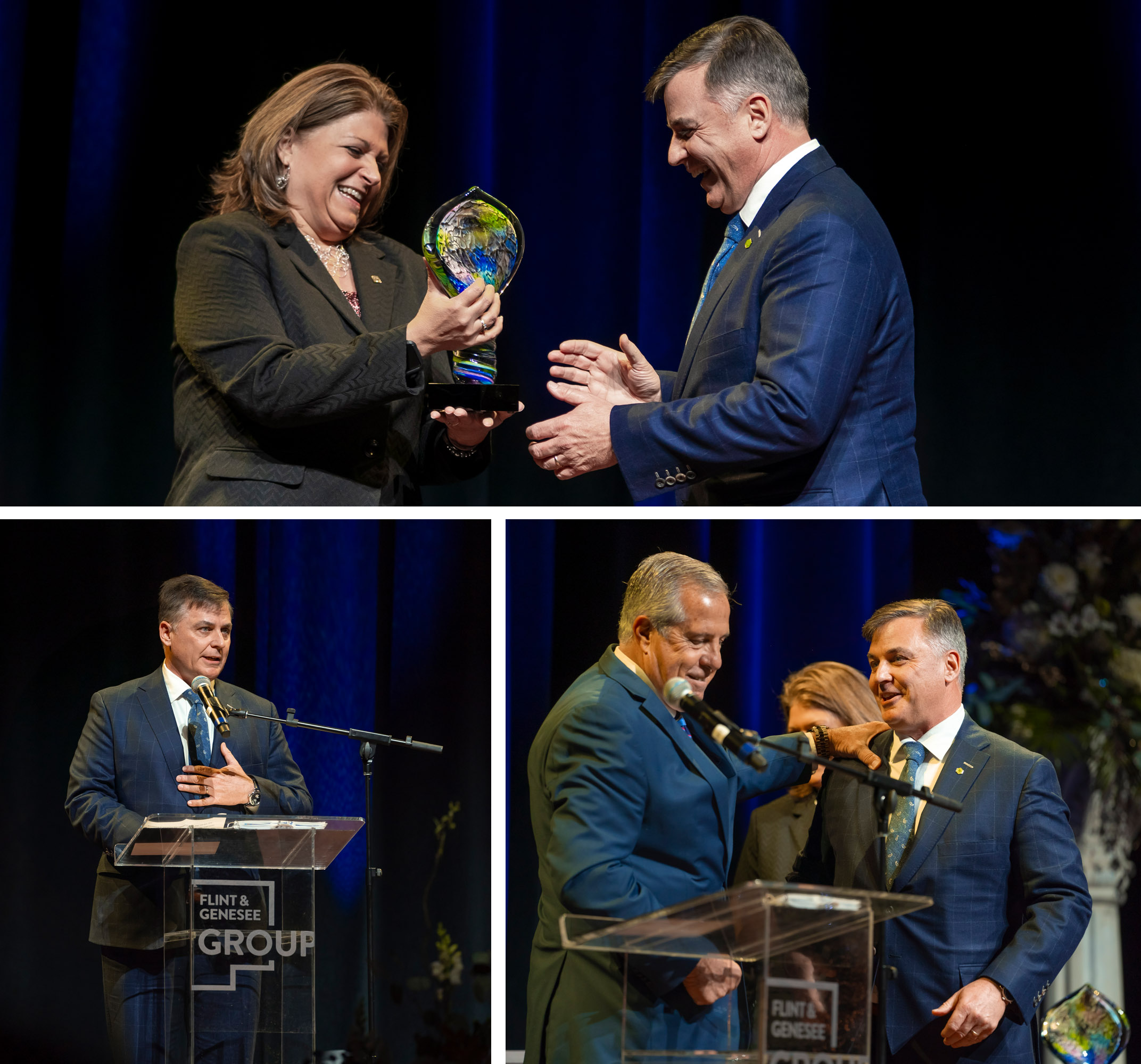 "That purpose from an employer aligns with all of my values that I was really raised on — looking out for others and helping others in the community. I'm trying to make at least a small difference."
Viener, who lives in Genesee County with his wife and son, serves on the Flint & Genesee Group's Regional Leadership Council and Board of Directors, and as chair of the Board for Uptown Reinvestment Corp. He is also a board member for for the Flint Downtown Development Authority, United Way of Genesee County, Food Bank of Eastern Michigan and the Hurley Foundation.
"All the work is important and aligns to strengthening communities, but the work that we do at United Way, and the Food Bank and the Hurley Foundation is really more laser-focused on helping one individual at a time and making their day a little bit better," he said.