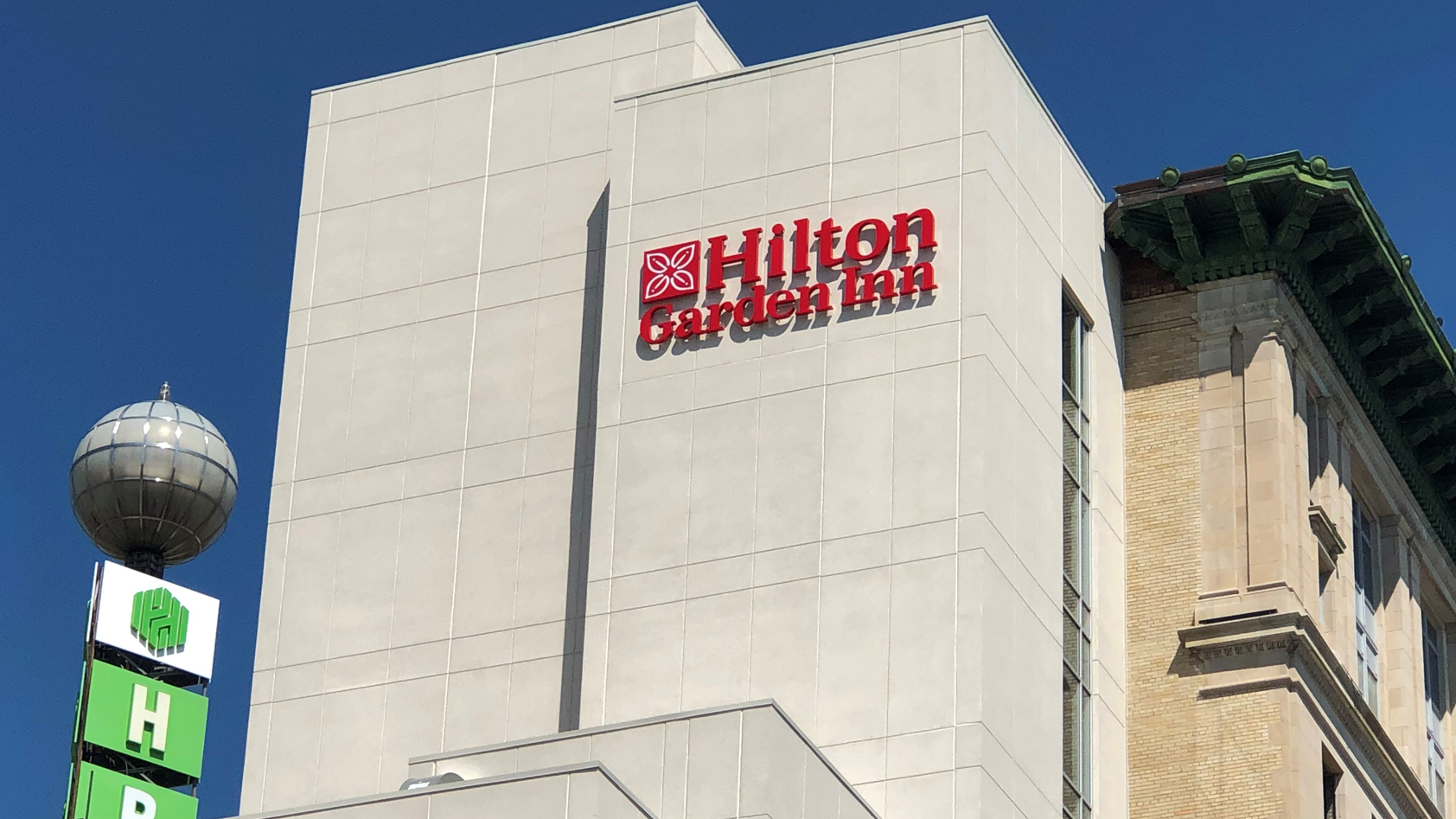 "Awe." "Appreciation."
Those are some of the responses the professionals involved with repurposing the former Genesee County Savings Bank building in downtown Flint hope to see from visitors when the long-vacant structure debuts as a Hilton Garden Inn in October.
"I love working on historical buildings and the fact that we're trying to preserve them," said Jerry Tomczak, project manager for DW Lurvey Co., which is handling the renovation under a joint venture with fellow Flint-based construction firm Sorenson Gross. "I think people are going to be pleasantly surprised by how beautiful it looks. I think you'll find they will be in awe."
Cassandra Talley, architectural historian at Detroit-based Kraemer Design Group — which applied its expertise as the architect, interior designer and historic consultant on the project – said retaining as many of the 100-year-old building's historic features as possible was the overriding goal.
Along with modern touches, the hotel will feature elements of the structure's decades-old Italian Renaissance Revival and art deco designs. For example, the original bank vaults and upper-floor mail chutes were incorporated into the redesign.
"I hope that it evokes appreciation for these types of buildings, because we have really tried to retain the historic features," Talley said. "I hope people walk in and look around and appreciate what they have, because buildings like this make Flint what it is. This is an iconic building in Flint, and rehabilitating it was essential for continued revitalization of the downtown core. I hope the public sees what a unique treasure it is that they have."
The 11-story structure at 110 W. Kearsley, which was Flint's second skyscraper when it opened in 1920, had sat vacant for nearly 20 years before the Hilton Garden Inn transformation began in 2018. It had last housed U.S. Department of Housing and Urban Development offices.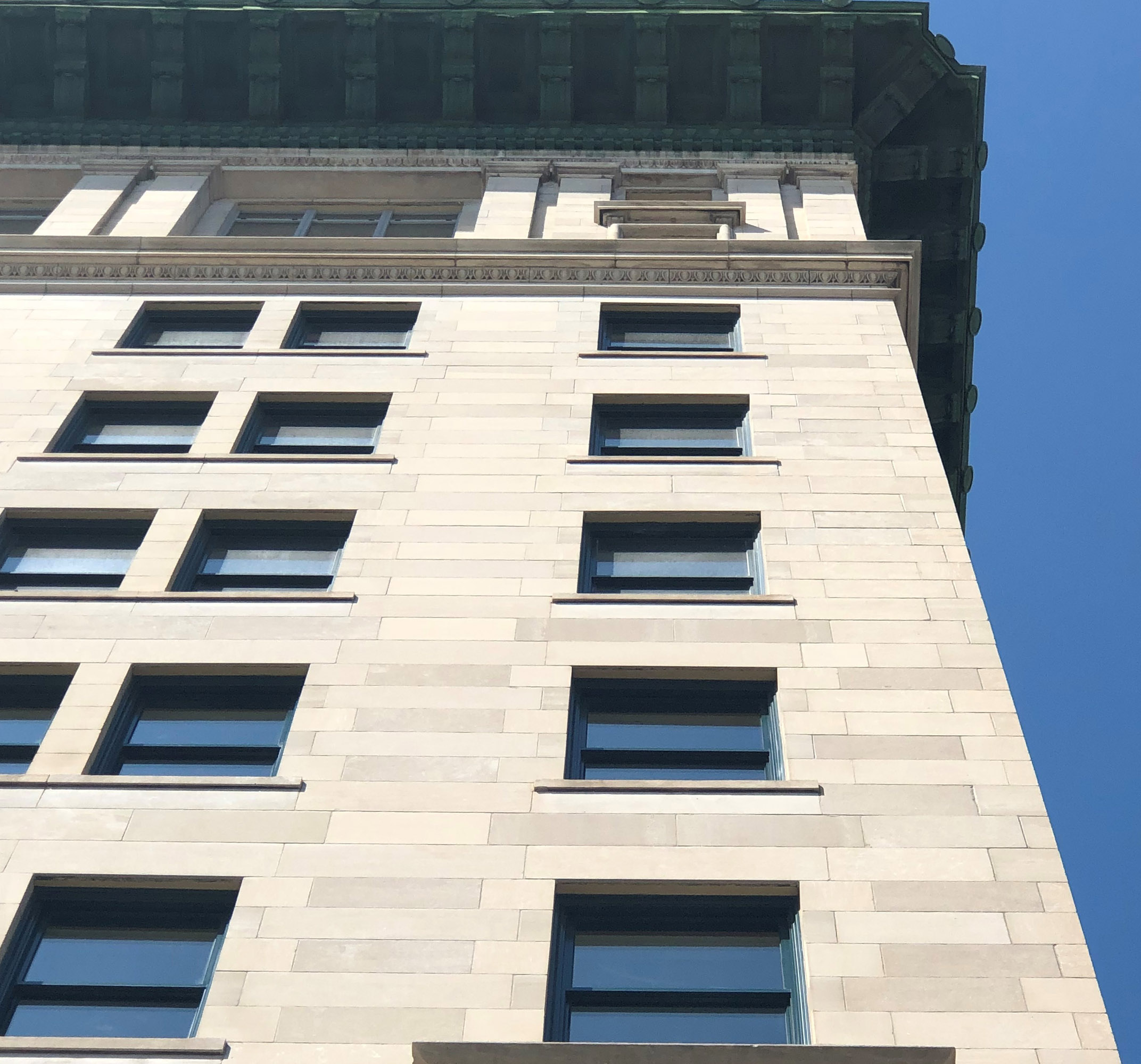 "The building itself is a significant part of Flint's skyline," said Nate Lindsey, senior project architect on the hotel for Kraemer Design Group. "This is one of the most important buildings in the city."
'Strength and stability'
The current transformation will result in a 101-room hotel, complete with a full-service restaurant, a meeting and banquet center, and rooftop lounge.
"It's going to provide businesses and visitors with upscale accommodations in downtown Flint, which they haven't had in a long, long time," said Tim Herman, president of Uptown Reinvestment Corp., the project developer, and CEO of the Flint & Genesee Chamber of Commerce. "It will also expand the customer base for our local restaurants and arts and cultural institutions."
In addition, the property will cater to businesses and organizations that regularly host out-of-town guests, such as arts and entertainment venues, colleges and universities and medical facilities, he said.
And beyond those practical considerations, the hotel will further symbolize Flint's revitalization, Herman said.
"It'll be the centerpiece of over a $200 million renaissance in downtown Flint," he said, citing other recent projects such as the Capitol Theatre, Marketplace Apartments, Dryden Building and Ferris Wheel.
Over the years, occupied or not, the Genesee County Bank Building stood resilient, said Tomczak, a Flint native who also was involved with the Capitol Theatre building restoration.
"The structure itself is unbelievably strong — there's a lot of steel and a lot of concrete," he said. "It's amazing what they were able to do in the 1920s."
That sense of stability was no mistake, given the building's original use, Talley said.
"These classical revival styles were often used for significant public buildings and bank buildings to symbolize strength and stability," she said. "During the upheavals of the 1920s and 1930s, when people were trying to find a bank, projecting this image of stability was really important."
Reusing many of the building's core elements is also "a very green thing to do," Talley said. "It's green to save it and keep it out of a landfill, not to mention the fact that these materials are beautiful and almost irreplaceable in some regards."
Lindsey noted that the building was originally constructed in the Italian Renaissance style, "which is especially noticeable in the facade with the heavy cornices and a lot of the neoclassical detailing. And the original banking hall itself was also of the Italian Renaissance design — very stately with a lot of hard surfaces. It had a very different feel originally than it did after the renovation."

That renovation occurred in 1947, in celebration of the bank's 100th anniversary, and it added art deco details to the main-floor banking hall and the first two levels of the facade.
"What's unique about this building, in my mind, is that 1947 remodeling," Lindsey said. "That's not really considered a boomtown era — we'd just come off World War II. But it really brightened up that space and added a lot of plaster details that have somewhat floral design to them and really transformed that space into what we're celebrating now."
The former grand banking hall will serve as the hotel's centerpiece, with a destination restaurant on the main floor and a surrounding balcony that will offer a pre-function gathering space for the meeting rooms and banquet spaces on the second floor.
The original steel guardrail that bordered the balcony, which was covered up during the 1970s, was exposed during the renovation.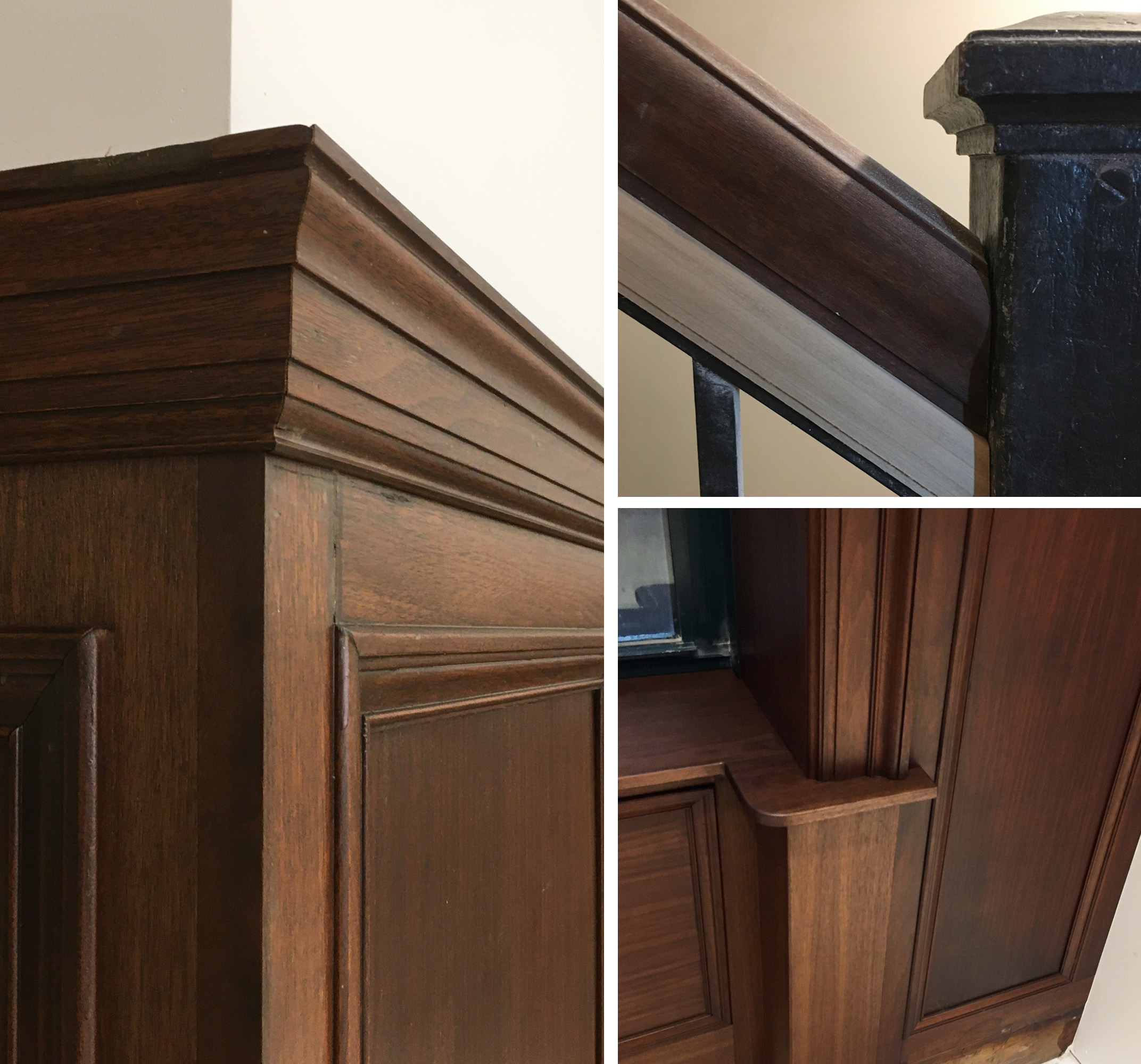 "When you go into second set of doors as you're entering the restaurant, it opens up to this dramatic double-height space," Lindsey said. "There's a very dramatic entrance experience to this restaurant. We really wanted to celebrate what that space is."
'Unique to the community'
Upstairs in the tower, original marble wainscoting, bases and door casings were restored and incorporated into the hotel's corridor design. A new rooftop bar — with views overlooking Buckham Alley to the south and of Kettering University's campus to the west — will sit atop the adjacent five-story Sherman building. Patrons will enter the bar through the hotel's main entrance and lobby.
Floors three to five of the Sherman building will also house 21 of the hotel's 101 rooms.
The guestrooms themselves will reflect unique layouts and designs, a common feature of historic buildings that have been restored and preserved in a modern fashion. Features will include bright and warm white walls, accented with pops of color through the upholstery fabric and classic wood tones in furniture pieces. Bold geometric patterns in rugs and accent wall coverings will also make an appearance, and artwork on the walls will incorporate abstract deco shapes overlaying historic images of the city of Flint.
"You're able to offer something that is unique to the community," Lindsey said. "You're not getting the repeated imagery that you often get when you get a new hotel that follows a very specific template. Saving something that is very specific to the Flint area — there's tremendous value in that."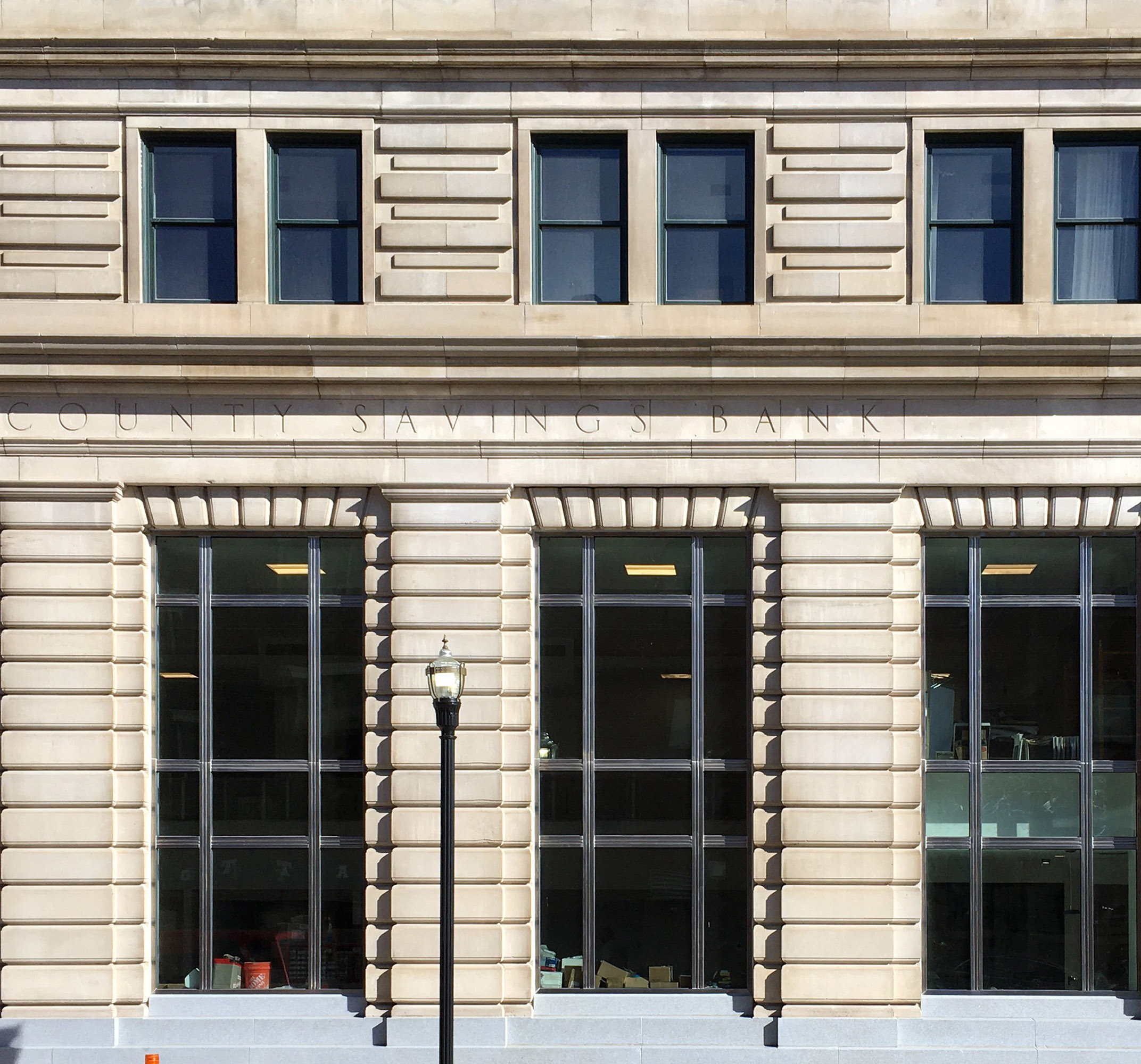 Fairfax, Virginia-based Crescent Hotels and Resorts, which operates more than 100 hotels, resorts and conference centers in the U.S. and Canada, will manage the Hilton Garden Inn. Financing for the $36.5 million project is being made possible through Uptown Reinvestment, Michigan Economic Development Corp., Charles Stewart Mott Foundation, Skypoint Ventures and Local Initiatives Support Corp., along with Huntington Bank and Old National Bank.
Lindsey has already gotten a sense of the building's connection with the community.
"We have people working on the project who have said, 'Oh, my dad was a banker in this building,'" he said. "People are very excited to see this building retained, and I think they're going to have this wonderful experience when they are able to see these things again being repurposed. So there's just this huge value for the community itself."