Remediation efforts a high priority for all
With the school year in full swing, Genesee County districts are embarking on a regimen of reading, 'riting and 'rithmetic — and remediation.
That last addition to the traditional three R's is a result of the lingering effects of the COVID-19 pandemic, which during the previous academic year resulted in less instructional time and reduced face-to-face interaction between educators and students. Most schools were forced to implement at least some amount of online or hybrid learning as the pandemic raged.
Because of that, "COVID recovery" doesn't relate just to the physical sense but, for some students, the academic and social-emotional as well.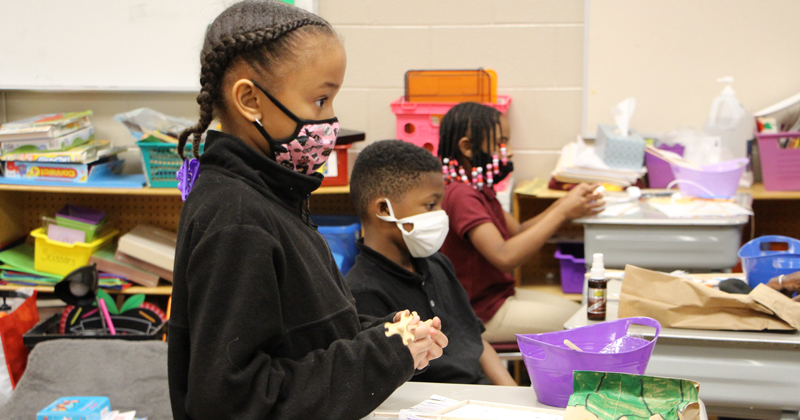 In response, districts such as Grand Blanc Public Schools are taking measures that include hiring additional staff whose sole mission is to assist students who fell behind during last year's disruptions to the traditional learning environment.
While initial assessment scores indicate that Grand Blanc students as a whole made satisfactory academic progress during the 2020-21 school year, it's clear that some students had less success under the changes wrought by COVID, said Superintendent Trevor Alward.
"Overall, our kids still did fairly well, so the deficits weren't super large in that regard," he said. "What we did identify is that some kids really thrived in the pandemic and some kids really struggled."
Using federal COVID-recovery funds, the district has at least temporarily hired academic interventionists and social workers and counselors to work at the elementary, middle school and high school levels and provide one-on-one assistance to students who need it.
The district was anticipating an increased need for counseling because of the spike in depression and anxiety caused by social isolation during the pandemic, Alward said.
"I think they'll provide the supplemental support, but the people who are going to get our kids back up to speed are our teachers," said Alward, noting that Grand Blanc has an experienced staff, with average tenure among teachers exceeding 10 years.
"We know the most impactful thing on student achievement is a highly qualified teacher. I know our existing staff are really going to be the ones to really close the gap, and these supplemental support people coming in are going to be building upon that."
Education supports 'an urgent cause'
Indeed, immediate remediation efforts are a high priority for all educators, said James Avery, program director of Flint & Genesee Education & Talent, a division of the Flint & Genesee Group.
"There's an urgent cause to hire specifically recovery instructors," said Avery, who also sits on both the Genesee Intermediate School District and Grand Blanc school boards of education. "These efforts are to find a safety net for students who may need that. If it's not caught now, it's going to snowball."
And that, he said, could affect the entire community, not just education. It's Flint & Genesee Education & Talent's mission to help ensure that local businesses have a deep pool of well-trained employees.
Dr. Kimberly Leverette, executive director of Flint & Genesee Education & Talent, said much of the remediation efforts will require tailoring education to students' individual needs.
"I think support staff are going to be critical in having those collaborative discussions with teachers and also students, in terms of allowing those students to have a voice in determining exactly what they need," she said.
"It's very much individualized in terms of how the learning disruptions may have impacted students, and that's why it's so important to have that conversation that pulls in the parents and the students about what their needs are."
While many students fared just fine in a remote learning setting, in-classroom instruction is still the preferred model, Leverette said.
"Direct instruction is just that: It's a teacher standing in front of kids with an identified core set of objectives," she said. "Then the teacher can circulate around the room and immediately take note of how well the lesson is being absorbed, maybe ask a kid a probing question and adjust instruction as necessary."
Face-to-face instruction also gives teachers an opportunity to pick up on cues they might not observe during online lessons, such as fidgeting, that indicate a student is struggling with a concept, Leverette said.
"You're not going to necessarily see that if things are being done virtually," she said. "It gives teachers immediate feedback that they can use to maybe break the classroom into small groups or give students individualized instruction."
Controlling COVID is key
Leverette said she's hopeful that the year of disrupted learning won't have long-term effects on struggling students.
"Of course there is going to be learning loss," she said. "But I think that's why it's so important to continue to provide wraparound services, including social-emotional support, for students in a more intensive way than we have in the past.
"There are going to be some that get additional support and close that gap, but there are going to be some that continue to be a challenge and we need to strategize about ways to help them," she added.
Much also depends on keeping COVID-19 under control so that in-person instruction can continue, Leverette said.
"We've been on a roller-coaster ride," she said. "I know we're starting out by going back face-to-face this year, but if we have to pivot again because of the uptick in cases in our children that are 12 and younger and cannot be vaccinated, that is a huge concern."
Alward agreed.
"My first hope is that the vaccine can get approved for kids 11 and under," he said. "I feel like that's a real game changer for school districts. I think that's going to get us back to normal quicker. But I know there are going to be some residual impacts for a long time with this that are going to change the way we operate in the future."
One potential long-term concern is the number of children who did not enroll in school last year, a total of 55,000 statewide — including 450 in Grand Blanc, Alward said.
"As far as the lingering impact of the pandemic, enrollment is a big thing," he said. "That's a scary number. It's not just based on funding. Those kids need school. Where they land is something we need to watch. I'm hopeful that they'll come back to us as we get back to normal."
College also a concern
Avery is also hopeful that the pandemic won't have a lingering effect on college attendance among Flint students.
The administrator of the Flint Promise scholarship program is aiming to ensure that last year's drop in applicants was just a one-time blip.
The scholarship provides last-dollar funding — after scholarships, Pell Grants and the like are applied — to students who graduated from a Flint high school with at least a 1.8 grade point average or a GED program and are attending Mott Community College, the University of Michigan-Flint or Kettering University.
The program also offers "success coaches" who help students overcome roadblocks to attending school, such as lack of transportation or day care.
"We try to remove all barriers so that the only thing on their plate is learning," Avery said. "That brings a sense of hope to the community."
However, last year there were 158 scholarship applicants, down from 186 in 2019.
"We basically went back to square one where college wasn't a priority," Avery said. "College took a back seat for many families. It was just about survival. It was about making sure about health."
But, Avery noted, students remain eligible for Flint Promise scholarships through age 24.
"That gives them some leeway," he said. "But we're just trying to preserve that mentality of once you've started, we don't want you to stop."