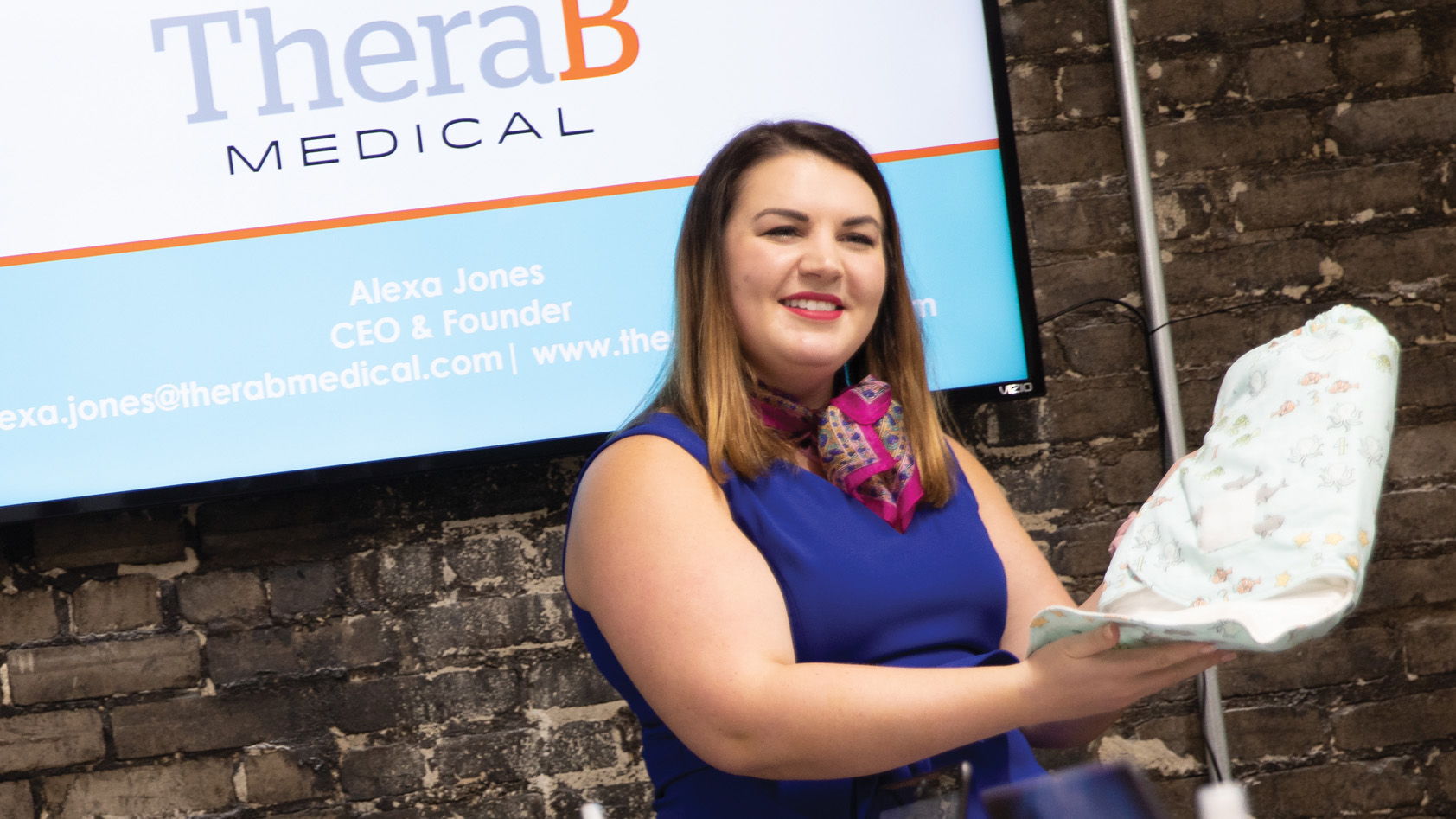 XLerateHealth is aiming to make the Flint area healthier — on a couple of different levels.
The Louisville, Ky.-based health care accelerator provides technical advice and connections to fledgling companies that are seeking to address a variety of medical-related challenges.
On a broader level, with the opening of its Flint location earlier this year, the accelerator is contributing to development of a "startup ecosystem" that will boost economic innovation throughout the area, proclaims Jackie Willmot, XLerateHealth CEO and co-founder.
"We want to stimulate entrepreneurship in Flint," she said.
XLerateHealth, which set up shop in the Ferris Wheel Building in downtown Flint in January, launched its first local boot camp in July for six startup companies looking to accelerate their growth.
The 12-week program will culminate in a Demo Day on Sept. 25, in which the participating companies will make pitches to investors, health care ecosystem partners and the general startup community, with the goal of making connections that will help them take their businesses to the next level.
'We'll build Flint up'
While none of the six companies selected for the initial cohort are from Genesee County — five are based elsewhere in Michigan and one is from Canada — they did make regular visits to XLerateHealth's Flint offices, where they received one-on-one coaching from a team of mentors and networked, commiserated and shared ideas among themselves, Willmot said.
"When we bring in companies from outside the city, we hope to provide good experiences and they will go back and speak highly of Flint," said Willmot, who boasts 30 years of experience in the health care industry, including 13 years as a clinician and 15 years as an executive at Humana. "We'll build Flint up in a positive way."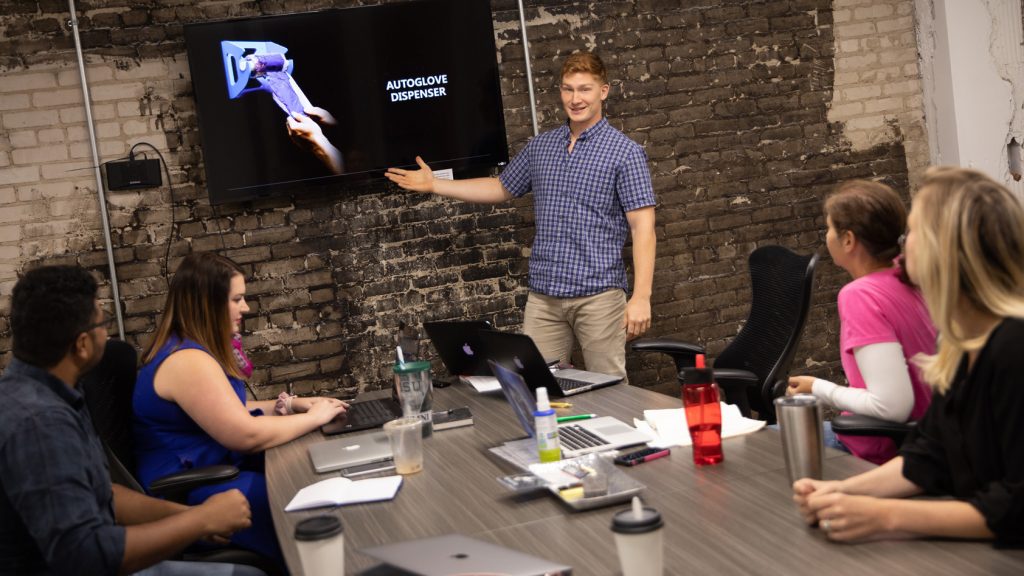 The six companies that made up XLerateHealth's first Flint cohort are:
Bisep, a Niagara Falls, Canada, medical device company whose flagship device is the ARMM (Ambulation, Retraining and Mobility Mechanism), which attaches a patient's wheelchair directly to their walker and increases the frequency of ambulation and walking confidence and decreases the risk of falls.
 Crown Mallard of East Lansing, founded by Michigan State University students with the goal of solving the problem of disposable glove cross-contamination in health care and food services. Its AutoGlove and AutoGlove dispensing system keep unused gloves from being exposed to outside contaminants.
Detroit-based El-Opira, which uses advanced biomedical imaging technologies to diagnose cancers, targeting skin and brain cancers. The company's first product will help healthcare providers differentiate dangerous skin cancer from benign moles, using specialized software that works with existing medical equipment.
HealthFreelance of Plymouth, whose digital hiring platform helps health care businesses find, connect with and hire workers. It serves medical offices, pharmaceutical manufacturers, hospitals, research institutions and corporations.
Melius Outcomes of Ann Arbor, which has a web-based, quality improvement software platform that captures and cleanses data from an existing electronic health record, displays it for staff to highlight a specific quality issue and provides 24/7 online training videos, references and tools with actionable recommendations to fix the issue. In trials of the Melius solution, hospitals have seen a reduction in infection and readmission.
TheraB Medical, a Lansing company that has created a portable and wearable 360-degree phototherapy treatment for infant jaundice called SnugLit.
Being coachable is key
XLerateHealth received "hundreds" of applications for the initial Flint boot camp, which "shows that there's pent-up demand for health and health care startups," Willmot said.
Accelerators like XLerateHealth are different from business incubators. The former offers an intense period where participants concentrate on growth, whereas an incubator supplies more long-term nurturing to startups by providing office or other working space at below-market rates along with management advice.
In exchange for providing 2 percent common equity in their company, participants are connected to XLerateHealth's extensive roster of professional mentors and gain access to decision-makers at health and wellness companies throughout the country. XLerateHealth describes the program as "a combination of classroom time, one-on-one sessions with mentors and focused customer discovery."
In selecting cohort participants, XLerateHealth looks for companies whose founder works in them full-time, have raised some capital or are in their early operating stages and that ideally have other team members in place to round out the founder's experience, Willmot said.
"And they definitely have to have a minimally viable product, not just an idea," she said.
On top of that, participants must be coachable and willing to listen, Willmot said. "Without that type of behavior, it's hard to move a company forward."
Six is an ideal size for a cohort because it's small enough for mentors to devote ample attention to each company but large enough so that participants can network and learn from each other, Willmot said.
Road to Flint
XLerateHealth also aims for diversity in its cohorts, both in terms of types of companies and the demographics of their owners. In regards to that latter goal, Willmot said she was pleased that women were behind half of the companies in the initial Flint cohort.
Given the amount of time required to vet applications and secure funding, XLerateHealth will stage just a single cohort in Flint each year.
Its Genesee County involvement began three years ago, when it was in discussions to become part of a proposed life sciences research and development park.
"We found the ecosystem in Michigan and Flint to be inviting," Willmot said.
From there, XLerateHealth brought members of one of its Louisville cohorts to make well-received presentations to local health care providers.
At the same time, XLerateHealth learned that local businessman and philanthropist Phil Hagerman was striving to build entrepreneurism in Flint through the 100K Ideas nonprofit that he co-founded.
XLerateHealth's Flint location is funded by 100K Ideas and the Charles Stewart Mott Foundation.
"It is an extremely exciting time here in Flint and we are proud to bring a nationally recognized accelerator to our region," Hagerman said in a press release announcing XLerateHealth's local arrival. "XLerateHealth has an excellent track record of helping promising startups commercialize and will bring a deep bench of national health care and business experts to our community to grow our innovation capabilities."