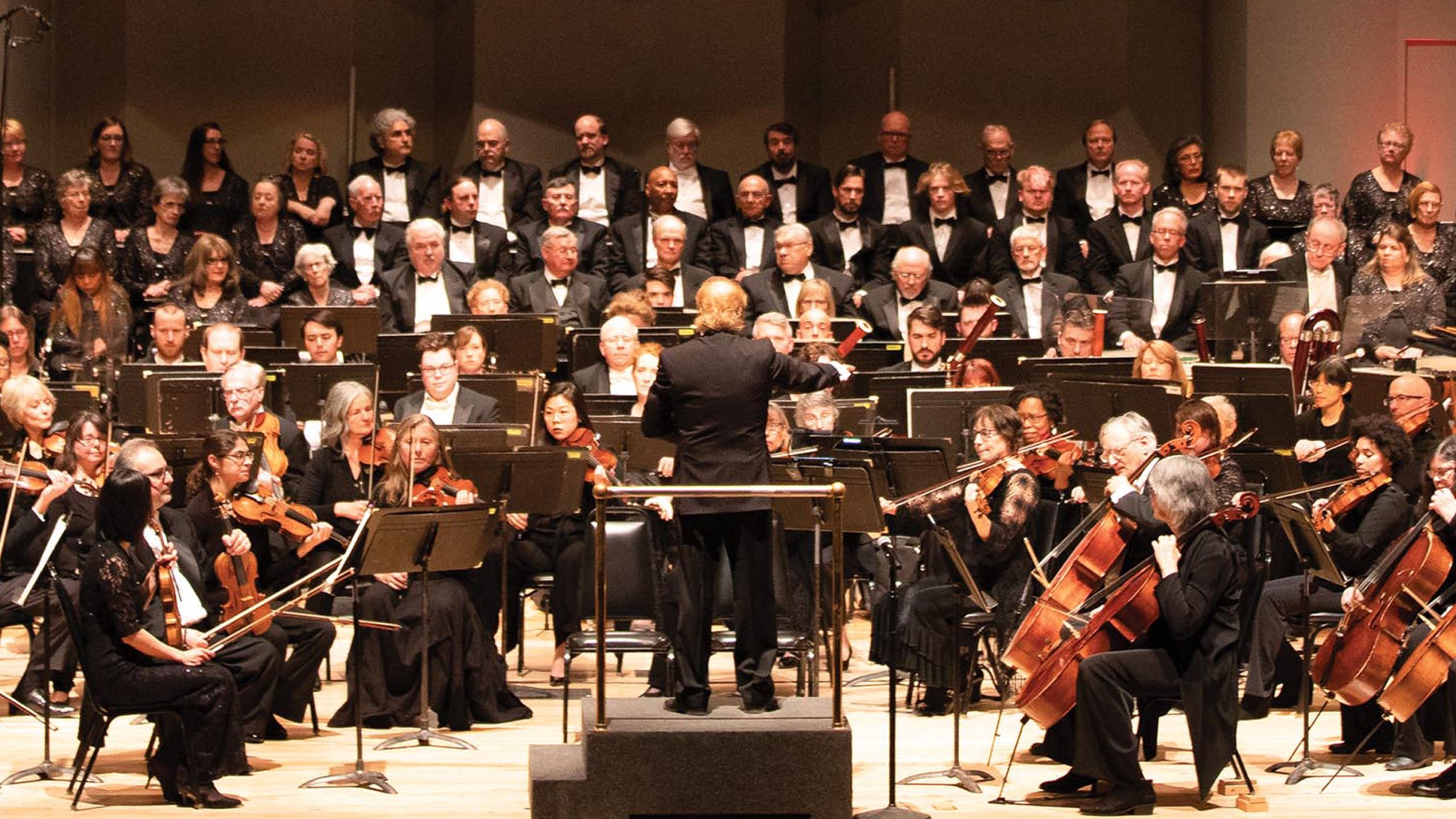 Raise the curtain on any performance, exhibit or other activity at the Flint Cultural Center and you'll find … a marketing opportunity?
That's one way leaders of the various Cultural Center institutions are encouraging local economic development officials to think of arts and culture's role in the community.
Armed with a recent study that found the Cultural Center generates nearly $34 million in annual economic activity for the region, they are promoting the idea that the arts have the power to recast the image that outsiders far too often have of Flint.
"Arts change people's perceptions of a place — it's as simple as that," said John Henry, executive director of the Flint Institute of Arts. "We have to stop this narrative that we're the poster child of poverty and despair. We're not. We've got this golden goose here in the form of the Cultural Center that nobody knows about. We've got the kind of things that make people think a city is a great place."
Todd Slisher, executive director of the Sloan Museum and Longway Planetarium, echoes those sentiments.
"Oftentimes I hear people refer to the Cultural Center as a hidden gem," he said. "Why should it be hidden? We should be shouting to the world and talking to people about the amazing resources we have here."

The Cultural Center — the 33-acre campus along Kearsley Street east of downtown Flint that beyond the FIA, Sloan Museum and Longway Planetarium includes the Flint Institute of Music, The Whiting and the Flint Public Library — certainly enjoys local support, as evidenced by the 2018 passage of a countywide Arts Education and Cultural Enrichment millage. (The Capitol Theatre, which was fully restored in 2017 with historically significant architectural details and elements, is also managed by The Whiting. The performance arts venue at 140 E. Second St. has been listed on the National Register of Historic Places in Michigan since 1985.)

The 10-year levy not only undergirds Cultural Center operations but it also provides funding to other local art organizations.
In addition, in November 2019, 68 percent of Flint voters said yes to a $12.6 million bond that will help fund renovations at the Flint Public Library.
Painting a new image
But Cultural Center leaders say much of the local arts community's economic potential remains untapped.
Presenting Flint to the outside world as a hotbed of arts and culture would not only produce hard economic benefits in the form of additional tourist spending but also have softer offshoots, such as promoting the community as a good place to live or open a business.
"There's no city in greater need of that kind of messaging, that kind of branding," Henry said.
And the best part is that the effort would require little in the form of capital investment, given Flint's wide array of existing arts offerings, he said.
"We're asking the community to simply get behind promoting a $34 million industry," Henry said. "It's doing what it takes to get people here so they can say, 'Wow, this is so much more than I read about.' When they're here, they're just astonished."
Indeed, while art museums, performance centers and other cultural attractions are expected components of big-city life, few cities of similar size can match Flint's arts infrastructure, the bulk of which dates to the 1950s when industry and community leaders undertook the Cultural Center's development.
"Cities that don't have half the story that we have are successful at creating this brand around arts and culture," said Rodney Lontine, president and CEO of the Flint Institute of Music. "We have the goods. We actually have a real story. We're totally blessed in this county to support an art museum the size of the FIA, to have a symphony orchestra that's been around for over a hundred years, a repertory theater, a planetarium, a museum, the largest school of performing arts in the state of Michigan and top 10 in the country — you'd normally have to have a population of a million plus to support something like that."

Marketing by arts organizations tends to focus on specific events or offerings. But a communitywide effort to put the spotlight more broadly on arts and culture could have far-reaching effects, Slisher said.
"Flint has had a lot of bad news over the years," he said. "When you live outside of Flint, that's mostly what you hear. People don't talk about the flourishing downtown and all the redevelopment that's going on, new jobs moving into the community or the Cultural Center."
Big business
Many Flint-area executives and other leaders who are in the position of hiring professionals for their organizations understand all that, however. The Cultural Center is typically a must-stop when they're showing prospective employees around town, Slisher said.
"I don't know how many times either the Chamber or area universities have called up to tour the amenities with potential employees and their families," he said.
To be sure, the Cultural Center is already a strong tourism draw, with nonresidents accounting for nearly 29 percent of its visitors in 2018, according to a study released last year by Americans for the Arts, a nonprofit organization that advances the arts nationwide.
And nonresidents spend more per person than county residents – $27.90 vs. $19.25 – during their visits on items, such as lodging and shopping, the report found.
The report further concluded that the Cultural Center is "a significant contributor to the region's economy." For instance, its $33.7 million economic impact consists of $26 million in expenditures by the Cultural Center itself (by purchasing supplies, contracting for services, etc.) and $7.7 million in additional event-related spending by its audiences.
As a whole, Cultural Center institutions provide 1,048 full-time equivalent jobs, generate $23.1 million in household income for local residents and deliver $4.4 million in local and state government revenue, the study found.
It also included discussion of the further-reaching impacts of arts and culture, including the fact that Iowa Gov. Kim Reynolds identified it as "the third-highest measurement businesses use when gauging development trends — behind skilled labor and highway accessibility but ahead of other factors such as corporate tax rates and incentives."
Whether they ever step foot on the Cultural Center campus or not, all area residents benefit from the economic and other vitality generated by the arts, said Ann Marie Van Duyne, chief development and marketing officer for the Flint Institute of Music.
"The numbers speak for themselves," she said. "If people saw these kind of numbers for any other business sector, they would stand up and take notice. The Cultural Center is an economic driver for the whole county, not just downtown."
Building for the future
Beyond the impact of their day-to-day operations, Cultural Center institutions also boost the economy through capital projects.
For example, the Sloan Museum is in the midst of a $26 million renovation and expansion that will transform it into the Sloan Museum of Discovery that will feature reimagined Flint history galleries, a hands-on science Discovery Hall and Early Childhood Gallery.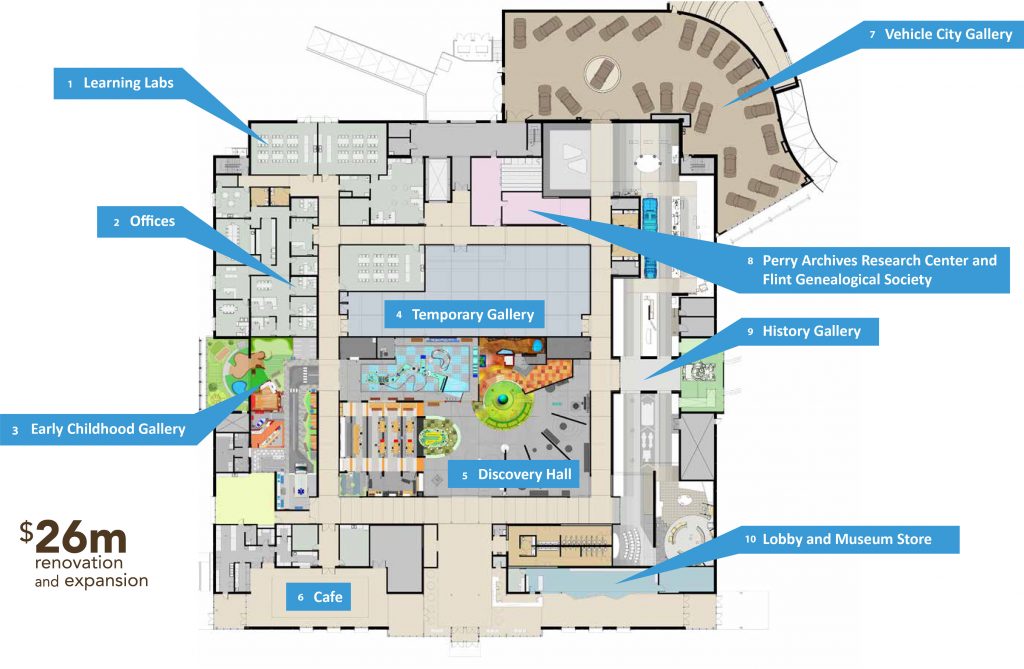 Construction, funded largely through foundation support, began in June 2019 and is slated for completion late this year or in early 2021. In the meantime, the Sloan will remain temporarily housed in the Courtland Center Mall in Burton, where the Flint Public Library will soon join it during its own capital project.
The library's nearly $30 million renovation will replace all of the 52-year-old building's infrastructure, including its heating and cooling, plumbing and elevators — "delivering a like-new building to the community," said library Director Kay Schwartz.
The project, which is slated to run from May 2020 to August 2021, will also ensure the library remains a vital community resource during the digital age, she said.
While the library continues to grow its digital assets, including publications that patrons can download, its physical facility draws 500 people a day.
"Many people still need to come in and use the computer," said Schwartz, citing statistics that nearly 50 percent of Flint households lack a computer and 40 percent are without a smartphone. "That's a huge need that we're helping fill in our community."
For example, she notes, online access allows residents to sign up for government services or apply for jobs.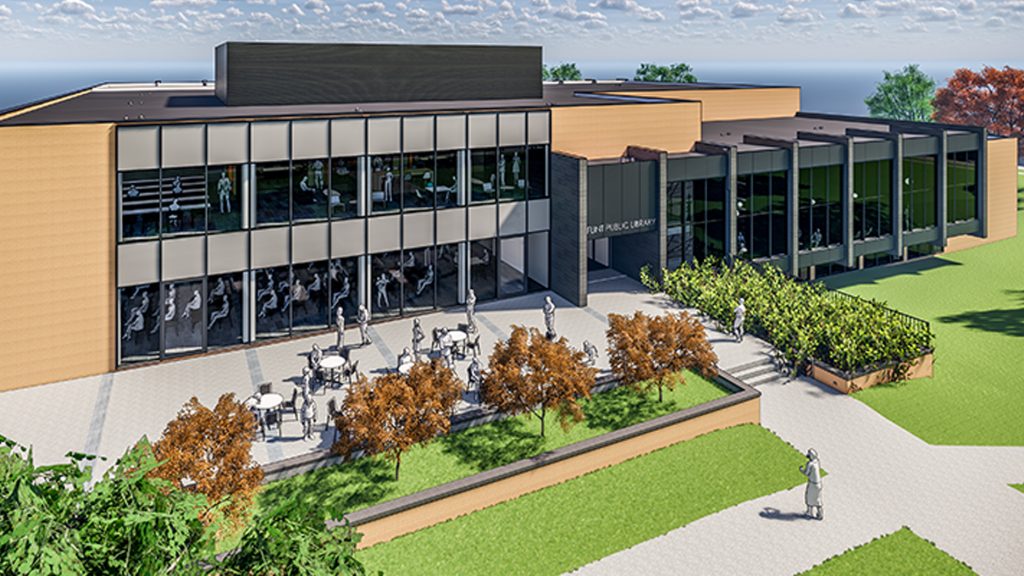 The revamped library will also feature more and a greater variety of meeting spaces, including study rooms for two to four people, four classroom-size spaces, a 150-person community room and a mini conference center that will seat around 70 with three adjacent rooms that will accommodate about eight people.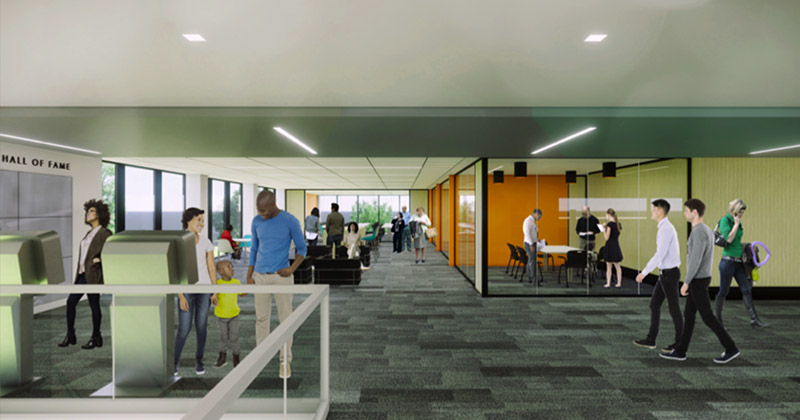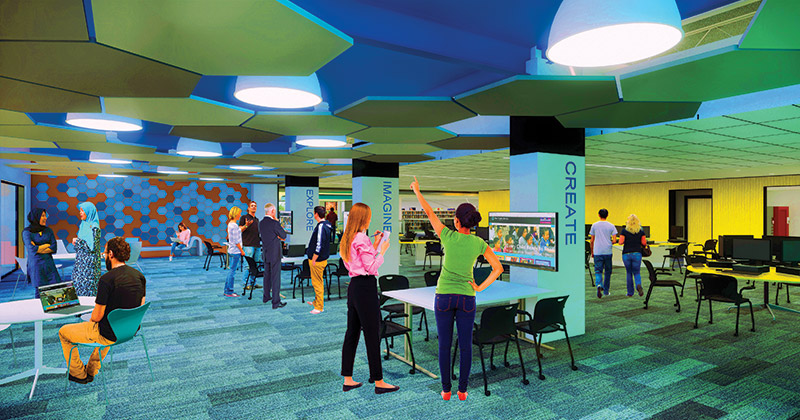 "What we're setting ourselves up to do is be really useful for the general community and the business community," said Schwartz, adding that the spaces will be available for free or at a low cost, depending on the user. "There's going to be lots of opportunity for people to use this building in different ways than they ever have."