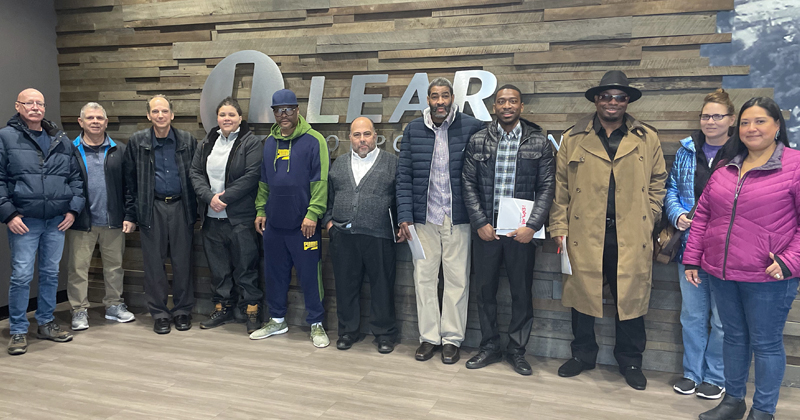 A person can only learn so much about a job opening from an online listing or during a job fair, which is why Flint & Genesee Economic Alliance and area partners recently piloted the first "Flint & Genesee Talent Tour."
The event, held in December 2022, brought together clients of St. Luke N.E.W. Life Center, Catholic Charities and Re-Connections — organizations working with underserved residents and returning citizens, respectively— for a tour of Lear Corp. Ten job seekers had the opportunity to hear from the human resources department and a union representative before touring the manufacturing floor, where the Flint facility builds car seating systems for General Motors.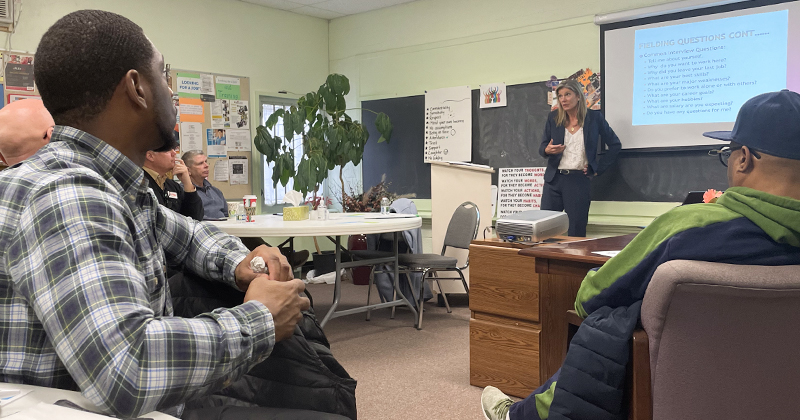 "They didn't pull any punches," said Devine Henderson, one of the locals participating in the tour. "They told us our hands might hurt and how the different shifts worked. They also talked about how they'd pay for schooling and have programs that can help us save money."
"I learned a lot on the tour. If I hadn't gone, I wouldn't have known the company existed."
Bringing awareness to area employers is one of the things the Economic Alliance was hoping these tours would do.
"A lot of times, a person might apply and interview for a job without knowing what to expect," says Karena Hamlet, senior business development manager. "They go through the interview process and it's not until their orientation or first day on the job that they really see what the job entails. And for some, they might just say, 'this is not for me.'"
By showing job seekers up front what the work environment is like — the upsides and the downsides — the Talent Tours aim to better prepare job seekers for the workforce and to improve the likelihood that employers hire qualified candidates who will stick around.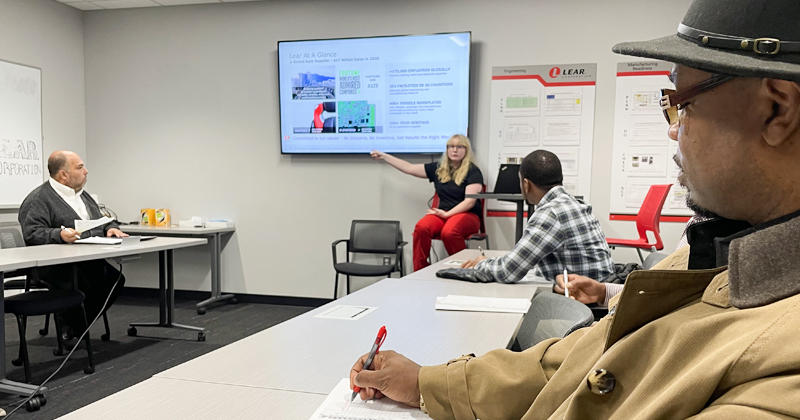 Starting February 2023, the partners will come together monthly for additional tours, which will be held at different manufacturing companies throughout Genesee County. The organization is also partnering with GST Michigan Works! which will provide job readiness and interview training leading up to the tours.
"Ideally, tour participants feel so prepared that — provided they're interested in the employer we've visited — they can submit their resume the day of the event," says Hamlet, noting that of the pilot group, at least half had completed an interview with Lear within two weeks of their visit.
According to Hamlet, the program complements employer tours that St. Luke N.E.W. Life Center already offers its clients by leveraging the Economic Alliance's employer relationships.
"As part of our Talent Connection services, I'm always talking with local human resources departments about their needs and challenges, and what we can to do assist," Hamlet says. "These tours are a direct response to some of the feedback we've heard."
Area manufacturers and major employers interested in hosting a tour in 2023 should connect with Hamlet at khamlet@flintandgenesee.org or call 810-600-1440.