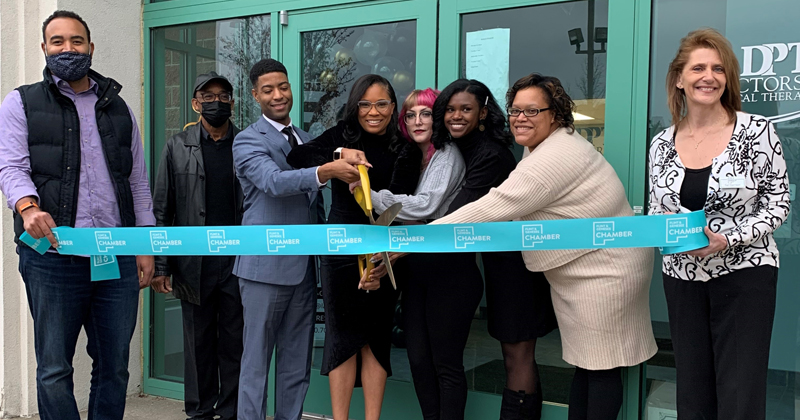 On the Move features and celebrates Flint & Genesee businesses' grand openings, staff promotions, new hires, recognition and milestones
(Featured above) LaTresha Rena Salon & Spa, 1032 S. Linden Rd. in Flint Township, celebrated their ribbon-cutting on Nov. 18.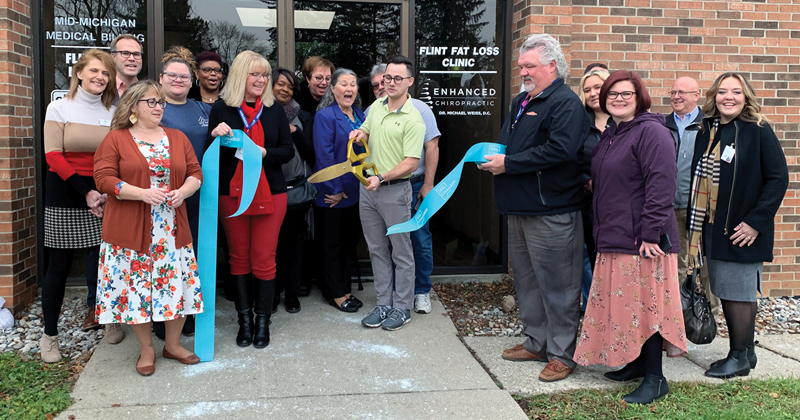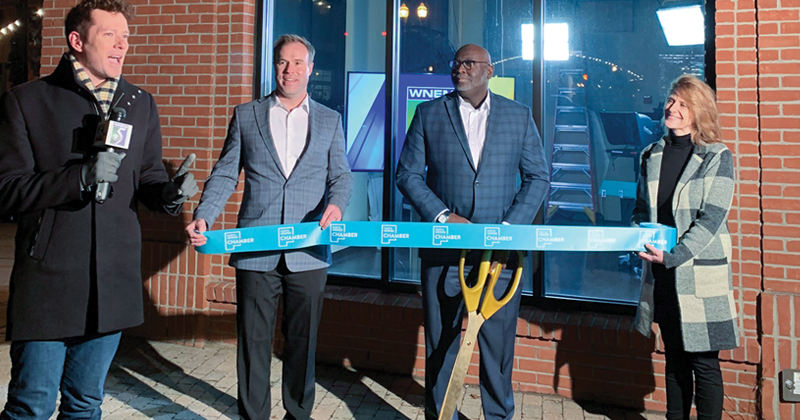 Promotions, New Hires and Recognition
---
Lewis & Knopf, CPA, P.C., announced the promotions of Michael Krampe, CPA, and Allen Gamble, CPA. Krampe, who was previously a manager, steps into the new role of principal. He has been with the firm since 2015, serving clients in a variety of industries including farming, medical, construction, retail and real estate. Gamble moves from senior staff accountant to manager. He joined Lewis & Knopf in 2017 and specializes in working with not-for-profits—specifically school districts.
Khalfani Stephens resigned as the economic development director for the City of Flint to accept a position as deputy mayor for the City of Pontiac. Stephens, a Pontiac native, had been with Flint since February 2020.
Dr. Bobby Mukkamala, a nationally renowned otolaryngologist in private practice in Flint, has been elected to the board of trustees of the Charles Stewart Mott Foundation. Mukkamala began serving on the board on Jan. 1. "I have watched our city's struggles and our successes, and I have always been thankful for the legacy and vision of Charles Stewart Mott and the Mott Foundation," he said. "Our trajectory as a community would be much different without Mott support. I am humbled and honored to be in discussions about the future of our city, our country and our world with my fellow trustees and Mott staff."
Dr. Sunita Tummala, board-certified neurologist, is McLaren Flint's fourth quarter Physician Recognition Award recipient. Dr. Tummala is the medical director of the McLaren Stroke Program and specializes in neurology and clinical neurophysiology. The quarterly Physician Recognition Award allows physicians and staff to acknowledge members of the McLaren Flint medical staff who: demonstrate compassion and concern for patients and staff; have a cooperative attitude toward patients, colleagues and staff; strive for constituent quality outcomes; and display leadership and support to the organization.
Mark Young on Dec. 31, 2021, resigned from the Genesee County Board of Commissioners. Young announced his resignation on Nov. 30 in a letter to members of Board of Commissioners.
Gail Garrison joined the Flint & Genesee Chamber as its new partnership development manager. Her main focus is new member recruitment for the Chamber and helping to drive member value and visibility through sponsorships and other engagement opportunities. Garrison was previously a marketing and account executive for NBC25 and FOX66
Business News
---
Allegiant on Dec. 7 announced new nonstop routes for spring vacation travel to Boston and Florida from Bishop International Airport. The new routes are part of a nine-route expansion across Allegiant's network, launching just in time to plan spring vacations. "These routes will connect our customers to premier destinations in Arizona and Florida just in time for Spring break," said Drew Wells, Allegiant's senior vice president of revenue and planning."
The Genesee County Board of Commissioners on Dec. 1 agreed to purchase the north tower of the old Citizens Bank complex in Flint from the University of Michigan for $8.5 million. Plans call for consolidating four county buildings at the Saginaw Street location, including the current county administration building; the McCree Health and Human Services Building and Community Action Resource Department; and the Donald R. Haley Building. UM bought the 160,000-square-foot structure in 2015 from FirstMerit Corp.
Consumers Energy on Oct. 14 broke ground on a $10.1-million state-of-the-art natural gas training facility in Flint. The center, named Flint Gas City, will serve as a training resource for more than 1,500 Consumers Energy employees who build, maintain and operate natural gas infrastructure. Developed in partnership with the Michigan State Utility Workers Council, the facility will be located at the Flint Service Center, 3201 E. Court St. Construction is expected to be complete in winter 2022.
Dee Cramer is listed among the top 10 in the U.S. for Top Specialty Subcontractors for sheet metal in 2021 published by ENR (Engineering News-Record) Magazine, a construction industry publication. Dee Cramer came in at No. 9 in the magazine's annual listing. Fessler & Bowman is ranked 18th among the "Top 20 Concrete Firms" and 163rd among the "Top 600 Specialty Contractors" in the 2021 ENR Report.
The University of Michigan-Flint's EDA University Center for Community & Economic Development received a $35,000 grant from the U.S. Economic Development Administration and additional support from the Charles Stewart Mott Foundation to work with community partners to develop a Comprehensive Economic Development Strategy Plan for the three-county region encompassing Genesee, Lapeer, and Shiawassee counties.
The City of Flint received a two-year, $1-million grant funded by the U.S. Small Business Administration (SBA) as part of the Community Navigator Pilot Program for targeted outreach to small businesses in underserved communities. "The City of Flint is home to a variety of entrepreneurs that have chosen to grow their businesses in this amazing city," said Mayor Sheldon Neeley. "This grant will allow us to continue the much needed work in the area of economic development."
Financial Plus Credit Union has been voted Michigan's Best Credit Union in MLive Media Group's 2021 Reader's Choice Awards in Flint, Saginaw and Bay City. Readers of MLive Media Group voted on their favorite local businesses across three regions in an effort to recognize those who have stood out within the past year.
The Michigan State Historic Preservation Office announced in November that Linden has been accepted to the Certified Local Government program, following confirmation from the National Park Service. "Linden designated its first historic district in 1975, and entry into the CLG program demonstrates the city's continued commitment to historic preservation," said State Historic Preservation Officer Mark A. Rodman.