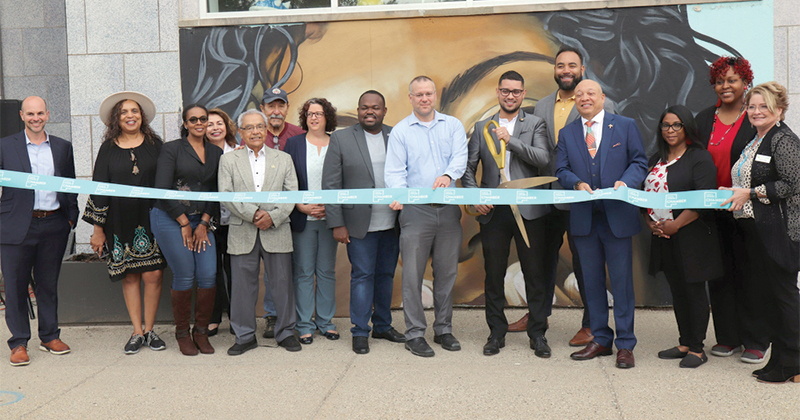 On the Move features and celebrates Flint & Genesee businesses' grand openings, staff promotions, new hires, recognition, and milestones
(Featured above) Latinx Technology & Community Center, at 2101 Lewis St. in Flint, on June 15. The center celebrated its newly renovated second floor and new playground.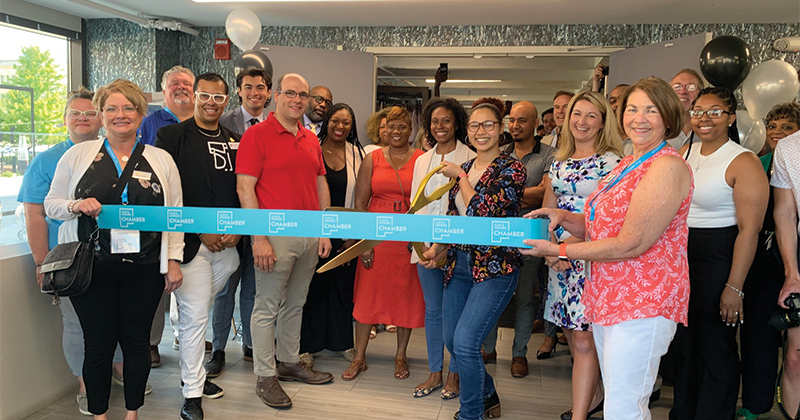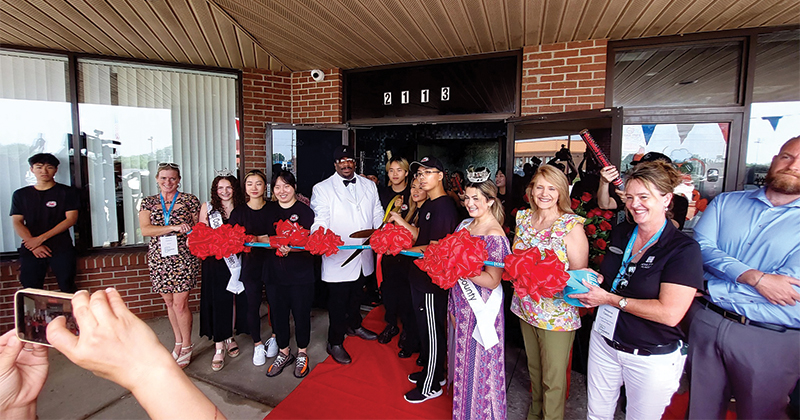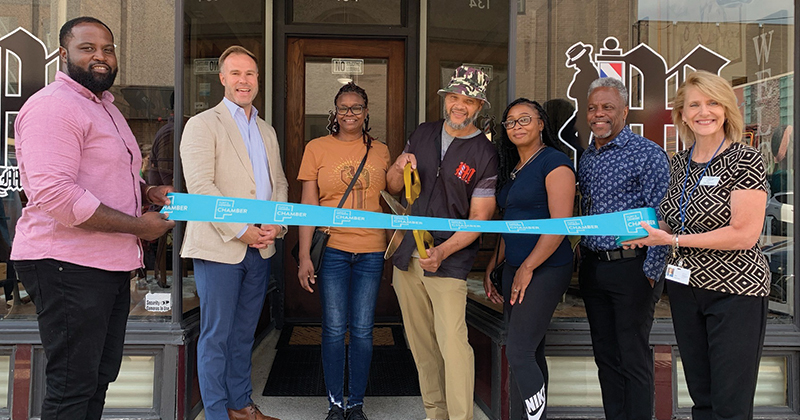 Promotions, New Hires, and Recognition
Luther Brown, chief operations officer at The John L Group, has been selected for the 2023 SBA THRIVE Emerging Leaders Reimagined Program. This is a is a research-based, executive-level program that combines business fundamentals with the innovative tools and competitive strategies needed to deliver immediate results. Sponsored by the U.S. Small Business Administration (SBA), this intensive program offers education and training in entrepreneurship specifically designed for the executives of small businesses with high growth potential, as well as the opportunity to develop connections with peers and work with business experts and professional coaches.
Dr. Babak Elahi has been named the dean of the College of Sciences and Liberal Arts of Kettering University, effective Aug. 1. Elahi joined Kettering in 2019 as the department head of Liberal Arts and was named interim dean of the College of Sciences and Liberal Arts in January 2023. Before that, he taught at the College of Liberal Arts at Rochester Institute of Technology.
The University of Michigan-Flint has appointed Donna Fry as its interim chancellor. Fry was most recently the dean of the College of Health Services at UM-Flint. Fry has been with the college since 1987 in various roles including faculty member and administrator.
The Genesee Health Plan recently honored several health care champions for their hard work and dedication. Jamie Gaskin of the United Way of Genesee County was inducted into the 2023 Health Care Hall of Fame. Also honored were La'Trece Davis, who received the Volunteer Award; Omar A. Sims, who received the Community Partnership Award; and Yaushica Aubert, who received the Visionary Leadership Award.
Mark L. Miller has been appointed the interim president and CEO of the Community Foundation of Greater Flint. Miller, who is also the vice chairman of the foundation's board, assumes full responsibility for all operational activities.
The Flint Institute of Arts has announced Matthew Osmon as its new director of education. Osmon is an art educator born and raised in Flint who has worked for Mott Middle College for 20 years.
Drey Wynn, coach for the Flint Monarchs basketball team, has been named the 2023 Global Women's Basketball Association Coach of the Year. During the second year of his tenure, he oversaw the team's perfect 120 – 0 record and No. 1 playoff seed.
Mott Community College has hired Jamie L. Zecman as its new chief of police for the department of public safety. Chief Zecman has 24 years of experience in law enforcement and previously served as the deputy chief of Public Safety and Emergency Management at Washtenaw Community College.
Three Flint & Genesee professionals have been selected to participate in Growing Michigan Together Council's work groups. They include James Avery, director of Talent Development at Flint & Genesee Education & Talent; Lottie Ferguson, vice president of Development & Donor Services at Community Foundation of Greater Flint; and Ja'Nel Jamerson, vice president of Policy and P20 Partnerships and executive director of the Flint Center for Educational Excellence at Community Foundation of Greater Flint.
"The diverse workgroup members of the Growing Michigan Together Council will be instrumental in our effort to grow our economy and population while protecting our natural resources," said Governor Whitmer. "These members represent a range of professions, communities, and perspectives — all of which are essential to developing a comprehensive strategy for growth. I look forward to hearing from the council and its workgroups later this year. Let's get to work!"
Business News
100K Ideas has moved into the Dryden Building in downtown Flint. As part of their expansion, they have also re-opened Shops on Saginaw, a consignment shop located on the building's first floor and featuring the wares of several local businesses.
The B-Dogs Specialty Hot Dogs Cart now has a brick-and-mortar location in Davison. B-Dogs Specialty Hot Dogs is based at 715 N. State Road.
The City of Flint and the Flint & Genesee Economic Alliance were recognized during the 2023 RACER's Edge Awards in recognition of their support in the successful marketing of Flint's former Buick City property. The city and the Flint & Genesee Economic Alliance were instrumental in attracting Ashley Capital, an experienced and successful developer of industrial properties, to pledge a $300 million investment to redevelop the Buick City property into the Flint Commerce Center. When completed, the Flint Commerce Center is expected to create as many as 3,000 jobs.
Financial Plus Credit Union has been named the Credit Union of the Year by the Michigan Certified Development Corporation. The award reflects their commitment to supporting local businesses and fostering economic growth via their implementation of the Small Business Administration 504 Loan Program.
Genesee Career Institute (GCI) officially opened a new Fire Training Center at G-5081 Torrey Road. It is the state of Michigan's first fire training facility not owned by a municipality's department. The fire training center is a $2.4 million investment and will double GCI's student capacity for training firefighters and other first responders.
Lewis & Knopf, CPAs, P.C. has been named as one of the Top 500 Accounting Firms in the country by INSIDE Public Accounting. The firm was ranked by IPA as one of the top 500 in terms of net revenue.
Plastic Omnium New Energies has been awarded a large customer contract from a leading original equipment manufacturer and plans to begin designing, developing, and producing hydrogen storage systems for medium- and heavy-duty zero emissions mobility. The company plans to lease a facility in Grand Blanc Township, where it will establish what is projected to be the largest hydrogen storage manufacturing plant in North America. The project is expected to generate a total capital investment of $171.2 million and create 175 jobs.
The Ruth Mott Foundation has committed $1.2 million to the Michigan State University Rx Kids initiative, which provides cash payments to Flint mothers from pregnancy to the end of the first year of the child's life. The aim of the program is to help fight child poverty and its related health issues.
"We're incredibly proud to support this innovative citywide approach to investing in Flint children and families, especially in the wake of the water crisis and a global pandemic," said Raquel Thueme, president of the Ruth Mott Foundation. "North Flint residents told us to focus on Youth and Economic Opportunity and Rx Kids fits squarely within those two priority areas."
Mott Community College has received a nearly $1.5-million grant from the U.S. Department of Labor that will allow the college to offer pre-apprenticeship services supporting occupational skills training, education, and employment services for 68 young people ages 18-24 through the MCC YouthBuild program. Students who successfully finish the program will be placed in a job, apprenticeship, or have the opportunity to continue with other education programs.
The Master of Public Health program at the University of Michigan-Flint was recently recognized by U.S. News & World Report as one of the nation's best public health programs.