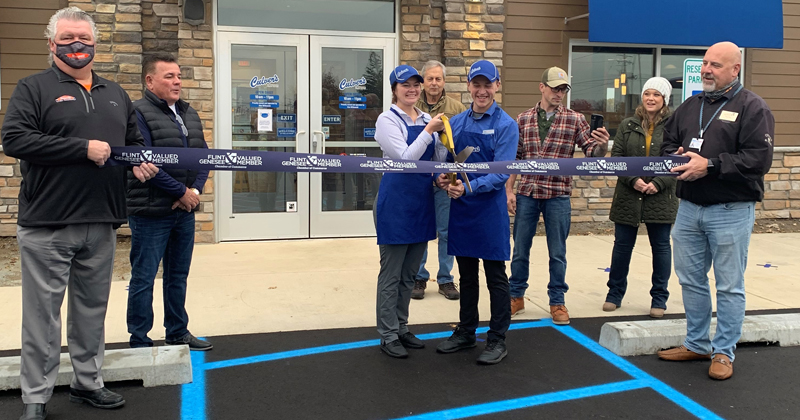 Congratulations to our members on the move featuring FGCC members' grand openings, promotions, new hires, recognition and milestones
Culver's (Pictured above) 4034 Miller Rd. in Flint Township, on Oct. 26 opens its newest location in the area. Blondie's Best Cheesecake Ever (Pictured below) 9061 Miller Rd. in Swartz Creek, on Oct. 15.
Promotions, New Hires and Recognition
---
Rachelle Kippe has joined Financial Plus Credit Union as the vice president of mortgage lending. In this role, she is responsible for establishing, leading and executing the strategic initiatives for mortgage lending. With three decades in the banking industry, Kippe has held key positions, ranging from divisional and national sales management to consumer lending operations to mortgage portfolio oversight. She is an affiliate member of East Central Association of Realtors, a member of Michigan Mortgage Lenders Association and affiliate member of Women's Council of Realtors. Since 2003, Kippe has served on the board of Metro Community Development, Inc. and is currently the board chair.
Christopher A. Pearson was approved as the inaugural dean of the new College of Innovation and Technology that is being established at the University of Michigan-Flint. Pearson was approved at the Oct. 22 meeting of the U-M Board of Regents. Pearson, who began his duties on Nov. 1, is a highly regarded scholar. He has been published in top peer-reviewed journals and conference proceedings, and given numerous professional presentations.
Karmanos Cancer Institute at McLaren Flint has added Dr. Rabbie Hanna, MD, to its surgical oncology team. He is a board-certified gynecologic oncologist who specializes in the removal of cancerous tumors located within or near the female reproductive organs, in addition to the management of such cancers with chemotherapy. Dr. Hanna is a recognized leader in his field, who comes to Karmanos by way of the Detroit metropolitan area. He has been named to the Hour Detroit Top Doctors List every year since 2014, including receiving the most votes from his medical colleagues in 2020.
Ascension Medical Group (AMG) announced the addition of four providers in the Mid-Michigan area. Located in healthcare practices serving the Grand Blanc, Flint and surrounding region, these physicians are offering specialized services and accepting new patients: Sarina Bains, MD , Endocrine Surgery, Flint; Julianna Friesen, DO, Obstetrics/Gynecology, Women's Specialty Associates, Grand Blanc; Cody Nebeker, MD , General Surgery/Bariatrics, Flint; and Naveen Sharma, MD , Psychiatry, Ascension Genesys Hillside Center for Behavioral Health, Grand Blanc.
Brian R. Larkin, Jr., chief of staff for Flint Mayor Sheldon Neeley, was appointed to the Library of Michigan Board of Trustees by Gov. Gretchen Whitmer. The Library of Michigan Board makes recommendations to the state Department of Education regarding the Library's services, budget, and proposed governing rules. The board also makes recommendations regarding the employment of other administrative and general assistants and employees of the Library, as necessary for the care and management of the Library, including the Law Library. Larkin's term expires Oct. 1, 2023.
Sarah De Sonia, RN, of Fenton, has been named to the 2020 class of DBusiness Magazine's "30 in Their Thirties." It's a list of metro Detroit business professionals who have achieved notable success in their respective fields and are moving their respective organizations forward. De Sonia is director of nursing and clinical services for American Advantage Home Care.
The Ruth Mott Foundation Board of Trustees welcomes two new trustees, both of whom have deep roots in the city and careers dedicated to helping Flint residents thrive. Debra Furr-Holden, longtime Flint resident, and Ja'Nel Jamerson, a Flint native, joined the board in September. Furr-Holden, Ph.D, is an epidemiologist who serves as dean of Public Health at Michigan State University and co-director of the Healthy Flint Research Coordinating Center. Jamerson is executive director of the Flint Early Childhood Collaborative and Educare Flint. Prior to this role, he spent a decade serving his community in the field of education, most recently as executive director of the Flint & Genesee Literacy Network.
Business News
---
Two developers are receiving state tax credits from the Michigan State Housing Development Authority (MSHDA) for two projects that will create nearly 100 new apartments in Flint. MSHDA awarded Communities First, Inc. and RAD Conversion Specialists $1.3 million for The Grand on University apartments, which will create 48 new living units at W. University Avenue and Grand Traverse Street. Norstar Development and the Flint Housing Commission will receive just under $1.5 million for the Clark Commons II project, which will create 48 new apartment units off north Saginaw Street near University Park subdivision.
Century Roll, Inc. and President Donna Hedrick have successfully met the requirements for certification with the Women's Business Enterprise National Council (WBENC), the leading authority on and certifying organization for women's business enterprises (WBEs) in the U.S. Century Roll is a client of the Region 6 Procurement Technical Assistance Center (PTAC) at the Flint & Genesee Chamber of Commerce.
Frankenmuth River Place Shops has been recognized as a 2020 Travelers' Choice award-winner as one of the top attractions in the world, with unique shops and world-class festivals. Based on millions of reviews and opinions from travelers from around the world, Tripadvisor's annual Travelers' Choice award recognizes the very best tourism establishments in terms of service, quality, customer satisfaction and more, across a range of categories. Award winners make up the top 10 percent of hospitality businesses around the globe. Located in Michigan's "Little Bavaria" of Frankenmuth, River Place Shops has more than 40 shops and attractions to explore throughout the German-themed outdoor shopping complex.
Mott Community College (MCC) won the American Association of Community Colleges 2020 Award of Excellence for Community College Safety Planning and Leadership, presented during a national Zoom event Sept. 17. MCC was chosen for the award based on a criteria of exemplary practices, including a commitment to developing safety training programs, leaders capable of handling safety issues, establishing plans for addressing safety issues as part of an ongoing program, integrating and evaluating the safe use of equipment and materials, providing information to students and employees related to safety, and incorporating safety-related training, safety preparedness into campus programming.
The recently released U.S. News & World Report's Best Colleges 2021 rankings has identified Kettering University as No. 9 overall among more than 150 higher education institutions in the Midwest region, up four spots from last year's report. Nationally, Kettering ranked No. 17 as the best undergraduate engineering programs at schools without doctorate programs, and No. 12 for mechanical engineering programs. The electrical/electronic communications program and computer science program also were recognized in this year's rankings.
The University of Michigan-Flint will launch a new institute focused on social justice in the Flint area that is the result of ongoing discussions in the community over the past decade. The Urban Institute for Racial, Economic, and Environmental Justice will seek to provide practical solutions and to support local efforts addressing public problems. Efforts will focus on three key areas:
Rigorous, collaborative and community-focused interdisciplinary research, scholarship and creative activity.
Interdisciplinary curricular development and programs.
Professional learning and service through the development of tools, resources, and programs.
Jan Furman, professor emerita of English will serve as executive director of the institute and Thom Bell, director of the Center for Educator Preparation will serve as managing director.