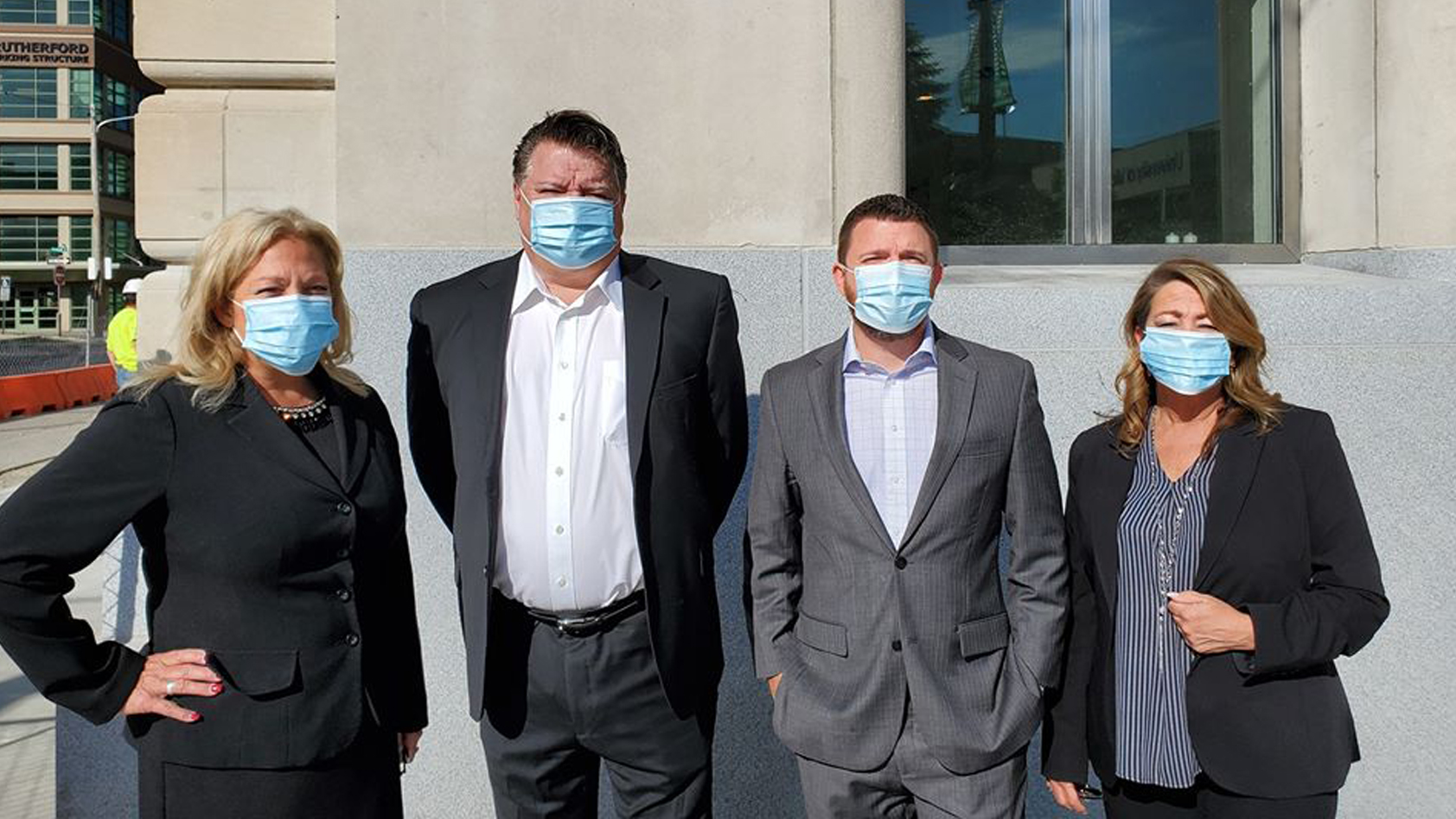 Congratulations to our members on the move featuring FGCC members' grand openings, promotions, new hires, recognition and milestones
Hilton Garden Inn team (Pictured above, l-r) Sheryl Champine, Director of Sales; Jeff Stableford, General Manager; Dan Wright, Food & Beverage Manager; and Krista Mayhew, Catering Sales Manager. The Hilton Garden Inn is scheduled to open this fall in downtown Flint.
Promotions, New Hires and Recognition
---
The McLaren Proton Therapy Center welcomed Christian Hyde, MD, DABR to the team of radiation oncologists. Dr. Hyde is a board-certified radiation oncologist with specialized training in proton therapy. Only a small percentage of radiation specialists have completed a fellowship training program in proton therapy. Dr. Hyde subspecialized in proton therapy and related studies at William Beaumont Hospital in Royal Oak, Michigan. He has concentrated his practice on promising new technologies, like proton therapy, to offer his cancer patients the most current treatment options available.
Karmanos Cancer Institute (KCI) at McLaren Flint expands head and neck cancer services by collaborating with KCI physicians in Detroit. Head and neck surgical oncologists George Yoo, MD, Jeffrey Hotaling, MD and John Cramer, MD are now also seeing patients in Flint. Expanding head and neck surgical services brings this option closer to Genesee County residents. Surgery to remove cancers in the head and neck area are usually recommended for patients with mouth, throat and parotid gland cancers. Drs. Yoo, Hotaling and Cramer are part of KCI's head and neck multidisciplinary team. The three physicians will work collaboratively with head and neck oncology experts on the McLaren Flint campus, including radiation, surgical and medical oncologists.
Lee Gonzales, of Fenton, on Sept. 8 was appointed to the Michigan Liquor Control Commission and Oakland University Board of Trustees by Gov. Gretchen Whitmer. Gonzales currently serves as the deputy director of legislative and external affairs for the Michigan Department of Civil Rights. He has been with the department since 2012, previously serving as the senior executive of initiatives and a legislative liaison. Gonzales has a long history of public service, previously serving as a state representative for Michigan's 49th House District, assistant treasurer for Genesee County, and development director for the Genesee County Board of Commissioners.
Kettering University named 10 business and organizational leaders, including six alumni, as part of its first-ever School of Management's Industry Advisory Board (IAB), which will complement and coordinate with the elite group of faculty-nominated student leaders who are part of the Dean's Student Advisory Board (DSAB). The members of the IAB are:
Greg Viener – President for Huntington Bank's Mid-Michigan Region. He has a bachelor's degree in business administration with a finance concentration from Regis University.
Jody (Sautter) Stidham '98 – Managing Director in Deloitte's Customer & Marketing practice and a leader in Deloitte's Global Automotive Practice. She earned her MBA from Wayne State University and bachelor's degree in management from Kettering University. She also attended Stanford's Executive eCommerce Program.
Tyler Rossmaessler – Director of Economic Development at Flint & Genesee Chamber of Commerce. Rossmaessler has a bachelor's degree in economics from the University of Michigan in Ann Arbor.
James "Jim" Bradley, Ph.D. '82 – Hays T. Watkins Professor of Operations Management & Information Technology at College of William and Mary. He earned a Ph.D. in industrial engineering at Stanford University in 1996, an MBA from Dartmouth College in 1984 and a bachelor's degree in mechanical engineering from Kettering University in 1982 (then GMI).
Lori Flees '93 – Senior Vice President & General Merchandising Manager – Health & Wellness with Sam's Club. She holds an MBA from Harvard University and a bachelor's degree in management systems from Kettering University (then GMI).
Patricia "Pat" Groeneveld '80 – Consultant at Grand Sport Engineering. In 2009, she retired from General Motors as Director of Materials Management Powertrain. Groeneveld earned a master's degree in management from Aquinas College in 1988 and a bachelor's in industrial administration from Kettering University (then GMI) in 1980.
Louis "Lou" Hughes, Jr. '71 – Chairman and Chief Executive Officer of InZero Technologies. He earned an MBA from Harvard University in 1973 and a bachelor's degree in mechanical engineering from Kettering University (then GMI) in 1971.
J.D. Collins – State Director at Michigan Small Business Development Center. He earned an MBA from the University of Notre Dame in 1997 and a bachelor's degree in professional management from Albion College in 1993. He also spent two years studying mechanical engineering at the United States Air Force Academy.
Niall Olling '11 – Manager of State Relations at Fiat Chrysler Automobiles. He earned two degrees from Kettering University: a master's degree in engineering management in 2017 and a bachelor's degree in mechanical engineering in 2011.
Dr. Zhi Ni – President TusStar Ann Arbor. He earned an MBA from the University of Michigan in 2015, a Ph.D. in mechanical engineering from Wayne State University in 2004 and a bachelor's degree in automotive engineering technology from Tsinghua University in 2000.
In addition to providing strategic advice and vital connections for the University community and the DSAB, the IAB will help shape forward-focused curriculum and new program development.
Bishop International Airport Authority announced the election of Airport Director Nino Sapone to the American Association of Airport Executives' (AAAE) Board of Directors. AAAE is the world's largest organization of its kind, supporting hundreds of airports and aviation professionals across the country. Sapone was elected by his peers at AAAE's annual membership meeting, held virtually on June 26.
Gina DeShong was recently promoted to The Disability Network's leadership team as the Community and Information Specialist. In this role, DeShong is the key contact for Flint and Genesee County on resource referrals and navigating community systems for TDN. She is a liaison between TDN and the community: attending community forums and meetings, serving on boards, and reporting any areas of need back to TDN leadership and staff. Organizations can connect with her at ginad@disnetwork.org or 810-742-1800.
Business News
---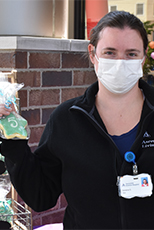 Genesys PACE (Program of All-Inclusive Care for the Elderly) hosted a Drive-Through Birthday Bash to celebrate its fifth birthday. Genesys PACE opened its doors serving those "55 or better" in Genesee County in August 2015. The celebration included all Genesys PACE staff and some key supporters who have helped the program grow to serve over 150 Michiganders. Genesys PACE started with 20 staff members serving three participants for the first month. Five years later, a compassionate team of 80 provides care and service to 150+ participants with uniquely different personalized, holistic care plans. Its mission is to keep participants out of skilled nursing facilities and in community, where they feel most comfortable.
The American Heart Association/American Stroke Association recently recognized Ascension Genesys Hospital with its Get With The Guidelines® Stroke Award. The hospital received the Gold Plus Award and the Target: Stroke Honor Roll and Target: Type 2 Diabetes Honor Roll Award. Hospitals are required to achieve certain outcomes to be eligible for the Get With The Guidelines® Stroke Award. To qualify for the Target Stroke: Award and/or Target: Stroke Honor Roll recognition, hospitals must meet quality measures developed to reduce the time between the patient's arrival at the hospital and treatment with the clot-buster tissue plasminogen activator, or tPA, the only drug approved by the U.S. Food and Drug Administration to treat ischemic stroke.
The University of Michigan-Flint is the only institution in the state of Michigan to receive a grant from the U.S. Department of Commerce's Economic Development Administration (EDA). The $300,000 EDA CARES Act Recovery Assistance grant will support local economic development. The grants were awarded to EDA University Centers across the nation to boost their capacity to support regional economic development strategies in response to the coronavirus pandemic.
The Community Foundation of Greater Flint (CFGF) announced a new partnership with The Hagerman Foundation, a local funder whose mission has been to brighten and improve the lives of future generations. The Hagerman Foundation has established the Hagerman Foundation Fund of the Community Foundation of Greater Flint. The foundation has invested over $17 million in grants to local nonprofit organizations over the past six years. Nonprofits may direct their grant proposals to the CFGF online at www.cfgf.org.
Projects in Flint, Grand Blanc and Grand Blanc Township are among the 15 communities of the I-69 Thumb Region awarded $2,000 each from the state's Placemaking Mini-Grant Program. The program, funded with financial support from the Michigan Economic Development Corp. and administered by the I-69 Thumb Region partners, was established to help communities implement small impactful projects that encourage and contribute to a stronger sense of place.
XLerateHealth (XLH), a national award-winning healthcare startup accelerator, has selected six startup companies to join the second annual cohort in Flint. The companies will participate in a 12-week intensive bootcamp, working with a team of coaches and mentors to support the successful commercialization of their business. The XLH program operates in the Ferris Wheel building in downtown Flint and is funded by the Charles Stewart Mott Foundation and 100K Ideas. XLH opened its Michigan location in January 2019 and supported six startups in its inaugural bootcamp program last year.
The Flint Public Library has moved out of its Kearsley Street home so that renovation can begin. The library opened on July 23 at its temporary Courtland Center location, and construction has begun at Kearsley Street. The $30.6 million renovation will make 16,000 sq. ft. of additional space open to the public, while updating the entire building. Construction is scheduled to be complete in late 2021.