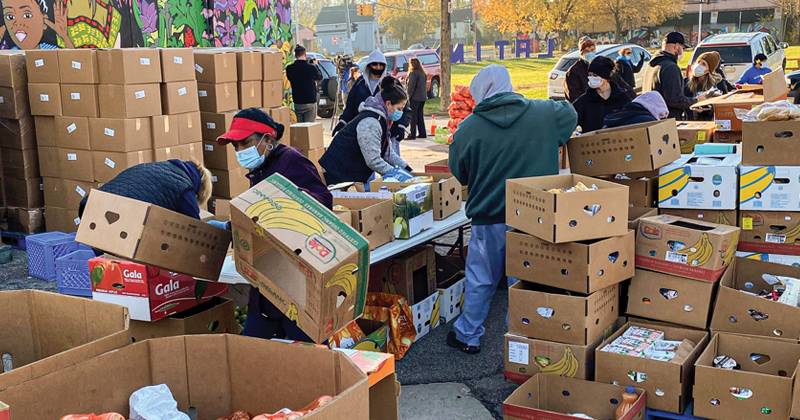 Pantry honors two Flint police officers who died tragically during a 2002 hunting trip
The Martus Luna Food Pantry is poised to take another, significant step toward forging triumph out of tragedy.
The Flint pantry evolved from the Martus Luna Memorial Foundation, which was created to honor Ryan Martus and Roger Luna, Flint police officers who died from carbon monoxide while hunting in a heated deer blind in Lapeer County in 2002.
For about the past decade, Martus Luna has distributed food at the Latinx Technology & Community Center at Lewis Street and Hamilton Avenue north of downtown Flint.
Now, it's in the process of raising funds to acquire its own, permanent home, a commercial building at 3901 Fenton Rd. that has sat vacant for a couple of years.
When Martus Luna reopens at a still-to-be-determined point in the not-so-distant future, it will operate differently from how it did before, said Art Luna, pantry director.
"When we get back to opening this, we want to do the concept of a grocery store, so you get to pick what you want," said Luna, a cousin of Roger Luna. "Right now, people pull up and whatever we have is what you get. When we open up, we want you to pick what you want to pick. Everybody needs something different. People will have more dignity when they can come and pick what they want."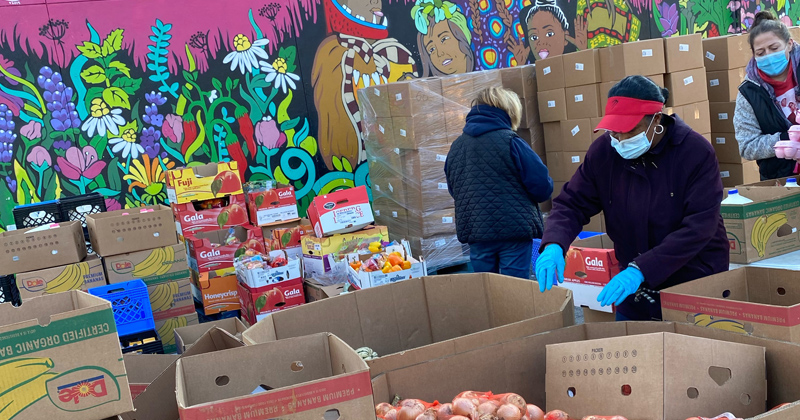 Until it halted regular operations in December to prepare for the move to the city's southside, Martus Luna was providing boxes of food and household goods that aided about 1,000 people a week during its distribution at the Technology & Community Center.
The bulk of the food it distributes is provided by the Food Bank of Eastern Michigan, although local farmers also occasionally supplement its offerings, Luna said.
Having its own building will help the pantry better serve the community, he said.
The Fenton Road location will open three or four days a week, including Saturdays to accommodate people who work during the week.
Since December, the pantry has held sporadic food distributions from the parking lot of the Fenton Road building, including a Memorial Day weekend giveaway that benefited 100 families, or a total of 400 people.
A vital Food Bank partner
Kelly DelReal, a former regional outreach manager for the Food Bank of Eastern Michigan, said Martus Luna's southside location will position it well to help the hungry.
"There are a lot of neighborhoods back there, and it's a really, really great location for that," she said, noting the relative dearth of similar pantries and soup kitchens in that portion of the city.
DelReal also applauded Martus Luna's plans to essentially allow residents to "shop" in its brick-and-mortar structure. "We're pleased about that type of model," she said. "We always encourage that."
The fact that it is Hispanic-run also allows Martus Luna to fill a niche, DelReal said. The bulk of the nonprofit, charitable organizations the Food Bank supplies with food are churches, shelters and youth centers.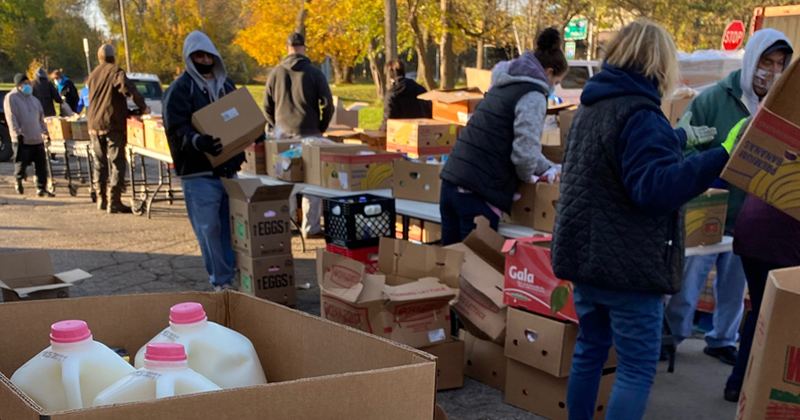 "There are not that many memorial agencies, and they definitely stand out as one that is culturally focused, but they serve anybody too," she said. "That's the beauty of it. The Hispanic population in Flint is comfortable going to them because most of them are Spanish speakers, and you don't find a lot of that in Flint. People go where they're comfortable. We have seen that over and over."
And people have steadily turned to Martus Luna Food Pantry for nearly a decade.
The Martus Luna Memorial Foundation was formed shortly after the police officers died, and for years it focused on staging events such as golf outings that raised money for scholarships.
It began focusing on food giveaways based at the Technology & Community Center in 2013.
"We said there was a big need here," Luna said. "It just kept growing and growing. It just happened."
The pantry was part of the larger effort to ensure people had access to healthy food during the water crisis and the height of the COVID-19 pandemic.
For example, in 2020 alone, Martus Luna assisted nearly 20,000 families, for a total of more than 44,500 people, and in 2021, those figures rose to 20,350 families and more than 57,000 people.
The food pantry has always operated on an all-volunteer basis, including with the assistance of UAW Local 598 members who donate money and lend their muscles during food giveaways.
"Nobody gets paid, so you need volunteers or it wouldn't go," Luna said.
Eventually, however, once Martus Luna's new quarters are fully operating, the pantry may have to hire an administrator, he said.
"I can't hardly wait," Luna said. "I don't feel like we're doing enough to help people right now. We're here to help the community out. That's what we're here for."