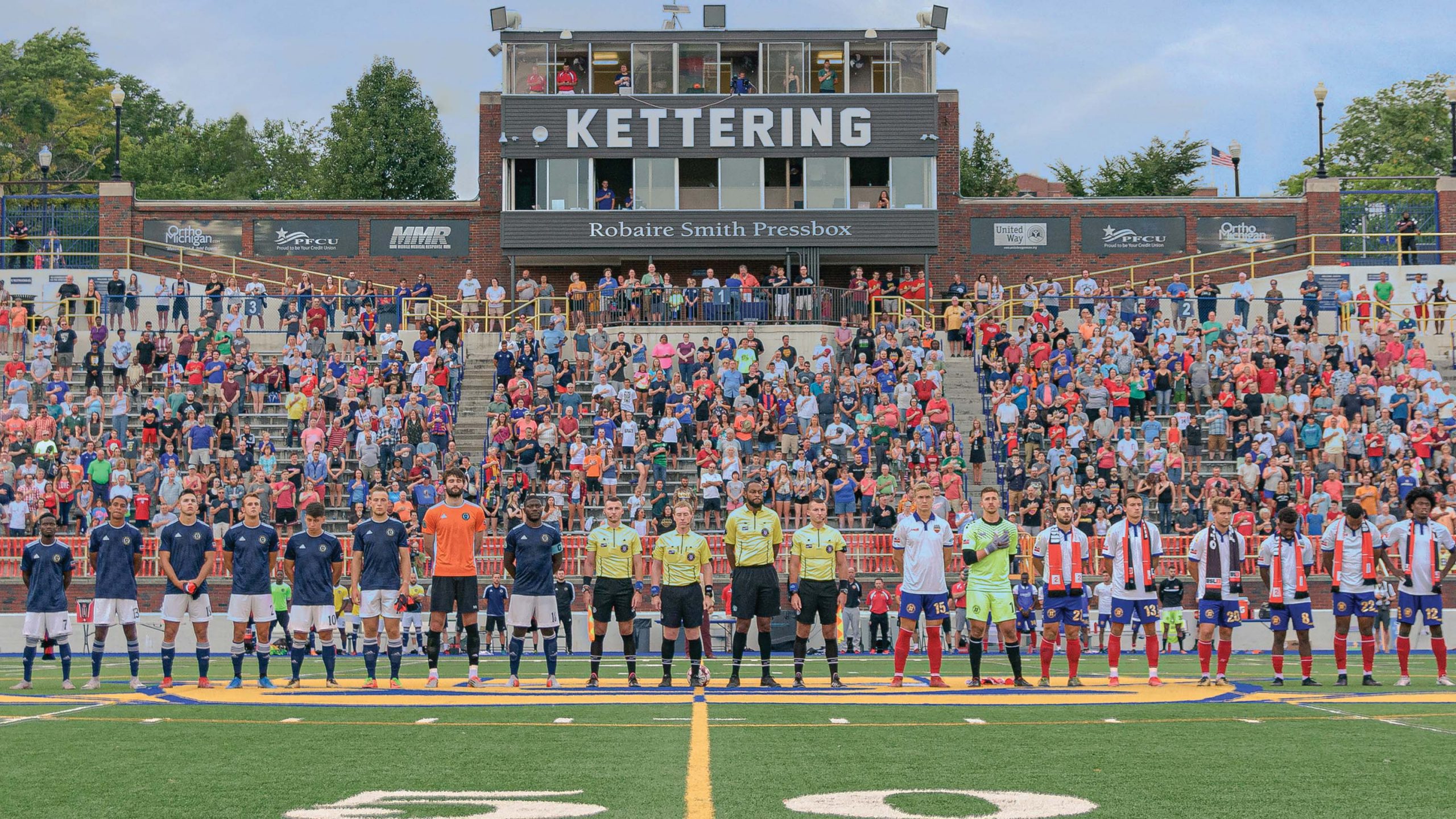 Strengthening the connection between people and the places they share
Kevin Mays, president of the relatively new Flint United basketball team, figures he's building on the community's longtime reputation as a basketball hotbed.
Flint Firebirds President Jeremy Torrey is proud of how the Ontario Hockey League team gave Flint something positive to focus on during the burgeoning water crisis.
And Costa Papista, president of the Flint City Bucks soccer club, vividly remembers the "surreal" celebration in downtown Flint after the Bucks won the league title during their inaugural season in 2019.

All can be considered examples of placemaking, a community planning approach that aims to strengthen the connection between people and the places they share. It most commonly refers to physical spaces that contribute to people's happiness, and that could certainly apply to the Dort Financial Center (the Firebirds' home and also where Flint United plays) and the Kettering University-owned Atwood Stadium (the Bucks' home field).
But the concept also applies to the teams themselves, which can help build a sense of community by giving residents a common cause to rally around. Professional, semiprofessional and amateur sports teams can also improve an area's quality of life by offering entertainment options, as well as help boost the community's image — especially when the teams win.
And Papista still vividly recalls what it was like to win the USL League Two championship with 7,000 fans in attendance.
"The whole experience was surreal," he said. "It was exciting and rewarding to see what downtown Flint looked like that night. Saginaw Street was literally packed with honking cars and people fist pumping. It was such an amazing feeling."
And, as the Bucks were about to embark on their 2022 campaign this spring, Papista was hopeful of a repeat of that scene.
"Everybody in our organization is so excited and optimistic about 2022," he said. "We feel like we have an opportunity to get back to a 2019-style season."

But whatever the results on the field, the community will almost assuredly have a winning experience, he said.
"We have a lot of dates at the stadium this summer, which is going to be great for Flint, great for the stadium, great for the county," he said, noting that the Bucks during the first week of June will host the Hank Steinbrecher Cup, which will pit the champions of four soccer leagues against each other to determine a U.S. soccer national amateur champion.
Also this summer, the Bucks will welcome a Mexican team to Atwood in late June, and an affiliated women's team — Flint City AFC — will make its debut.
In all, the organization will stage 20 soccer events at the stadium this year, Papista said.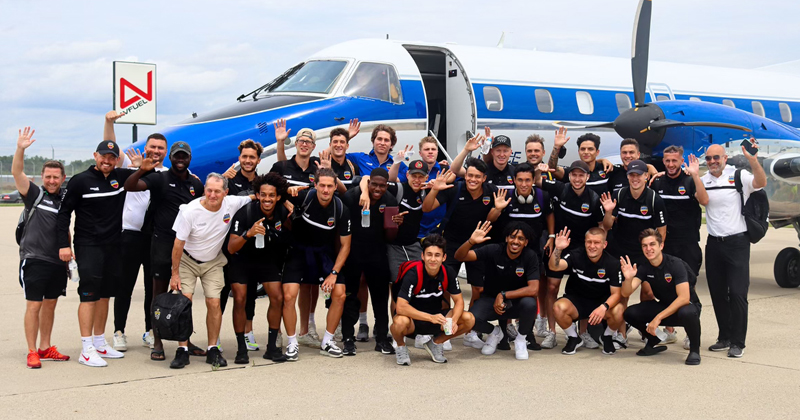 "These are community events," he said. "These are chances for people to get out and socialize, especially in almost post-pandemic environment where you can get outside and feel the sun. People can really have fun and let their hair down and meet and greet people. Even if you're not a soccer fan, it doesn't matter — it's just fun."
Adding to the sense of community and excitement are the nearby Tenacity Brewing and state park that is being developed at the Chevy Commons site, Papista said.
"There's so much energy down there," he said. "We look at it as bigger than soccer. We look at it like we're hosting an outdoor community event, maybe a little bit like a festival."
Coming back from COVID
Like the Bucks, the Firebirds are part of a league that's a primary feeder for its top North American professional league.
And like Papista, Torrey fully appreciates what the game experience means for fans.
"Our first home game on Oct. 9, coming back from the year we were shut down for COVID, was a chance for everyone to get back together and see people they know from coming to games," he said. "The joy on their faces really just solidified how important it really is. Some of the things you don't really think about on a day-to-day basis is about the importance of what we have here and the impact it has on the community."
The Firebirds began playing in Flint in 2015, replacing a North American Hockey League junior team that had played at Dort Financial Center.
"When the team came in in 2015, we were right at the beginning of the water crisis becoming a national story," Torrey said. "For a long time, that's what people thought of — the water crisis and crime. When the team came in, you had a high-level franchise in the city that shines a positive light on it."
And as the primary tenant of Dort Financial Center, the Firebirds — who this season drew an average of more than 2,500 fans — have also helped solidify the arena, which also hosts concerts, high school graduations and other events. Rolf Nilsen, who owns both the franchise and the facility, has overseen renovations including new seats and the addition of LED lighting and other modern amenities, said Torrey, who's also building general manager.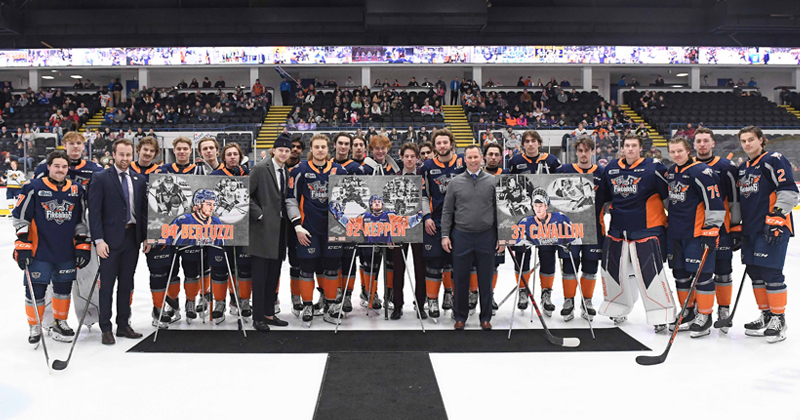 Except for one year in the 1990s, the arena has served as home of a hockey team.
"When it comes to local hometown teams, there's no sport that's had a more sustainable, long-term run than hockey," Torrey said.
Carrying on the tradition
Ask outsiders what sport they associate with Flint, however, and the answer very well could be basketball, given the large number of college and professional players who have come from the city.
"The city of Flint is a basketball factory," Mays proclaimed, adding that Flint United, a member of The Basketball League, is designed to serve as a springboard for players to move up to the NBA developmental league or nab an overseas contract. "With the amount of talent that we produce, this is just providing another platform for athletes to make it to that next level and for athletes to live out their dreams and their goals."

Mays said the city's history as a basketball hotbed was a key consideration in establishing the franchise, which just wrapped up its second season.
"Your goal growing up in Flint is to definitely be the best basketball player in your family, your neighborhood, your school or whatever the place may be," said Mays, who starred in track and field at Flint Carman-Ainsworth and Central Michigan University. "That was definitely a leading factor in doing this. Anytime you go into any venture or any endeavor, it always helps to know that you kind of have a built-in market."
Because of COVID restrictions, the team was limited to 375 socially distanced fans in 2021. This year, it averaged twice that number for its home games, Mays said.
"We really look at it as this is really our year one," he said.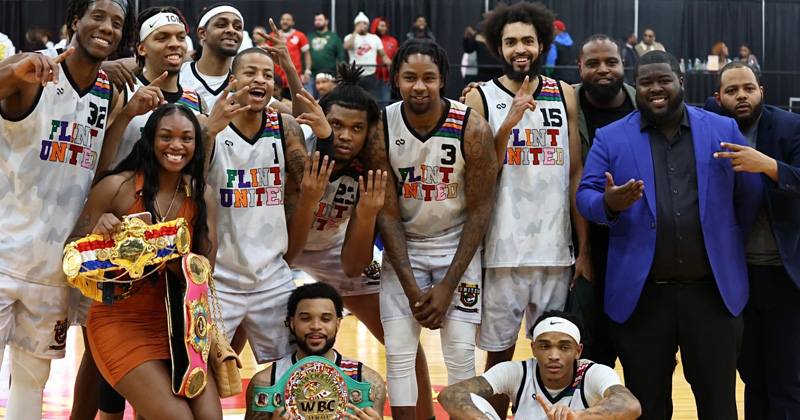 But already the team is making an impact in the community. For example, it turns its game-day operations into an "athletic department for kids," giving them opportunities to rebound for players during warmups and bring them water, keep statistics and monitor the livestream of Flint United games, Mays said.
Mays himself brings a sports management background to Flint United, having worked in ticket sales, fundraising and development for other teams.
"It's not an easy venture to take on," he said. "There are a lot of things that have to align in order for it to work properly. But you can't have it be a money grab. It's definitely deeper than the bottom line. We must be grounded and rooted in community. But when it works, you truly see how sports can help bring together a community and help grow a community."