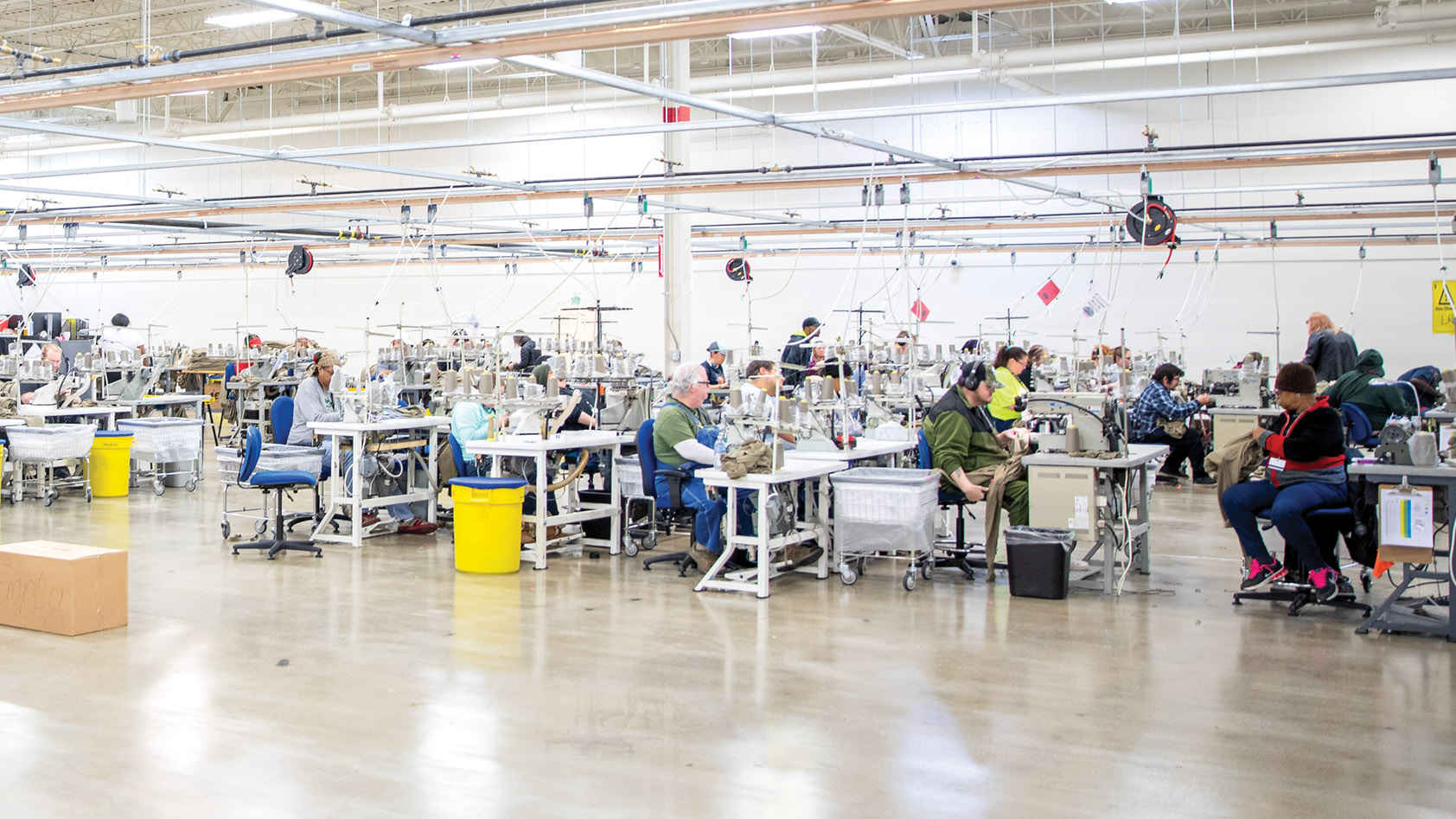 Everybody
deserves a second chance – or, depending on their circumstances, simply an initial opportunity.
That's the guiding philosophy of a variety of organizations in Genesee County whose mission is to assist people with overcoming barriers to employment.
And, while leaders of the operations say they've always prided themselves on providing a societal service by helping people fulfill their potential, more than ever before they're also making an economic impact by adding much-needed workers to the labor pool.
"What's happening is, because of the labor shortage, more employers are looking at this population and saying, 'Maybe it's time we change our hiring policies,'" said Dennis Weinand, executive director of Re-Connections, which provides people returning from incarceration in Genesee County with skills training, life coaching and employment opportunities.
Besh Milam, employment and benefits planning specialist for the Disability Network of Flint, said that, while it might require a tight labor market for many employers to provide a chance to people who face employment barriers, in the long run they're typically rewarded with a loyal, dependable worker who gets the job done.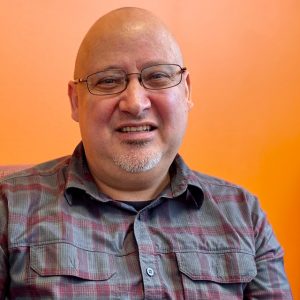 "The difference is night and day in how easy it is to help people find work in terms of how the economy is doing," said Milam, whose organization partners with people with disabilities so they can live as independently as possible. "Fortunately, employers are finding that, generally speaking, when you employ somebody over the long haul, people with disabilities tend to work out better."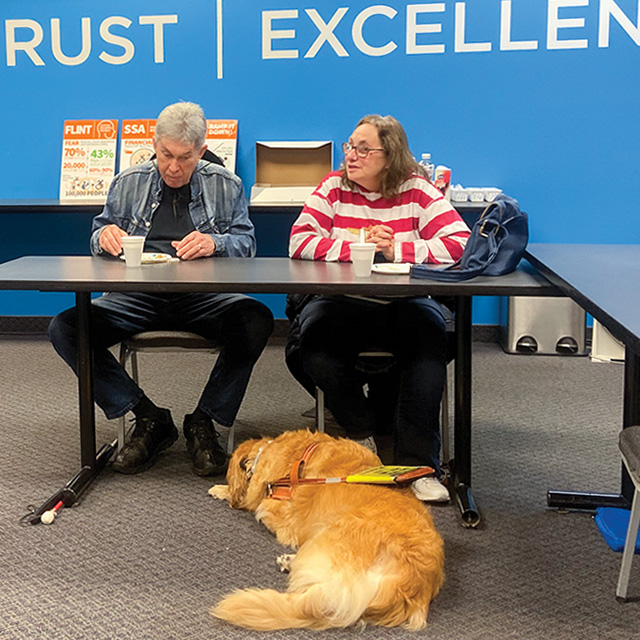 That sentiment is echoed by J. Caleb Adams, chief human services officer for Peckham Inc.,  a nonprofit vocational rehabilitation organization that provides a wide range of employment and job training for people with significant disabilities and other barriers to employment.
In spring 2019, Lansing-based Peckham expanded its reach to Flint Township, where it took over 41,000-square-feet of space left vacant by the Furniture Row retail outlets and converted it into a manufacturing, office and classroom facility that primarily makes high-performance fleece and extreme cold weather clothing for the armed forces and commercial market.
Peckham employs more than 70 workers, primarily in sewing, at the location now and plans to add up to 50 more by the middle of 2020 and eventually have a local workforce that's more than 200 strong.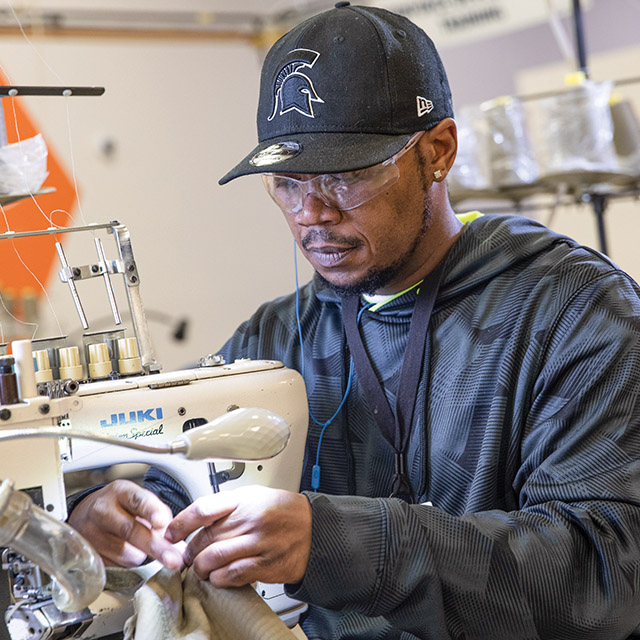 Adams said Peckham considered many locales for the operation before deciding on Flint Township.
"What we were looking for was a workforce that was going to be a really good match for the types of jobs that we were going to have available," he said. "I know there was a ton of talent in the Flint area who wanted to work."
The plant's workforce is proving him right. So far, attendance is the highest of any Peckham plant.
"We had jobs available and we knew there was an amazing workforce in the Flint area," Adams said. "We have a really successful operation there, and the reason for that is the talent that's there."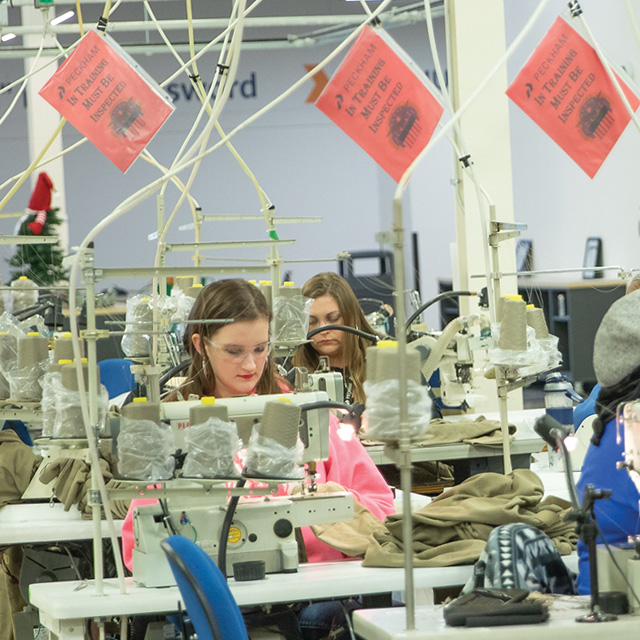 Unlike Peckham, the Disability Network doesn't provide direct employment for people with disabilities, instead focusing on preemployment services such as mock interviews, resume creation and a job club that offers assistance with searching for work.
And while it doesn't have formal arrangements to match potential workers with employers, it does tend to consistently work with some, such as Huntington Bank, which will often hire people with disabilities to work in its customer call centers, Milam said.
Like Re-Connections, the nonprofit MADE Institute helps people rebuild their lives after prison – largely by preparing them for construction-related careers, including lead abatement in Flint houses.
"The construction industry, including home renovation and improvement, has a real shortage of workers, and there's a great opportunity to drive the economy there," said Leon El-Alamin, founder and executive director, adding that the institute also operates transitional houses for both men and women, although residency isn't a requirement to participate in MADE support services such as entrepreneur training and job placement assistance.
Medical marijuana represents another opportunity, he said.
"We're going to be advocating for minorities to tap into that industry," El-Alamin said, noting that many people whom the MADE Institute serves have marijuana-related convictions on their records.
Not only could they have those expunged with both medical and recreational pot now legal in Michigan, but they could actually also profit from the industry – creating a type of justice. "Who better to benefit from that than those who have suffered from it?"
The MADE Institute boasts an 85 percent success rate, which El-Alamin defines as securing at least an entry-level job and not returning to prison within a year.
For its part, Re-Connections has seen close to 100 people graduate from its eight-month life and skills training program over the past four years, with 68 percent of them now employed, attending college or participating in trades programs. Re-Connections graduates' re-entry to society comes after having served an average of 24 years in prison.
While many found entry-level manufacturing or retail jobs, five were hired at General Motors plants, Weinand said. "That's a real testament to community businesses giving second chances."
Beyond the need to fill a job opening, employers have other incentives for hiring potentially high-risk workers.
For example, the Fidelity Bonding Program administered by the Talent Investment Agency of Michigan assists high-risk job seekers in obtaining employment by insuring employers against employee dishonesty, such as theft, forgery, larceny and embezzlement.
And the federal Work Opportunity Tax Credit (WOTC) is available to employers who hire and retain individuals from target groups with significant employment barriers — including ex-felons. Employers can claim about $9,600 per employee in tax credits per year under the WOTC program.
Ultimately, however, it's the ability to do the job that employers value most, Weinand said.
"In the end, many of these ex-felons out-work and out-attend those who don't have a record. They're loyal and appreciative of the opportunities they've been given."