The look. The feel. The tools. The experience. They're all new for exploreflintandgenesee.org, the website for the Flint & Genesee Convention and Visitors Bureau (CVB) that launched on Sept. 8.
The new site delivers an improved visitor-focused web experience built on a platform specifically designed for tourism organizations. It offers better tools for planning a visit, a more comprehensive events calendar and a streamlined RFP process for meeting planners and sports organizers. Additionally, it allows local attractions, hotels and meeting spaces to easily update and maintain their listings on the website.
Also, the Explore Flint & Genesee Blog, housed on the site, features a variety of enlightening stories and informative tidbits about area attractions and events.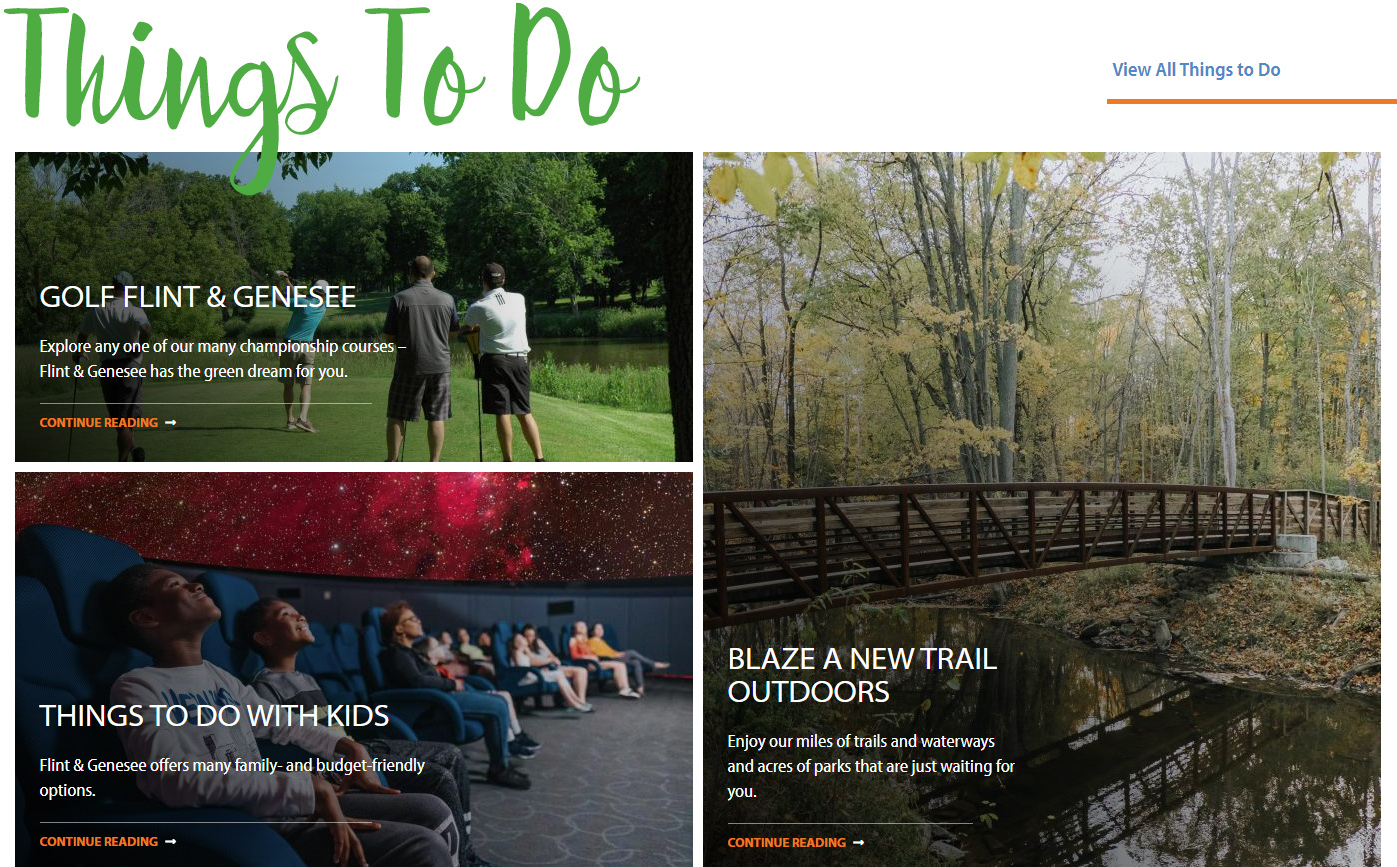 "Exploreflintandgenesee.org captures the essence of Flint & Genesee as the vibrant, appealing destination we know it to be," said CVB Director Alaina Wiens. "In addition, it makes planning your visit easy and seamless, whether it's your first time here or you're a returning guest to our community."
According to Wiens, the site is also a great tool for residents who are interested in exploring something new or looking for updated information on their favorite attractions and experiences. There is even feature that allows local planners to submit upcoming events and festivals to be promoted on exploreflintandgenesee.org's calendar. (Event information submitted is subject to review and approval before it is posted.)
From fine arts and performance arts to outdoor recreation and fitness to historical amenities to great food, beverages and entertainment, Flint & Genesee is inviting, accessible and ready to welcome travelers and residents alike.
"So, whether you live here in Genesee County or are planning your next visit, the new Explore Flint & Genesee website will help you discover something new," Wiens said. "Explore community events and attractions countywide, then find the perfect accommodations for your stay."