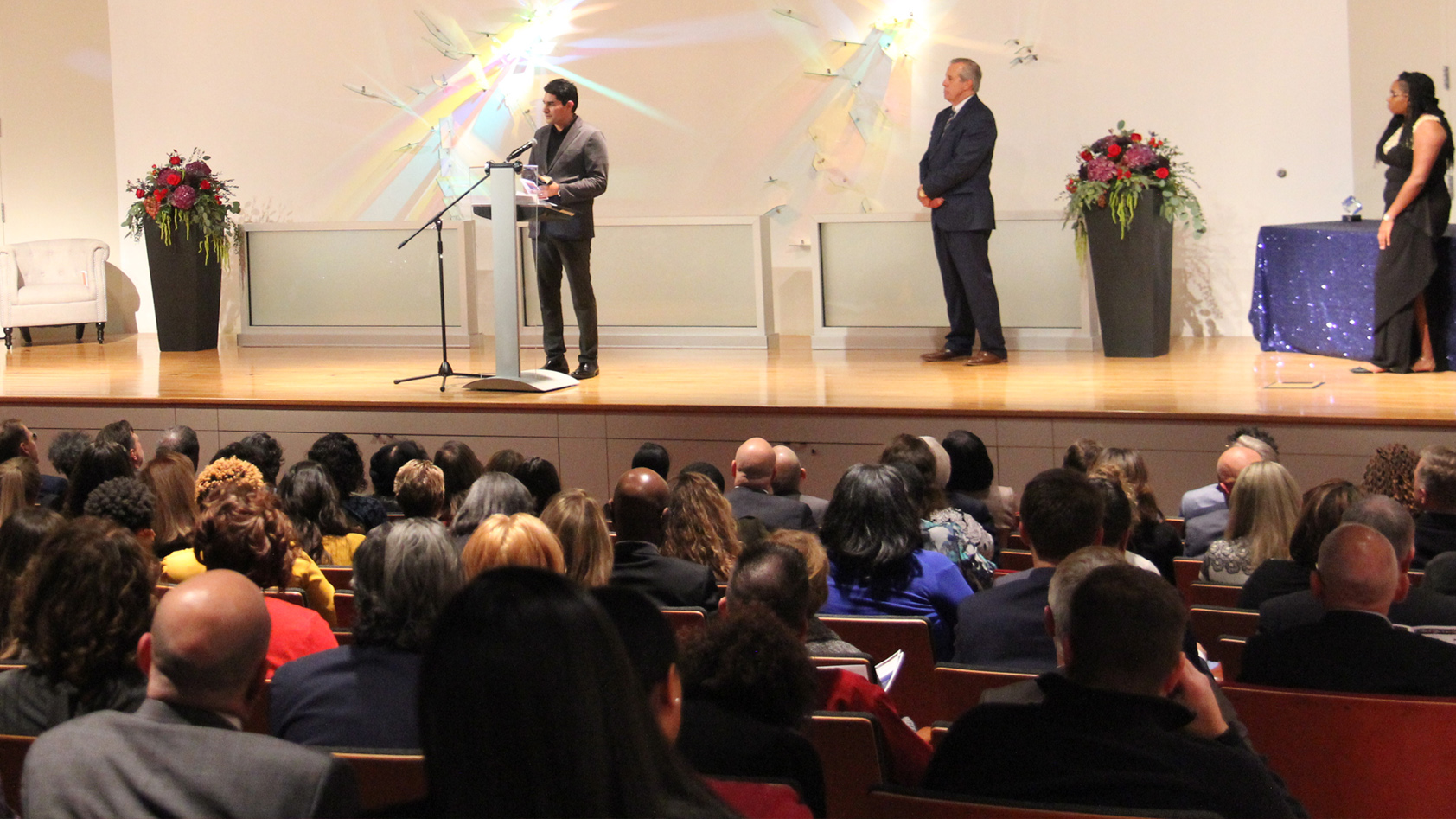 The annual Art of Achievement Awards, presented by Flint & Genesee Chamber of Commerce and the Flint & Genesee Convention and Visitors Bureau, honor exemplary businesses, community leaders and hospitality professionals for their significant contributions to the region's success.
The honors include individuals who have been singled out for special recognition for their career contributions in business and community service. The 2019 honorees, presented in November:
****
Charles Stewart Mott Award: William S. White (posthumously), Charles Stewart Mott Foundation
The Charles Stewart Mott Award honors a citizen of greater Flint who has made significant contributions to the advancement and wellbeing of the community, and who, by his or her actions, carries on the traditions of Charles Stewart Mott. Mott was an entrepreneur who became a very successful businessman here. He devoted his time, energy and resources to benefit his adopted hometown, the City of Flint.
William S. (Bill) White's mantra – "good things happen when people work in partnerships" – continues to be a guiding principle of the Flint & Genesee Chamber of Commerce.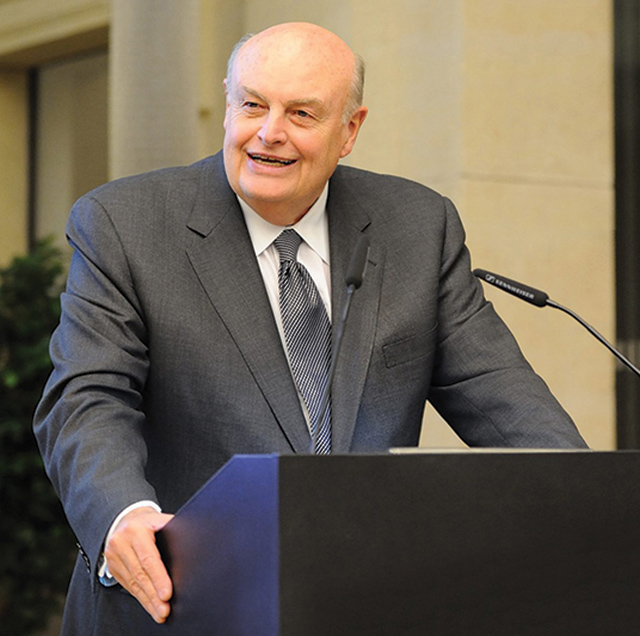 Born in Cincinnati, White adopted Flint as his hometown, not unlike the namesake of the Foundation he led for more than four decades. White rose through the ranks of the Charles Stewart Mott Foundation to become its president and chief administrative officer in 1976. Three years later, he was named CEO.
Under White's leadership, the Mott Foundation grew from a primarily local funder with assets of roughly $377 million to an internationally recognized philanthropy with assets of more than $3 billion.
Among his long list of accomplishments, he was a tireless advocate for improving the lives of the less fortunate. One of the enduring examples of this commitment is in the area of youth education and development. The Foundation's multimillion-dollar, multi-year commitment helped to seed and expand the federal government's 21st Century Community Learning Centers initiative. This highly regarded national program helps to provide high-quality enrichment and academic programming for 1.7 million children each year. For these reasons and many others, White was affectionately known as "Mr. After School".
He was also caring and sensitive to the needs of Flint and Genesee County. "This community wouldn't be what it is today without him. He will be missed but his legacy lives on," said Chamber CEO Tim Herman, in presenting the award to White's son, Ridgway White, Foundation chairman, CEO and president.
****
Claire M. White Award: Kathleen "Kitty" Gazall, Gazall, Lewis & Associates Architects
The Claire M. White Award honors a woman who is working for the betterment of Flint and Genesee County.
Kitty Gazall's work and community efforts are on display daily in Flint – the city that she truly loves and wakes up every morning thinking about.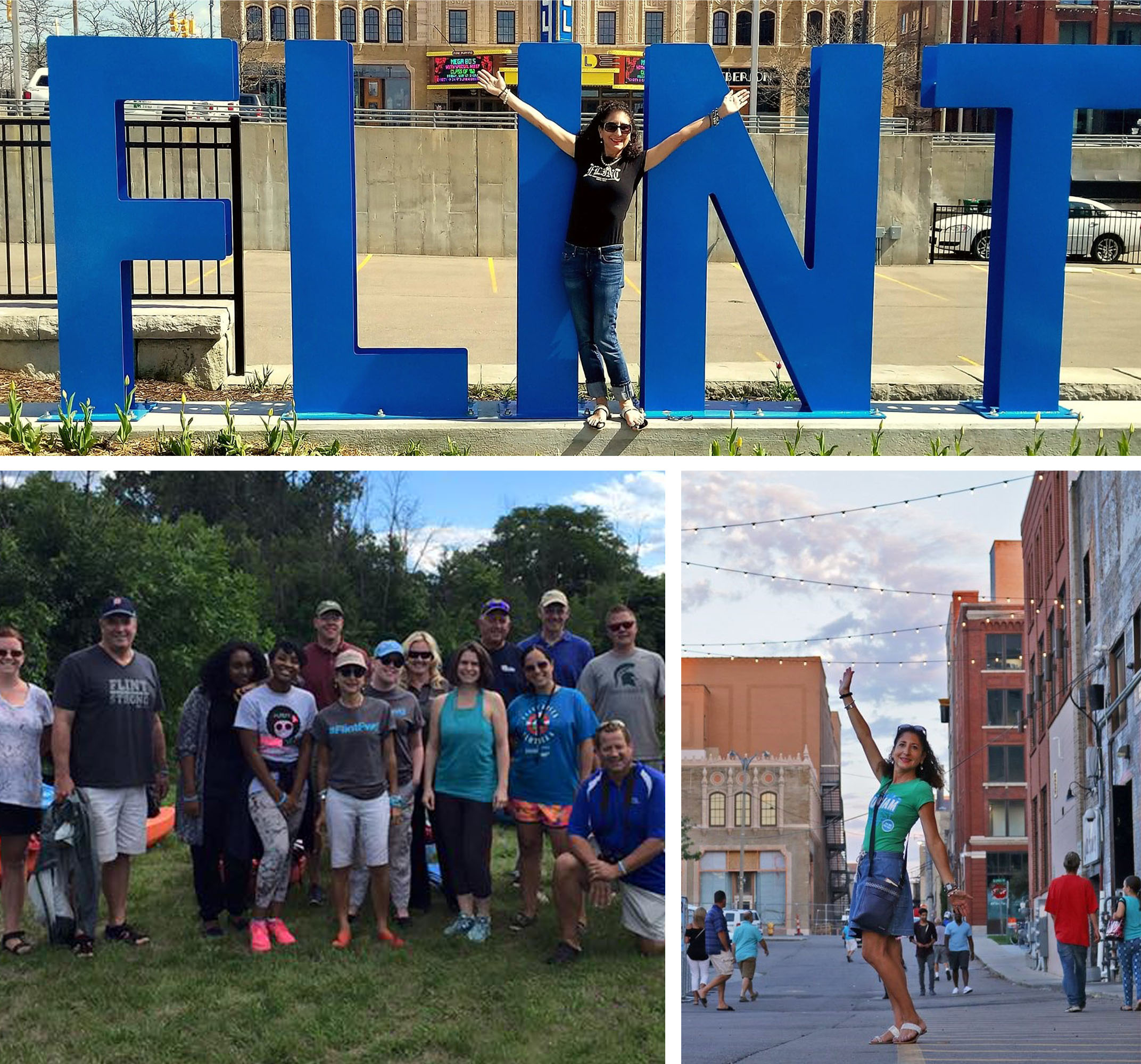 She's a founding member of Buckham Alley Fest, which has grown every year since 2011. It now occupies both Buckham and Brush alleys and is called Flint Alley Fest. Gazall conceptualized and led two successful Patronicity campaigns that raised $100,000 for Buckham and Brush alleys. The Michigan Economic Development Corporation then provided a matching grant of $100,000, bringing the total to $200,000. For four years, she has chaired the Corridor Alliance Chapter of the Flint River Watershed Coalition, a community-based organization that works on projects to promote the river as a community asset.
The FLINT sign in Brush Alley. Gazall made it happen out of sheer will and determination. She led the charge in amassing the funding and other resources to cover the production and installation costs. The FLINT sign has become a beacon in downtown and has generated significant social and digital media impact for Flint, based on how often pictures are shared on different social media sites.
Gazall has one agenda: make Flint a unique and exceptional place to live, work and play.
****
Art Hurand Award: Dr. Bobby Mukkamala
The Art Hurand Award recognizes an individual or organization that exemplifies outstanding community spirit.
Dr. Bobby Mukkamala is a compassionate and caring person, and a big cheerleader for Flint & Genesee. He serves on numerous committees and boards, including: Uptown Reinvestment Corporation, serving as the past board chair of the Community Foundation of Greater Flint and chair emeritus of the Crim Fitness Foundation. Each year, he hosts the "Cars & Bars" fundraiser to benefit Flint Institute of Music and Sloan Museum.

Along with being an investor in various economic development projects in downtown Flint, he is often seen in attendance at the many activities and events that characterize our revitalized downtown, such as Flint Alley Fest and shows at the Capitol Theatre.
Last May, Mukkamala was voted president-elect of the Michigan State Medical Society during the 154th annual meeting of the MSMS House of Delegates. He was also elected by his peers nationally to serve on the American Medical Association Board of Trustees and is a past recipient of the AMA's "Excellence in Medicine" Leadership Award.
Mukkamala has also been a strong advocate in combatting opioid addiction through his involvement with the AMA, MSMS and the Genesee County Medical Society. With all that on his plate, he still finds time to mentor high school students to help them prepare for the ACT exam.