The Flint & Genesee Group on Nov. 4 presented Art of Achievement awards to 16 exemplary businesses, community leaders and hospitality professionals for their significant contributions to the region's success in 2021.
A crowd of 358 people filled Flint's historic Capitol Theatre – with COVID-19 safety protocols in place – where Master of Ceremonies Leanne Panduren, president and CEO of ROWE Professional Services, presented the awards to this year's honorees. Now in its seventh year, the awards' event – a community-wide celebration – returned after a one-year hiatus because of the COVID-19 pandemic.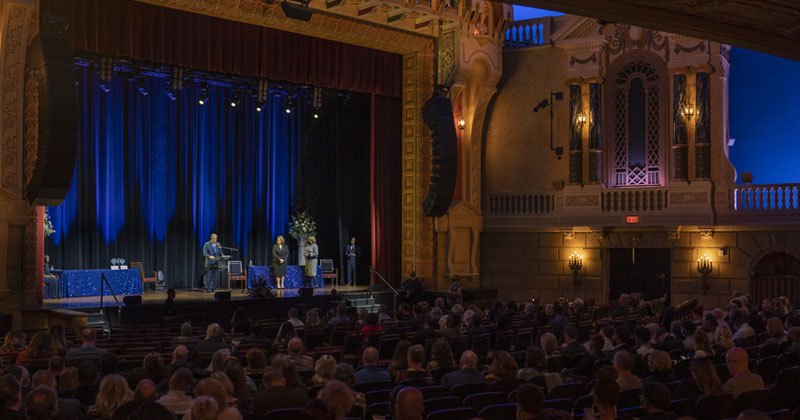 ---
Business Awards
---
Diversity, Equity & Inclusion Champion
Clearview Building Maintenance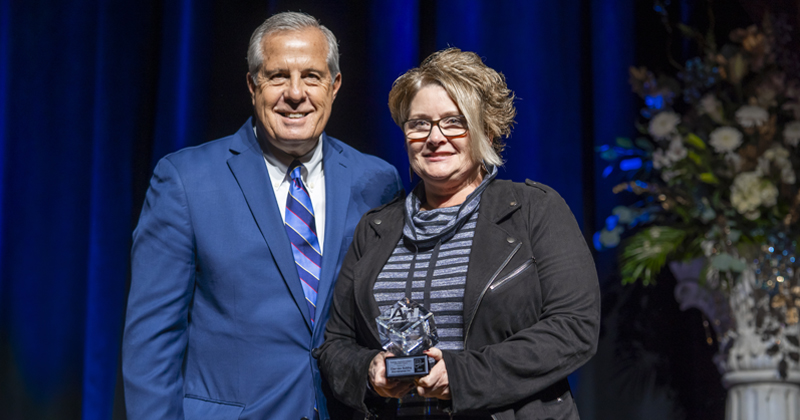 As Burton-based Clearview Building Maintenance has grown to have 70 employees, the company has worked to promote and develop its staff since its founding in 2002, regardless of their ethnicity, identity or personal history. Owner Dena Craine believes strongly in providing opportunities to all people, including those who need a second chance.
Clearview worked with the Small Business Development Center to develop a policy around hiring and welcoming residents seeking work after having been incarcerated. Clearview developed an inclusive career growth path, even for those starting at their entry-level positions. Its first-ever team supervisor, a man of Hispanic ancestry, started as an entry-level cleaning technician. A number of women who hired in at the entry level have worked their way up to managers. After hiring an employee who voluntarily came out as transgender during their interview, Clearview became known by word-of-mouth as a safe and welcoming place of employment for transgender employees and have since hired and promoted several members of the LGBTQ+ community.
---
Business Impact Award
SERVPRO of Northwest Genesee County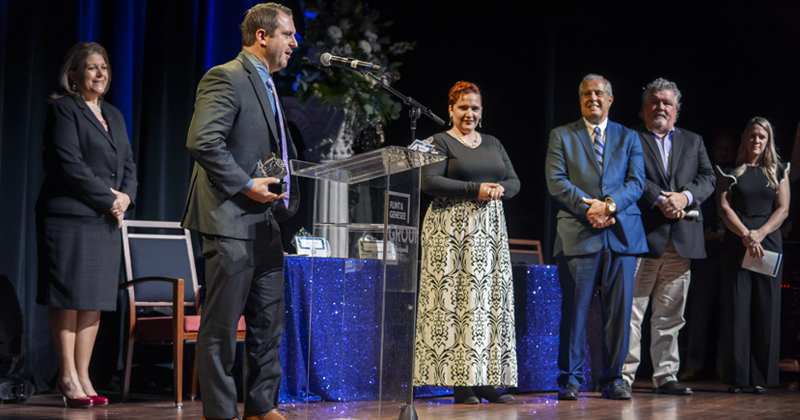 SERVPRO is the largest fire, flood and disaster restoration company in the country yet it has a strong dedication to the local community. The SERVPRO Cares Campaign, where the company donates $1,000 biweekly to charitable causes, has benefited a number of organizations, including the Old Newsboys, Whaley's Children and Christian Outreach Center.
It also supported the Crim Fitness Foundation's #GivingTuesdayNow campaign with a matching donation that helped raise over $7,000. Crim later remarked that SERVPRO's dedication to supporting Crim was a tremendous catalyst to helping it secure additional support. The leadership of the entire team at SERVPRO— demonstrated during the pandemic— was second to none. That shows the passion SERVPRO has for supporting this community.
---
Economic Development Project of the Year Award
Allegiant Air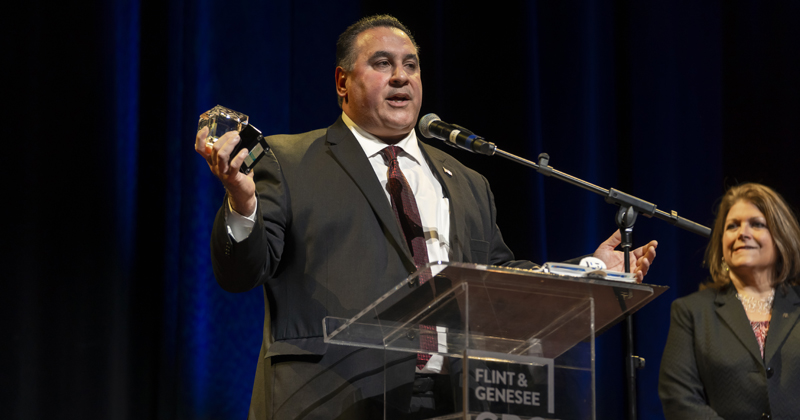 Allegiant Air is a premier leisure travel airline, offering customers low-cost, non-stop flights to small cities and major metropolitan regions across the country. In August 2021, Allegiant selected Bishop International Airport as its next base of operations. This $75-million investment will create at least 89 high-wage jobs – such as flight crew, maintenance crew and management – based in Flint, with an average annual salary of over $73,000.
Allegiant's expansion at Bishop will become fully operational in February 2022 and will offer new non-stop flights to new destinations—making travel easier for visitors and residents alike. The investment will not only make the Flint area more accessible to visitors, but it will also play a major role in priming the region for long-term growth.
---
Small Business Award
Great Harvest Bread Co.
Great Harvest Bread owner Scott Sassack has always tried to give back to the community. The connection is evident the moment you walk in the front door and see the display of photographs highlighting relationships with area schools and other organizations.
That belief is also embedded in the mission statement, which every customer who visits can readily see in bold letters on the wall behind the cashier. It reads: Be loose and have fun, bake phenomenal bread, run fast to help customers, and give generously to help others!
"It's something that I think should be expected of businesses. When you have a community that commits to you, it goes both ways," Sassack says.
---
Minority Owned Business Award
Breads & Threads Handmade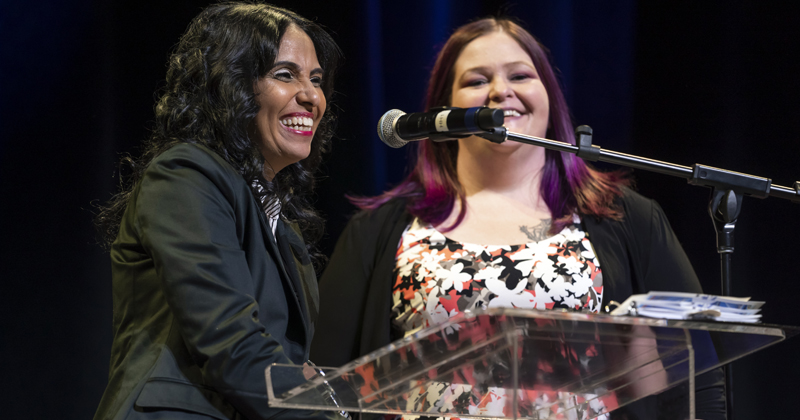 Breads & Threads Handmade is an all-handmade and home-grown business that sells a variety of knitted and crocheted items and farm-to-table goods. Owner Linette Ramos de Soto launched the business in 2007 with a table, pop-up tent and calculator to sell her handmade goods at a local farmer's market. Ramos de Soto eventually moved into a shop in Courtland Center but later decided to shift to a home-based operation to focus on her home, family and farm.
Then the COVID pandemic hit. That's when Breads & Threads transitioned to being "more than just a woman who crochets because within that, existed the Chicken Lady, the farmer, the advocate and so much more," said Ramos de Soto.
The new Breads & Threads was born, which included going virtual, doing teaching and incorporating just about any new concept and opportunity that came its way, including starting Breads & Threads Magazine.
---
Nonprofit Impact Award
Food Bank of Eastern Michigan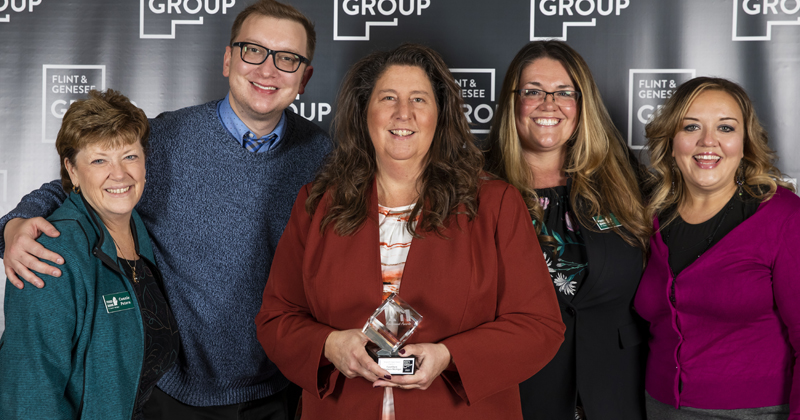 Forty years ago in 1981, a small grassroots organization was developed in response to growing hunger within Genesee County. What began as a staff of three in a rented warehouse has now grown into the Food Bank of Eastern Michigan that serves more than 700 hunger relief partners, including partner agencies, schools and other community organizations, to support 22 counties in eastern Michigan. The Food Bank was able to successfully respond to the COVID-19 pandemic by providing 65 percent more food to communities in 2020 compared to 2019.
In the past year, the Food Bank has hired numerous employees and worked toward providing new and exciting benefits for staff. In September, the annual Empty Bowls program was held and well over 800 people attended. Attendees enjoyed a simple meal of soup, bread and dessert from a variety of local restaurants and took home a one-of-a-kind bowl, handcrafted by area artisans, to serve as a reminder of hunger in our communities.
---
Young Professional Leader Award
Tauzzari Robinson
Tauzzari Robinson has been called the "Elmer's Glue" of the Boys & Girls Clubs (BGC) of Greater Flint and a true example of the organization's mission to enable all young people to reach their full potential as productive, caring, responsible citizens.
Robinson serves in a leadership role in the Out-of-School Network, a group comprised of multiple youth service organizations in Genesee County. He also chairs the Michigan Alliance, a cohort of 14 BGCs in Michigan. He coordinates efforts to leverage state funding through entities such as the Michigan Dept. of Education to benefit the thousands of young people served by the Alliance.
Robinson is committed to his own professional development and cognizant of the need to provide the same growth opportunities to BGC staff, who have been provided opportunities to attend conferences and leadership training workshops.
---
Claire M. White Award
Reta Stanley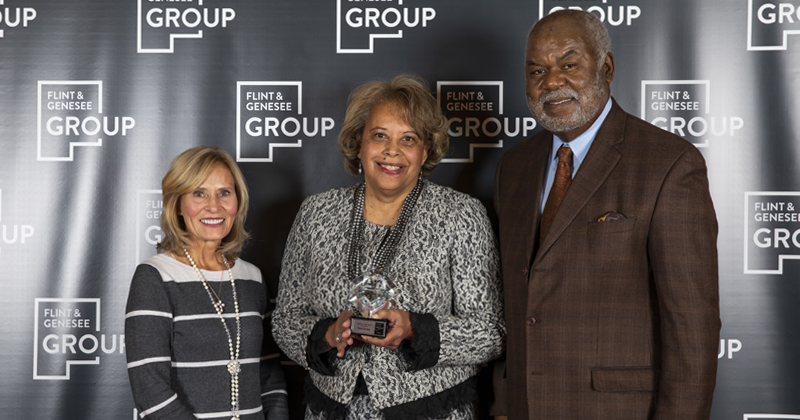 Reta Stanley has worked her entire life to be an example and create positive change in Flint & Genesee. Whether in her capacity as wife, mother, church member, mentor, CEO or First Lady of Flint, she holds in high regard the importance of exhibiting the behaviors that she wants from those she's leading.
As president of the Flint Area Links, Inc., Stanley established the Flint Kids Matter Fund to support the recovery efforts of the Flint Water Crisis. More than $120,000 was raised from family, friends and Links members nationwide to support public health, medical, and community-based services and interventions that address the short- and long-term impacts of the water crisis.
Stanley has been president and CEO of the local Big Brothers Big Sisters since 2006. This has enabled her to positively impact the lives of thousands of young people and their families along with those community members who serve as mentors.
---
Hospitality Awards
---
Frontline Ambassador Award
Antionetta Green, McFarlan Villages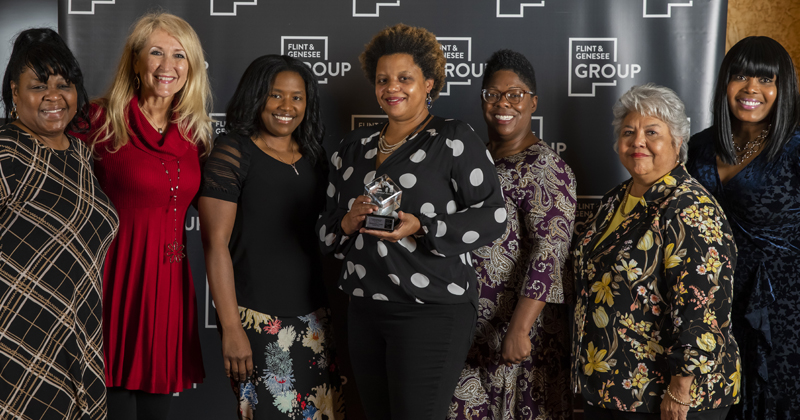 Antionetta Green is the dining services supervisor at McFarlan Villages, a local organization that provides senior living solutions. Each year, she oversees the production of 40,000 meals, in addition to coordinating five large catering events. She cares deeply about older adults and wants every dining experience to be memorable. In addition to taking note of their special dietary needs, she remembers everyone's favorite foods.
This extra touch was especially important during the pandemic when residents weren't permitted to leave their rooms. As one nomination explained, Green was "very innovative" and made sure the assisted living center still served high-quality, delicious meals during quarantine.
What's more, Green never lets food go to waste. She often drops off extra meals to people who are experiencing homelessness. And she donates food that will go unused to the personal needs and food pantry at McFarlan Court Street Village.
---
Hotel Ambassador of the Year Award
Geri Geske, Hampton Inn & Suites Flint/Grand Blanc
Geri Geske has worked at Hampton Inn & Suites Flint/Grand Blanc since it opened in 2009. She has developed a reputation as being friendly, welcoming and "a joy to see in the morning."
As a breakfast attendant, Geske isn't just known for serving superb food. She's also recognized as a great listener and knows many of the hotel's regulars by name, and they know her. As one nomination put it, "guests repeatedly stay at this property just because of her. It is not uncommon to see her on her day off sipping coffee with guests and hotel team members."
---
Restaurants of the Year Award
Barley & Vine and The Laundry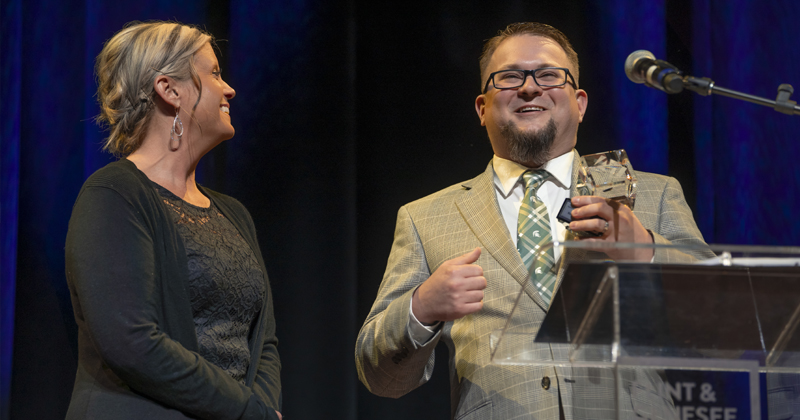 For Josh and Laina Blair, the COVID-19 pandemic delayed their plans to open a restaurant in March 2020. But once Barley & Vine opened in June of 2020, the Swartz Creek restaurant quickly became a neighborhood hangout known for its craft beer, wine and creative menu. Today, customers can enjoy trivia on Thursdays, live entertainment on Fridays and Saturdays, and family game days on Sundays.
According to one nomination, the "customer service is top-notch. It has a 'Cheers' atmosphere— everybody knows your name and they're glad you came."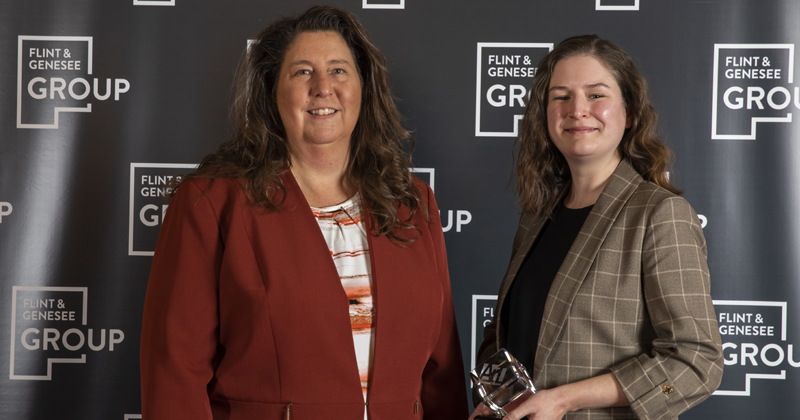 The Laundry in Fenton has been a fixture in Genesee County for a generation. Over the past year and a half, it has taken great precautions to safely remain open, keeping carryout open during shut down and pivoting to reduce capacity.
It serves a variety of vegetarian, vegan and gluten-free items to ensure all customers have a delectable dining experience. It also empowers staff to experiment with the menu. Employees regularly design monthly craft cocktail specials and create lunch specials based off their favorite sandwiches.
The Laundry is also community-focused. During June, it hosted a Pride event, with proceeds donated to The Trevor Project. In August, it donated a portion of sales to Crim Fitness Foundation over the course of the month.
---
Hotel of the Year Award
Hilton Garden Inn Flint Downtown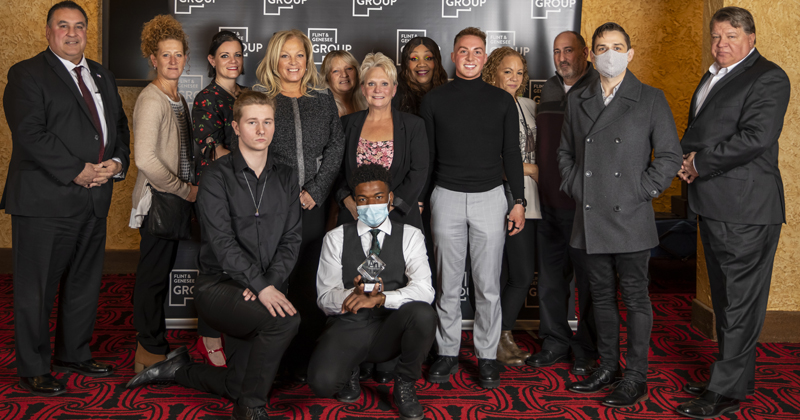 Since opening in November 2020, the Hilton Garden Inn Flint Downtown has established a reputation as an excellent choice for visitors to the area. Located in the former Genesee County Savings Bank, the hotel has breathed new life into a property that previously sat vacant for more than 20 years.
Today, the 11-story structure features 101 guestrooms, an upscale Italian restaurant, rooftop lounge and meeting rooms and banquet center. As one nomination said, "I travel 50 to 100 nights a year, and this is one of the nicest properties I've ever stayed in."
---
Attraction of the Year Award
Flint Public Art Project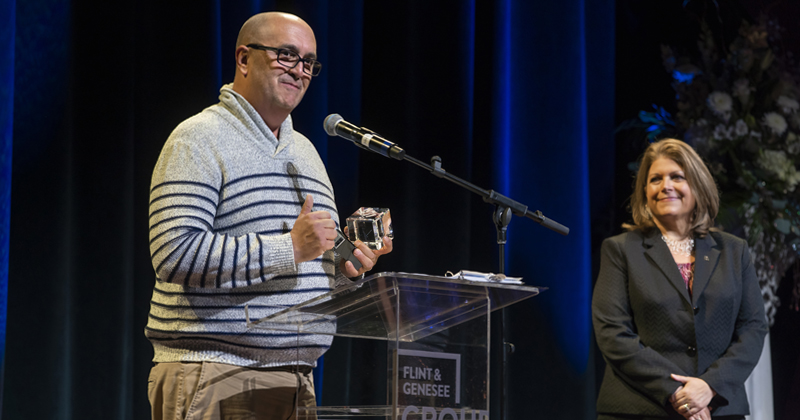 The Flint Public Art Project has contributed greatly to Flint's revitalization by organizing public events, workshops and art installations that inspire residents to reimagine the city and reclaim vacant and underutilized buildings and lots.
Those involved in the Art Project support collaborations among residents and organizations, as well as with leading artists, architects, planners, and community organizers from around the world.
It's best known for the installation of more than 150 murals throughout Flint. The murals have attracted visitors from all over who make an economic impact here. This, coupled with its art-related programming and special events, has made a huge difference in beautifying and highlighting Flint's culture.
---
Gloria DeHart Community Champion Award
Jack Stock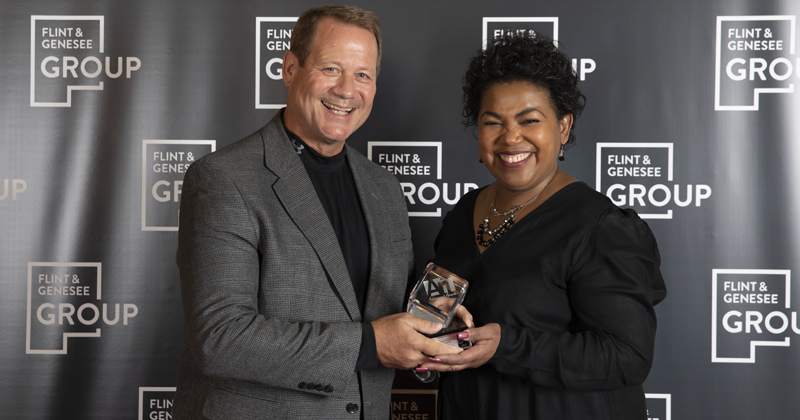 In the 20-plus years Jack Stock has worked at Kettering University, he has become a pillar of the Flint and Genesee County community.
He serves on several boards and committees that help keep Flint moving forward. He co-chairs, coordinates and leads the monthly meetings for the University Avenue Corridor Coalition, which aims to transform the Corridor into an attractive and crime-free area that's ripe for sustainable development.
Stock has also spearheaded countless activities that encourage students to engage in the community. He personally gets involved in service projects, such as painting over graffiti on the buildings, walkways and Flint Riverbank area for the Chevy Commons State Park.