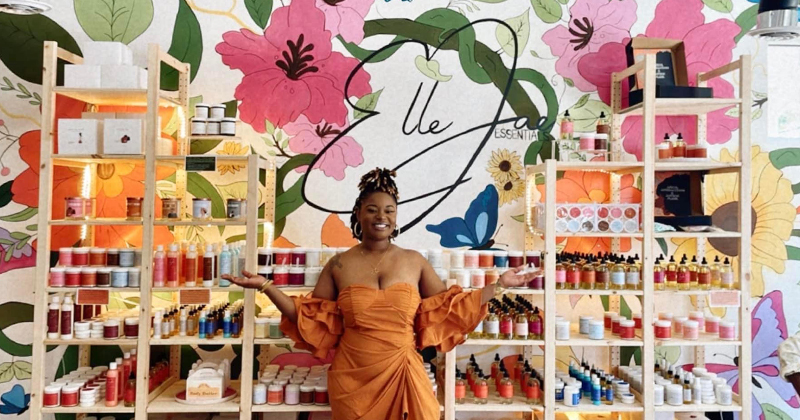 Aisha Harris always knew.
She knew at medical school at Georgetown University. And she knew in Chicago during her medical residency.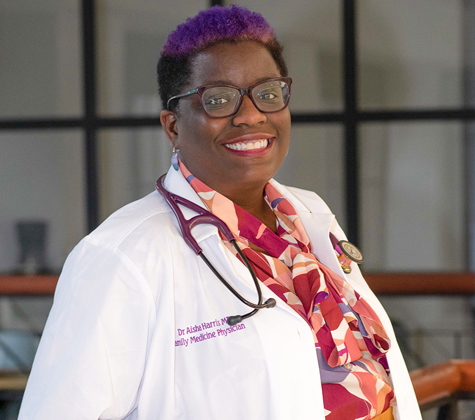 "I always planned to come home to Flint," said Harris, now a board-certified family medicine physician. "Here, I'm surrounded by friends and family — and have the strong sense of community and an authentic connection to people."
And after working the last two years for Hamilton Community Health Network in Flint, Harris ventured out on her own and this year opened her own practice, Harris Family Health, Flint's first direct primary care clinic. The membership-based clinic, located on the fourth floor of the Northbank Center, offers patients affordable, comprehensive care without involving health insurance, she said.
"There are so many barriers built into traditional health systems," Harris said. "Between those hassles and the cost of health insurance and prescriptions, too many people in my community aren't getting the medical care they deserve.
"My goal is to build real relationships and give patients the chance to feel like they're always heard."
Flint mirrors national trend
Harris's decision to start her own business aligns with a 50% surge across the nation in Black women entrepreneurs. Studies show Black women are 4.5 times more likely to start a new business than any other group, said Janis Mueller, regional director for the Michigan Small Business Development Center (SBDC) at Kettering University.
The same trend holds true in Genesee County where Black women are leading the charge in new businesses creation, far outpacing men and other racial and ethnic groups. In fact, the SBDC's I-69 Trade Corridor office has seen a 30% rise in new businesses led by Black women in Genesee County since the start of the pandemic.
"That's a huge increase," Mueller said. "Black women are dedicated to the community, they are working for change for themselves and the next generation, and they are the leading voice of entrepreneurship in our region and nationally."
According to a 2021 small business analysis funded by the Flint & Genesee Economic Alliance, 52% of woman-owned small businesses in Genesee County are led by Black women, followed by white (non-Hispanic) women who own 41%. In the broader small business community, women-owned small businesses are located across Genesee County, with the highest density of these businesses located in Flint (59%) and Grand Blanc (10%).
Mueller said she's found that Black women entrepreneurs have a unique and creative adaptability that lends itself to striking out on their own. And they're doing it across all business sectors.
For many, the historic loss of lives and job layoffs during the pandemic prompted them to reexamine what they really want out of life.
"Many minority women, especially Black women, starting businesses are coming in because they're feeling some challenges in the corporate environment," Mueller said. "Often, they work their job at a GM plant or a corporate job, and they use the money they save to launch their business.
"Ultimately, they want to be their own boss, create wealth for themselves and their families, and help their community."
---
Sharing banking expertise with community
Flint native Erika Davis, 38, worked in banking her entire career. But she always dreamed of a different path. After unexpectedly losing two close relatives to COVID-19, her perspective on life changed.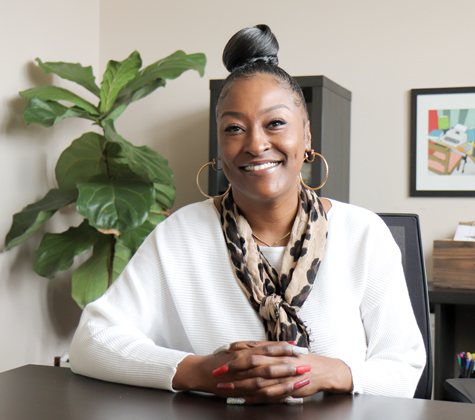 "It made me realize if you don't live now and do the things in your heart right now, life could change and your chance could be over," said Davis, who graduated from University of Michigan-Flint.
Last May, Davis left her full-time job to start her own company, Teach Me How to Bank, to share her banking knowledge with the underbanked and unbanked of Flint.
According to a 2021 report by the Federal Reserve, 18% of American adults are either unbanked or underbanked. The 5% of Americans who are unbanked have no bank account and rely on alternative financial products and services such as payday loans or money orders to take care of their finances.
"So many people don't have banking knowledge, but it's becoming even more necessary to living a good life," Davis said.
While Teach Me How to Bank is just getting up and running, Davis is optimistic about her future.
"This is my gift and it's time for me to let this knowledge out, show up for myself, and help the people in my community overcome these barriers," she said.
---
'The next Black-owned Lush'
La'Asia Johnson is another Flint entrepreneur who stepped up after seeing a void in the local Black community.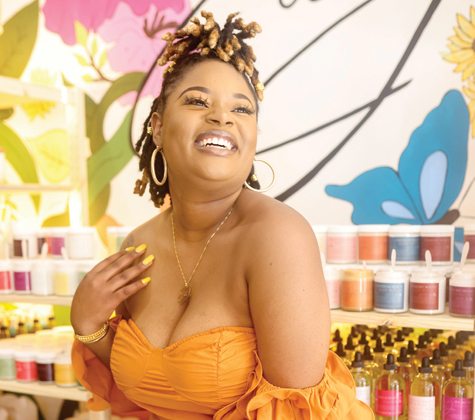 Johnson, diagnosed with eczema and Crohn's disease at an early age, couldn't find commercial medications to ease her skin conditions.
"So, I decided to change the narrative and start creating the products myself," said Johnson, a former social worker who launched Elle Jae Essentials in 2017.
Starting with a hand mixer, cocoa oil and shea butter in her one-bedroom apartment, she began making balms and creams to ease her dry, itchy skin. Before long, her friends and family started using them, too.
After years of hard work, Elle Jae Essentials now offers a full line of all-natural, vegan-friendly skincare, haircare and beard care products in stores and online. Last year, she opened her own shop at 1214 University Ave., in partnership with the Genesee County Habitat for Humanity.
"I want this business to be the next Black-owned Lush," Johnson said. "I hope to offer DIY experiences and an educational hub, where we teach people about the benefits of more natural ingredients and how to create safer items for you and your family. I don't want it to just be transactional – I want this to be an experience."
Johnson relies on her trusted community of customers-turned-family before making any major business decisions.
"I would like to dispel the rumor that Black women don't support each other," she said. "I want to stand as a testament that not only do Black women support business owners, if you are active and engaging, they will be active and engaging with you as well."
Harris said she, too, is grateful to Flint residents, businesses and organizations who have encouraged her dream of a new medical practice.
"I never realized before just how many people are out there in our community helping entrepreneurs like me start or grow their business," Harris said. "I promise to do all I can to help the people of our community for a long time to come."