(Featured above) Brad Bergmooser, president and CEO at Financial Plus
Financial Plus Credit Union is passionate about financial wellness.
"We ask ourselves every day how we can best educate our members and communities to live better financially," said Brad Bergmooser, president and CEO at Financial Plus.
In today's 24/7 world of on-demand service and speedy fulfilment, that means meeting customers wherever and however they need you. At Financial Plus, that involves offering face-to-face financial counseling at brick-and-mortar branches, a financial education app, and everything in between.
"Finances are scary because people don't understand them," Bergmooser said. "So, if we want to help our members meet their financial goals, then we need to help them in whatever way they want to interact with us."
That's a philosophy that's served the credit union well for 71 years.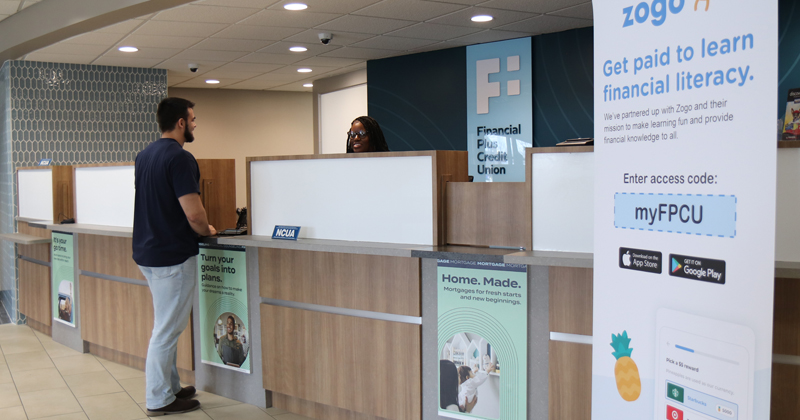 Founded in 1952 as Chevy-Flint Federal Credit Union by the employees of Chevrolet Motor Company in Flint, Financial Plus is still headquartered in Flint Township and has grown substantially in recent years.
The credit union officially expanded its field of membership to the entire state of Michigan in 2021. Then in 2022, Financial Plus became the nation's newest billion-dollar credit union when members "overwhelmingly approved" a merger agreement with Saginaw-based Wanigas Credit Union. The merger resulted in a combined institution with assets over $1.2 billion, serving 81,000 members at 11 branch locations throughout the Flint and Saginaw regions.
"We set such aggressive growth goals because of what it allows us to do — direct more resources into helping members reach their financial goals," said Bergmooser, who took the helm three years ago at Financial Plus.
The Wanigas merger, he said, allowed the credit union to provide the kinds of cutting-edge services members want — and deserve. The consolidated credit union, now with 285 employees, offers an expanded portfolio of mobile and online services, products like quick-fund loans, and high-rate checking accounts across Michigan.
"Like Financial Plus, Wanigas is dedicated to providing financial solutions that provide members with real help," said Bernie Williams, regional president of Wanigas, which is now a division of Financial Plus and continues to operate under the same name. "This unification will provide our members with additional products and services that can make a positive impact on their life."
Combatting financial illiteracy
Education is a key focus at Financial Plus, and for good reason. After all, a recent survey by the National Financial Educators Council found that a lack of financial knowledge cost the average American consumer $1,819 in 2022.
Financial wellness most often means a general understanding of and confidence with money habits: budgeting, savings options, debt management, as well as why credit scores matter and how interest rates work.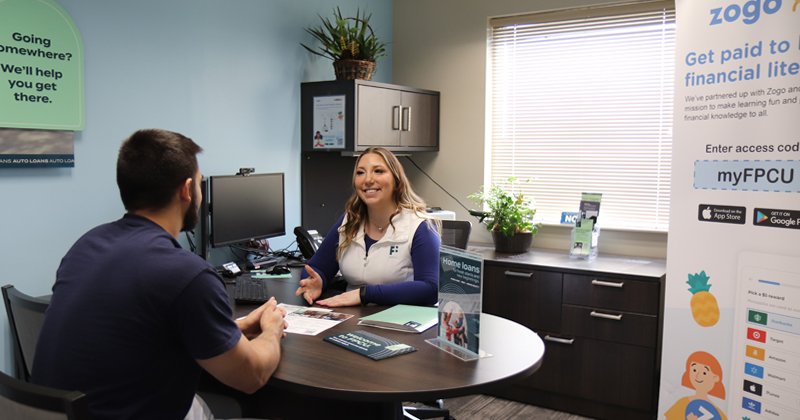 Because every person's journey and goals are unique, financial products and services must be tailored to each member, Bergmooser said. To that end, Financial Plus not only added a wellness coach to its staff in August 2022, they also ensured all branch managers and many staffers are certified in financial wellness counseling by the Credit Union National Association.
The financial wellness coach builds relationships with schools of all education levels and serves as a tool to help students learn financial literacy through interactive workshops, presentations, and digital modules.
"Our job is to help members understand what goes into financial wellness and help them get to where they want to be," Bergmooser said.
Financial Plus in September also launched Zogo, a financial literacy app, to its account holders and communities. The app is designed to guide users through 400+ bite-sized financial educational modules.
"We are very excited to offer our members this fun and engaging resource to gain financial knowledge," said Michelle Thompson, vice president of operations at Financial Plus. "Zogo is a great resource because it offers a variety of relevant modules and topics."
With the credit union's access code, students can learn how to save money and open a bank account, while credit union members in a different stage of life can explore skills on investing and retirement, Thompson said.
In addition to new products and services, Financial Plus rebranded itself this winter in a way that conveys the energy and excitement at the credit union, Bergmooser said. All while taking care of its members 24/7.
"We are still a not-for-profit owned by our members, and this is our members' money we are investing," Bergmooser said. "We're proud of how we've grown with the community, and we're excited and committed to continue that journey well into the future."