Nearly 3,000 apprentices honing their craft in one of 70 active programs in the East Michigan region, which includes Genesee County.
McLaren Health Care Corp. Executive Samantha Jacques will tell you that it takes talent to maintain the machines that perform MRIs and CT scans.
And, in a tight labor market, it also requires skill to find the right type of talent to perform that specialized work.
"We maintain all the medical equipment in the hospital," said Jacques, vice president in charge of McLaren Clinical Engineering Services. "I know people don't think about it, but when you go to the doctor, all of the MRIs, all of the thermometers, every table — physically, somebody has to keep them up and make sure that they work properly."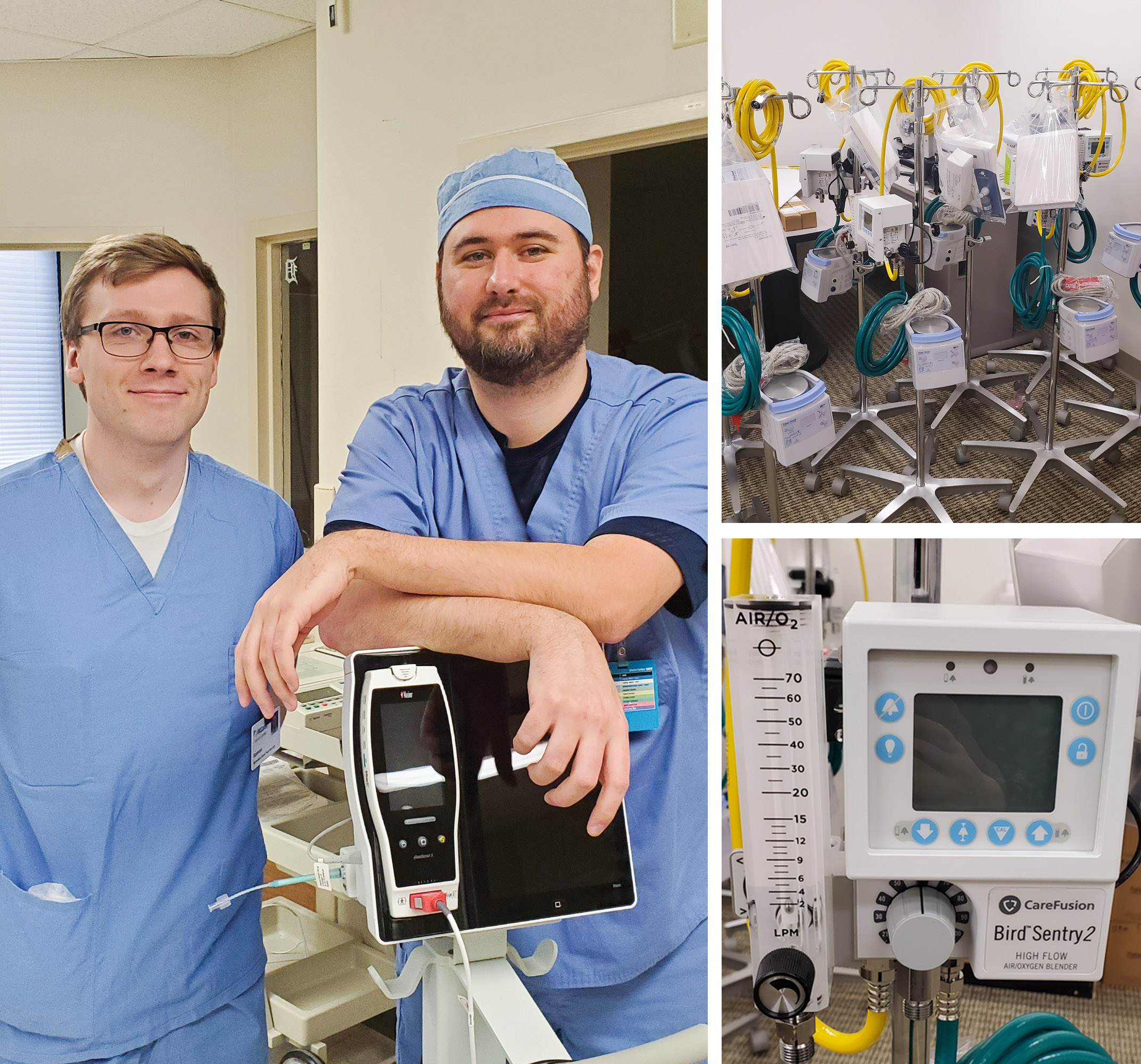 Traditionally, McLaren would look to fill such positions with candidates who had obtained the appropriate associate degree.
Now, to help fill its talent pipeline, Clinical Engineering Services is also turning to a time-honored workforce training/hiring method that is resurgent with employers in various fields — apprenticeships.
"We are seeing more growth in apprenticeships," said Wanda Bigelow, apprenticeship manager at GST (Genesee, Shiawassee, Thumb) Michigan Works!, part of the state's workforce development program.
"'Apprenticeship' is a buzzword right now," she said. "Everybody likes the idea of being able to learn hands-on while doing training instead of going to college for so many years and then coming out and saying, 'Now I have to find a job.' And I do think that there's definitely an increase in employers that want to start these programs. I think employers are really saying, 'We need to invest in our workforce.'"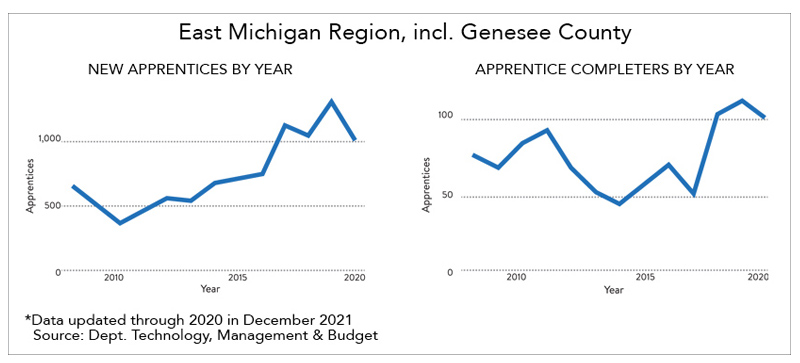 While down slightly from its pre-pandemic peak, in fiscal year 2021 more than 241,000 new apprentices entered the national apprenticeship system, a 9 percent increase from 2020, the U.S. Department of Labor reports. Other than in 2019, before COVID-19 disrupted the economy, that's the highest number of new apprenticeships in at least 13 years.
Michigan saw 6,120 residents begin apprenticeships in 2020, bringing the total number of active apprentices statewide to 19,130, according to statistics compiled by the Michigan Department of Technology, Management & Budget.
In the East Michigan region that includes Genesee County, nearly 3,000 apprentices are honing their craft in one of the area's 70 active programs. The bulk of those are in the construction field, but they also include machinists, tool and die makers and telecommunications equipment installers and repairers.
"Construction has always been a heavy industry for apprentices, but advanced manufacturing, health care, IT and transportation are some of the ones I'm seeing growth in right now," Bigelow said.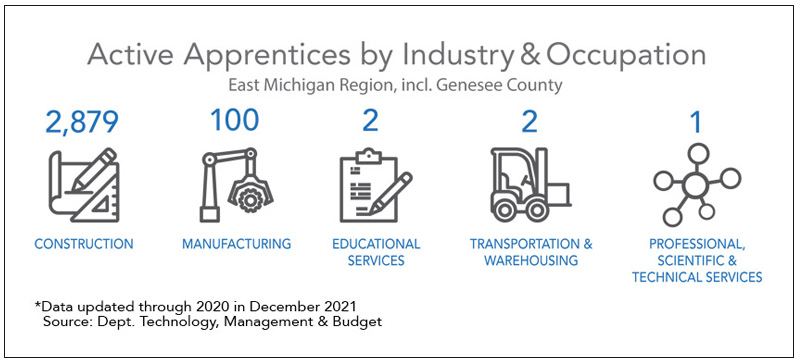 A transfer of knowledge
The reasons behind the apprenticeship surge are familiar to hiring managers: a scarcity of workers for all types of jobs, with a particularly acute need to develop skilled laborers as Baby Boomers who hold those positions continue to retire.
A key feature of a registered apprenticeship is the use of industry veterans to mentor apprentices during their on-the-job training, said Scott Jedele, who manages the State Apprenticeship Expansion Team within the Michigan Department of Labor and Economic Opportunity.
"For the employer, it immediately fills a job opening with an employee learning exactly the right skills that they need to be successful and what the employer needs for them to be successful," he said. "What that worker who's going to retire knows today is exactly what you hope stays in your business, and the model really is a very accelerated way to take that knowledge and transfer it to your next-generation employee."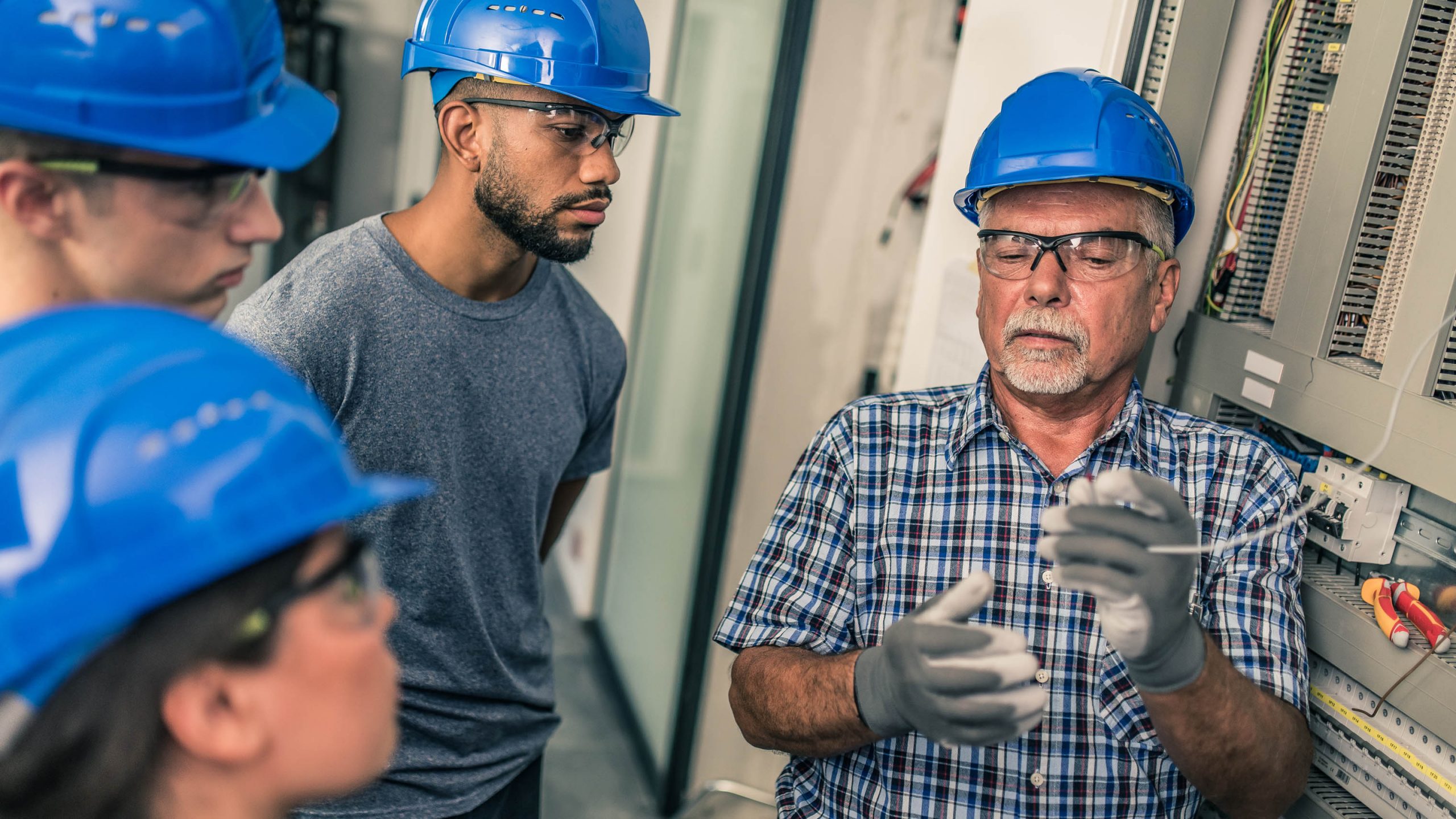 Jacques said McLaren's 8-month-old apprenticeship program, which was developed by the Association for Advancement of Medical Instrumentation, is meant to complement, not replace, her department's long-used practice of hiring those who have just completed associate degrees for entry-level openings.
"Fundamentally, especially in the medical fields nowadays, there's a dearth of people," she said. "Any programs that we can have to get additional people into the field, we need to start looking at. It's the practical thing to do. We can't rely on just our traditional techniques to fill positions anymore."
From the apprentice's standpoint, program participation carries such benefits as getting paid to learn in-demand skills during on-the-job training and — unlike those who go to college to embark on a career path — accumulating little to no debt because they're typically reimbursed for associated coursework. For every 2,000 hours registered apprentices are on the job, they must receive at least 144 hours of classroom instruction, Bigelow noted.
Indeed, as college tuition costs — and debt loads — continue to rise, conversations about preparing for life after high school have changed, she said.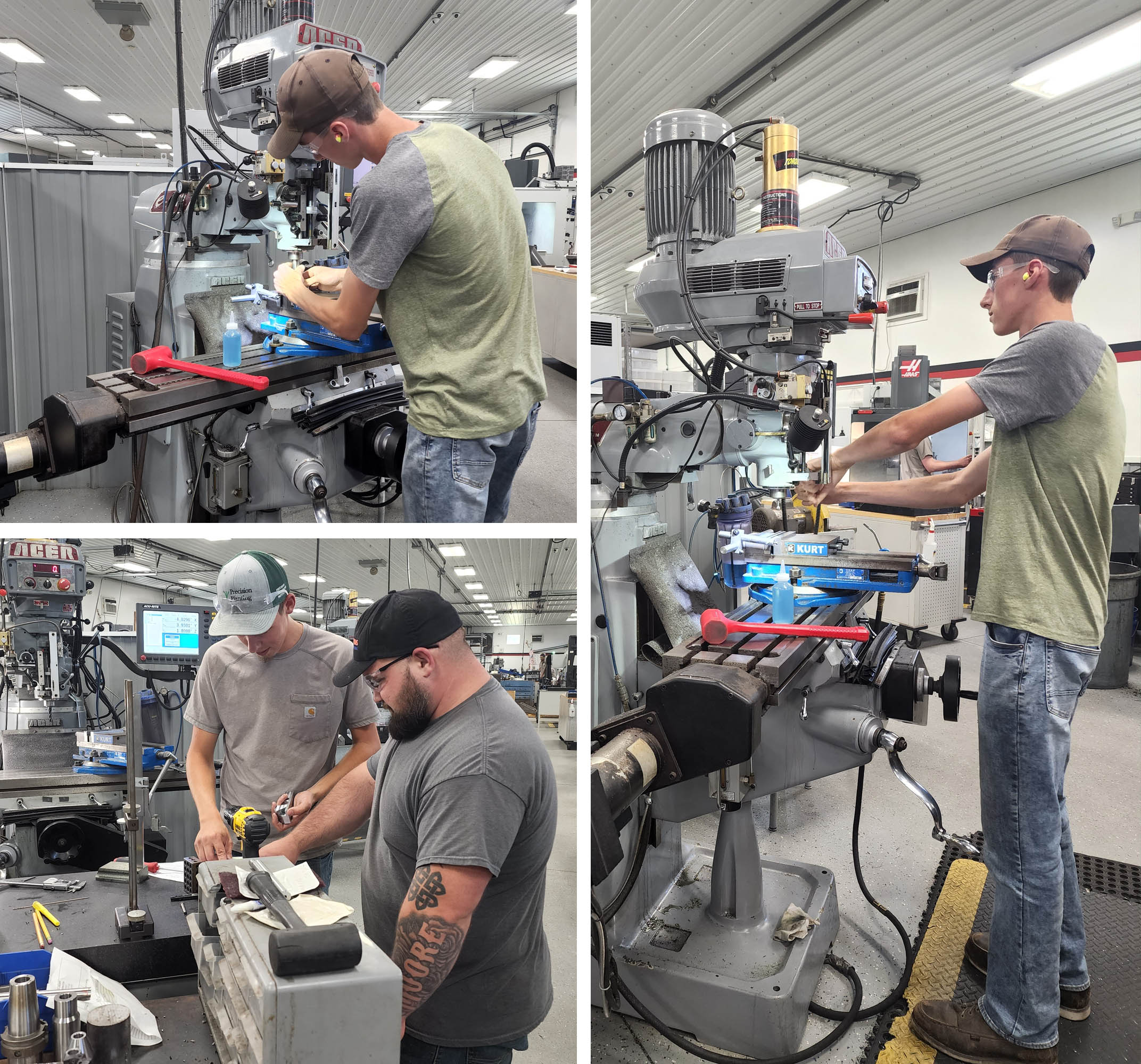 "I do think that among a lot of the high school guidance counselors that I talk to there is a shift in what they're saying to students, where they're saying 'career pathway' and where it doesn't have to be the traditional, four-year-college career pathway," Bigelow said.
Those who complete a U.S. Department of Labor-designated registered apprenticeship also earn a nationally recognized certificate of completion that attests to their credentials, Jedele said.
Bigelow cites 2021 Flushing High School grad Daniel Peck as a local apprenticeship success story. During high school, he completed the automotive technology program at Genesee Career Institute, where he excelled at diagnosing and repairing vehicles and graduated with honors.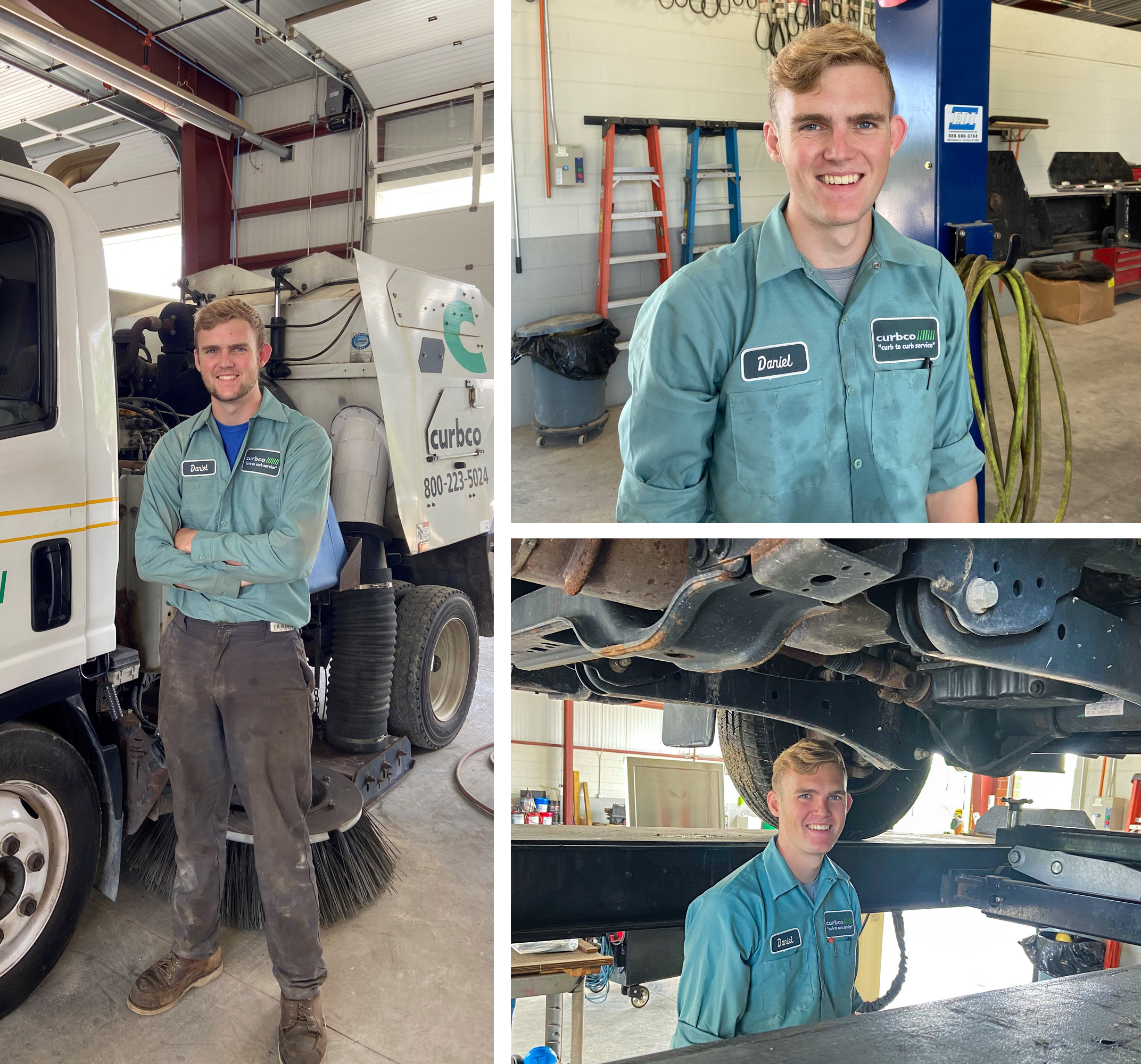 To make money while in high school, he worked at a construction company but didn't enjoy it. So three weeks after graduation, he interviewed for the Industrial Truck Mechanic Apprenticeship program at Curbco, a Flint Township street, parking lot and grounds service provider.
Curbco hired Peck as the first apprentice in the company's 8,000-hour (four-year) program.
Bipartisan support
Curbco, beyond bolstering its workforce, also was able to take advantage of on-the-job training funds administered by Michigan Works! to cover some of Peck's wages as he completes the apprenticeship program.
Governmental support is a primary component of a registered apprenticeship program. The state is using more than $30 million in federal funding to help expand apprenticeships by, for example, reimbursing employers for program expenses and providing supportive services to apprentices.
It's an effort that enjoys broad backing, Jedele said.
"In Michigan, we have kind of a hyperfocus on expanding apprenticeships," he said. "It's bipartisan. The governor is very much in support of it as is the Legislature, on both sides of the aisle."
Jedele also distinguishes between registered and nonregistered apprenticeships. Because the former is recognized by the U.S. Department of Labor, the employer and apprentice are eligible for governmental assistance. For example, Michigan Works! might coordinate services with training providers to ensure a curriculum that meets the employer's goals and requirements for the apprenticeship.
Would-be apprentices should view Department of Labor registration as a seal of approval, Jedele said.
"It says this is a high-quality training program," he said. "It just means that the training that's being provided is quality training that includes theory that they actually implement on the job."
'A two-year job interview'
A primary concern for employers is that apprentices will take their skills to another company once their program is complete — making the business lose its investment in them. That's a persistent, if misguided, fear, Jedele said.
"I can tell you that it's actually a myth and it doesn't work that way, but it's difficult to convince an employer of that until they have a program or until they talk to someone who has a program," he said, citing statistics that show that more than 90 percent of apprenticeship program graduates remain with their original employer for at least three years.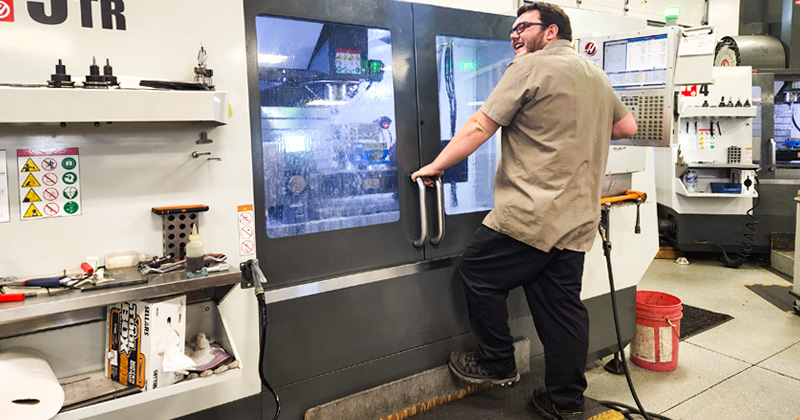 "The reason why is not just the fact they've gained the skills, but that it actually just creates sort of a family environment," Jedele said. "You're learning from mentors who are fellow employees, and once you're done, it's like you've already created a bond with them."
Jacques acknowledges the possibility that those who complete McLaren Clinical Engineering Services' apprenticeship program won't remain with the health care system.
"But I can also take the stance that it's really a two-year job interview," she said. "If you want to stay with me, great. But I also get to choose if I want you to stay. It's a great way to make sure you're getting the folks that you want."
The apprenticeship is geared toward recent high school graduates or those who are already in the workforce but don't want to return to school to change their career path. There are now five program participants among the 15 McLaren hospitals throughout Michigan northern Ohio.
The two-year program entails on-the-job training, coursework such as anatomy or physiology classes and three certification tests (one in the first year of the program, two in the second).
"We like to take people with either electrical or mechanical skills," Jacques said. "We take people from all over and really just supplement what their history is to realign them to the skills they need for this position.
"This is a great opportunity for individuals who are inclined to do the jobs that we're looking for. Obviously, it's not for everybody. Not everybody wants to work with their hands and that type of stuff. But there are people out there for whom this is a great option."