Flint Township-based Automation Movers International (AMI) is embracing the opportunity that the skilled-trades gap opens up for local residents to learn a trade and get to work. Skilled trades – which include jobs such as electrician, mechanic, machinist, welder and pipefitter – have seen a huge increase in the need for a newly trained workforce.
What began as skills passed down with on-the-job training through apprenticeship programs, simply stopped happening, according to AMI's Melissa Smith.
"At some point the skilled trades decided the demand wasn't there, and they stopped many of the journeyman and apprenticeship programs," said Smith. "Now, about 74 percent of that workforce is of retirement age and they cannot fill the need for skilled workers."
As more and more processes and industries become fully automated, the upward trend for more skilled workers is expected to continue, too.
"We had a situation where we had hundreds of open jobs with only 10 to 15 people available to work them," Smith said. "That is when AMI Tech was born. Until recently, there were no training centers around here dedicated to skilled trades."
Launched in 2017, AMI Tech is the newest sibling of the AMI sister companies. AMI, the parent company, is a full-service mechanical integration firm specializing in the installation and movement of production and automation equipment. AMI Contracting is another branch that supplies the workforce needed, and now AMI Tech provides the necessary training to fill those needs.
"Our focus is creating need-based opportunities right in our community," Smith said. "We put local people to work in local jobs."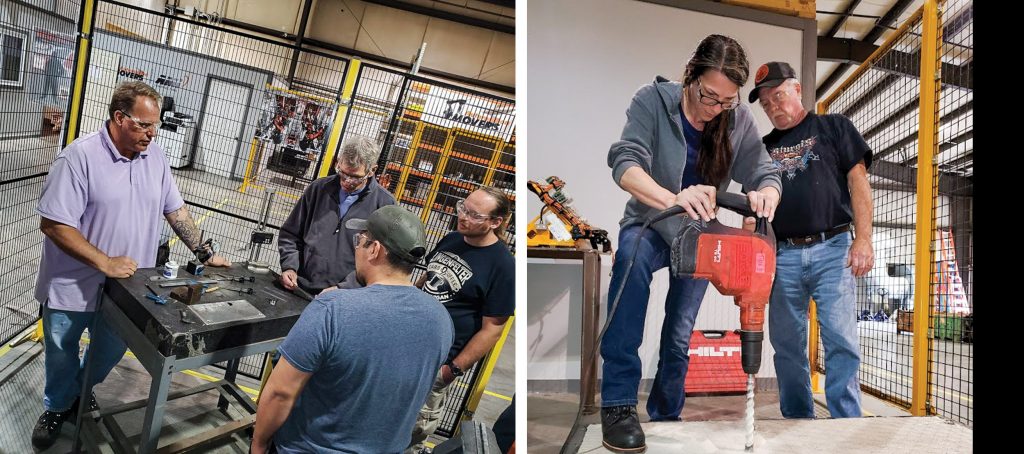 AMI Tech focuses on providing a real-world experience, with 80 percent of the training conducted through hands-on learning. Programs include straight-to-work training, certification training and a welding career pathway. One of the straight-to-work programs is a two-week general skilled trades course that teaches blueprint reading, machining and assembly, floor layout and installation, welding, pipefitting and electrical work.
"That two-week training allows the student to get a taste of the skilled trades," said Lo White, AMI Tech's training director. "Students get to experience the field, see if it is for them, where they excel and decide what they want to do."
AMI Tech is also embracing the challenge of the skilled trades employment gap as an outstanding opportunity to shake off some of the old-fashioned views on manufacturing and to open doors to more people.
"This is an awesome opportunity to diversify the workforce and educate everyone that manufacturing isn't dirty, and it is not just for men," said Smith. "Our program is ground-breaking, and we are proud and excited to see these students come in and discover that they are capable of anything."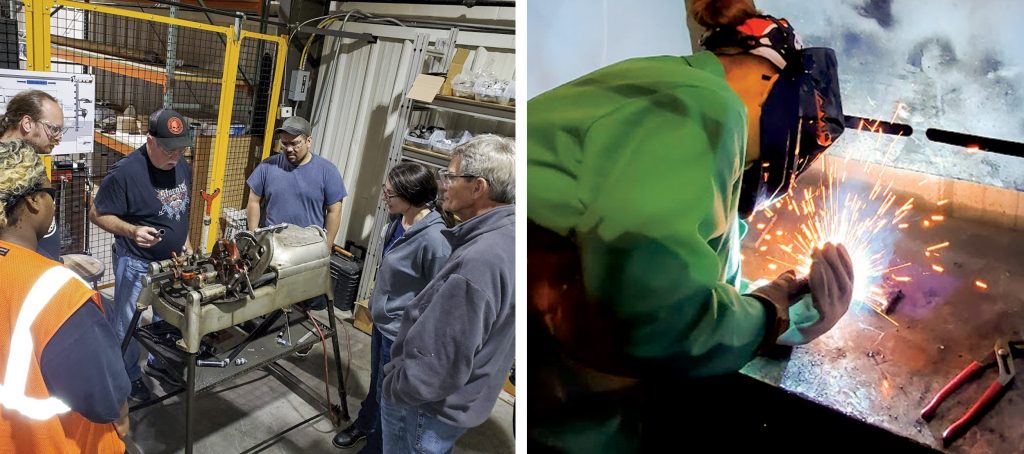 With three women currently in the welding program, White said bringing men and women into the trades is all about exposure and showing students what options they have out of high school and beyond. Then, giving them the experience to test those skills.
"One of the great aspects of this program has been the amount of time under the (welding) hood," said Nicole Champagne, a welding student. "Hands-on experience and repetition are crucial to learning and becoming consistent."
AMI Tech aims to meet each student where they are, even if they have never picked up a tool before. They work with students to remove the intimidation of the shop floor by providing training from basic tool training to learning how to debug and troubleshoot machinery and software.
It also boasts of small class-sizes of about five to six students per instructor to insure one-on-one skill building and practice. The instructors work with employers to make sure that students are trained with exactly what they need to get to work.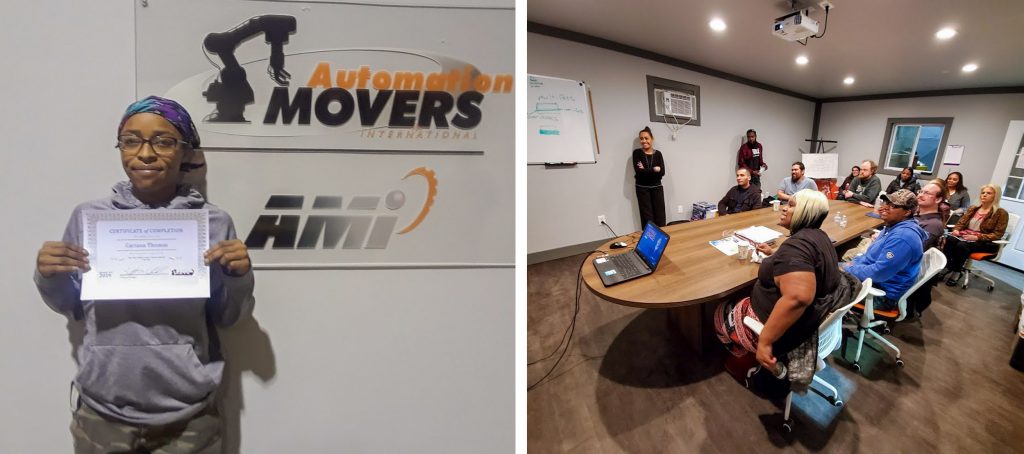 "We go straight to the employers and create training to fill what they need," White said. "They, in turn, give these students a chance at entry-level positions so they can get straight to work."
Since 2017, AMI Tech has trained over 100 students and have worked with companies including Richfield Industries, C&M International, Delta Tube & Fabrication Corp. and Great Lakes Robotics.
"We have 200 trainers who are masters in their field that we work with to create any training that an employer and student needs to be successful," said White. "Our program really is limitless."
AMI Tech was developed through a partnership with Mott Community College and is supported through collaborations with GST Michigan Works! and Pure Michigan Talent Connect.