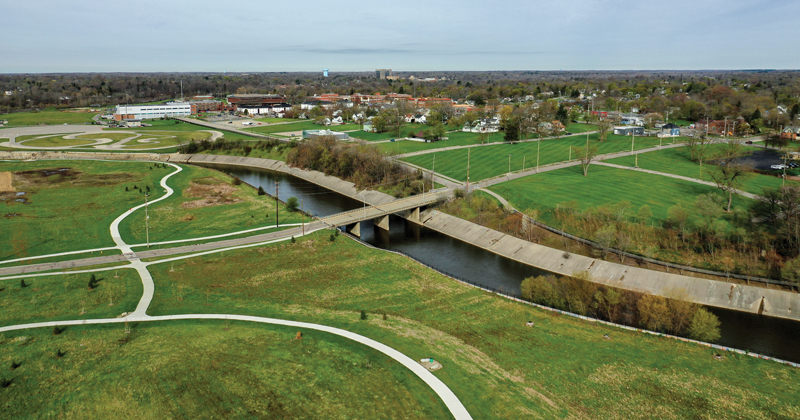 With more than $26 million in state funding now secured, planning for Genesee County's first state park has moved to the next level.
"The final plan hasn't been completely resolved in some of the finer details, but it's definitely advanced in the process," Ron Olson, chief of the Michigan Department of Natural Resources Parks and Recreation Division, said shortly after Gov. Gretchen Whitmer announced the funding for the Flint park during a late March news conference in the city.
The 60-acre Chevy Commons — the former site of General Motors' Chevy in the Hole manufacturing complex — will become the park's centerpiece.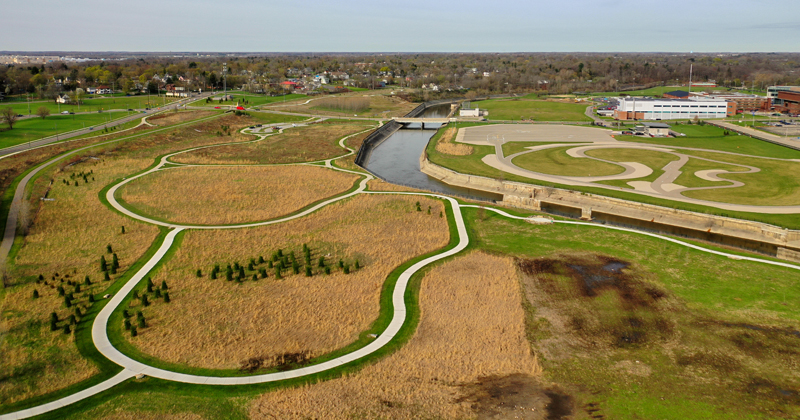 But also on the drawing board are improvements along the Flint River all the way northeast to Vietnam Veterans Park south of Hamilton Avenue — as well as changes to the river itself. Pending state permitting, plans call for removing what remains of the Hamilton Dam and creating a series of rapids that kayakers can navigate.
And while Chevy Commons has already largely been redeveloped into greenspace with paved paths winding through it, the state funding will bring further enhancements, including such possibilities as benches, a playscape and other gathering spots.
What's clear is that much of the work will occur in phases, Olson said.
"We think probably within a year you'll start seeing improvements, but to have a fully developed park will probably take longer than that," he said. "But it will gradually evolve into a more robust area to recreate. It will be a clean, safe park."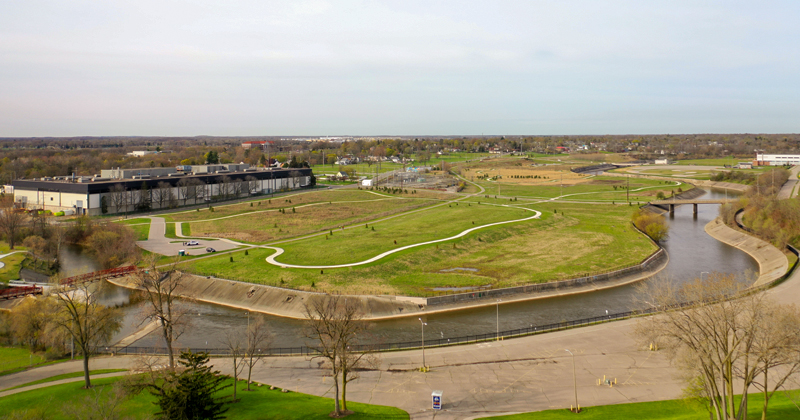 A major piece of the planning process involves determining which parcels will become part of the park, said Barry June, Genesee County Parks director.
"It's a big operation and it will take a while, but we're hard at it," June said.
The state is likely to buy Chevy Commons from the county and lease some city-owned parcels that will fall within the park's borders. Planners also are eyeing property near Michigan School for the Deaf south of Court Street, June said.
A bridge to Atwood Stadium is also under consideration.
The ultimate goal is to connect the center of the city through various green spaces along the riverfront, Olson said.
"The idea is to have the river become an activity point," he said.
Parks perks
William G. Milliken State Park in Detroit is serving as a template for the Flint development, Olson said.
"There are a lot of similarities," he said. "The scale and some things are different, but there are a lot of similarities, with their both being in urban settings and all."

The first urban state park in Michigan, Milliken State Park and Harbor provides a 31-acre green oasis in the midst of downtown Detroit. The first phase of the park — the harbor — opened to the public in 2004 and offers several covered picnic areas, shoreline fishing and a 52-slip harbor. A 63-foot light tower that is a scaled down replica of the Tawas Point lighthouse marks the harbor entrance. The second phase of the park opened in 2009 and includes a wetlands demonstration area that shows how wetlands act as nature's water filtration system.
The Flint park could provide similar learning — and career — opportunities for Flint youth, said Dr. Kimberly Leverette, executive director of Flint & Genesee Education & Talent, a division of the Flint & Genesee Group.
"Over the past decade, hundreds of Flint teens have been exposed to career paths in outdoor recreation and natural resources conservation and management through our partnership with the Michigan Department of Natural Resources' Summer Youth Employment Program," she said. "A new state park at Chevy Commons will bring more opportunities to pursue, such as jobs and a wide breadth of recreational activities to experience. This is a huge win for not only our employment program, but also our community and economy."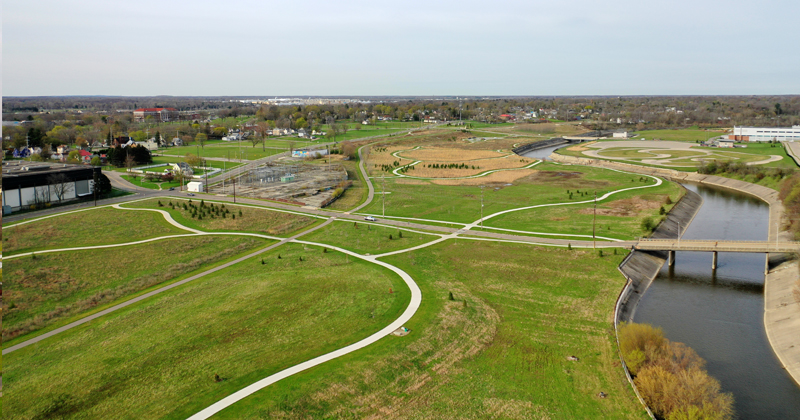 Olson said it's too soon to tell what staffing levels the park will require.
The Charles Stewart Mott Foundation will fund an endowment for park maintenance that the county parks department will perform, which could require hiring additional workers, June said.
The $26.2 million earmark for the Flint park is part of a $250 million investment in Michigan's other 103 state parks, Whitmer said.
"All of our state parks are important pillars of their communities," she said. "They support local small businesses, create jobs, and give people beautiful, welcoming places to make memories. The bipartisan Building Michigan Together Plan proves that we can come together to deliver on the issues that matter most to families, and I look forward to seeing the impact it will have on our state parks."
Parks and recreation facilities are a big part of Michigan's economy, generating value for surrounding communities, creating jobs and helping sustain small businesses. Michigan's outdoor recreation industry supports billions in state gross domestic product and sustains 126,000 jobs and over $4.7 billion in wages and salaries in the state, according to the governor's office.
On average, every $1 invested in land conservation leads to $4 in economic benefit, meaning the Building Michigan Together Plan's $250 million investment in state parks will yield $1 billion in economic benefits for families, small businesses and local communities.