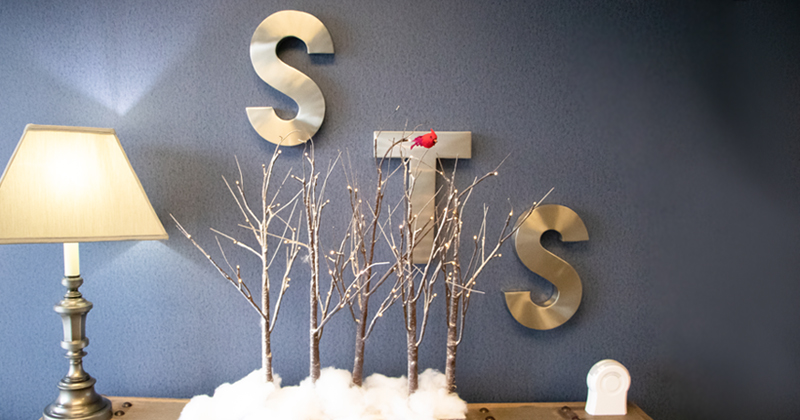 Even though Jeff Clark grew up watching his dad and stepmom operate what would become Steel Transportation Services (STS) from their Grand Blanc home, he never gave much thought to joining the family trucking business — even while he was attending the University of Michigan-Flint.
"It wasn't a very big company at that time," said Clark, now STS vice president, who earned a business degree at UM-Flint in 1995. "It was just a couple of trucks and a couple of trailers, and like any kid, I didn't know exactly what I wanted to do when I graduated."
But Clark's father, Richard, and stepmother, Bev — who originally ran the trucking operation as a sideline business while they were each working a full-time job — convinced him to join the company after finishing college.
"They said, 'See what you can do with this,'" Clark recalled.
At the same time, the federal government was finishing its deregulation of the trucking industry, which among other measures allowed motor carriers to carry goods to wherever they wanted to serve.
The new environment served Steel Transportation Services well, allowing it to steadily grow its customer base.
"By the time we were done with that, we were kind of rolling a little bit," Clark said. "It's been slowly growing ever since."
Today, the company, which since 2003 has had offices at 2115 Branch Road in Flint, employs 65 people and has a varied customer base that includes shippers of auto parts, steel tubing, machinery and landscape supplies primarily throughout the Midwest.
Both Richard and Bev Clark eventually made STS their full-time focus, with Richard serving as president until he died in 2021 and Bev still holding the controller's position.
Jeff Clark is quick to share credit for the company's success over the past 25 years.
"I'd like to say I did something right, but I definitely had a lot of support. I was surrounded by great businesspeople in my family," he said, adding that a former STS mechanic also taught him a lot about trucks themselves.
The company's maintenance staff remains integral to the company's operations, particularly at a time when supply chain disruptions are making it difficult to secure new equipment, Clark said.
"Fortunately we have an excellent maintenance staff who can keep our older trucks going longer, and that might give us a competitive advantage," he said.
While Clark expects the supply chain to correct itself within the next couple of years, a shortage of truck drivers is likely more of a long-term issue, he said.
"That's really our biggest challenge to growth right now, and it's only going to get worse," he said, adding that recruitment is more important now than ever. "That means we just have to be the most competitive and friendly place a driver can work."
Flexibility and adaptability also are key to success, Clark said, noting that — supply chain woes or not — there are always plenty of products that require shipping.
"There are tons of challenges in the trucking industry, but one advantage we have is within a week I can be hauling something different," he said. "If all of a sudden there's a big demand for Christmas trees but no demand for automotive, then we can go haul Christmas trees. A plant can't switch their tooling around like that, but we do have some flexibility in what we haul."
But whatever Steel Transportation Services is hauling, one thing will remain constant — Flint will be its base.
"It's been a great home," Clark said. "There's great highway access and a lot of suppliers in the area. There is definitely unlimited opportunity as long as you can come up with the drivers and the staff to support it."