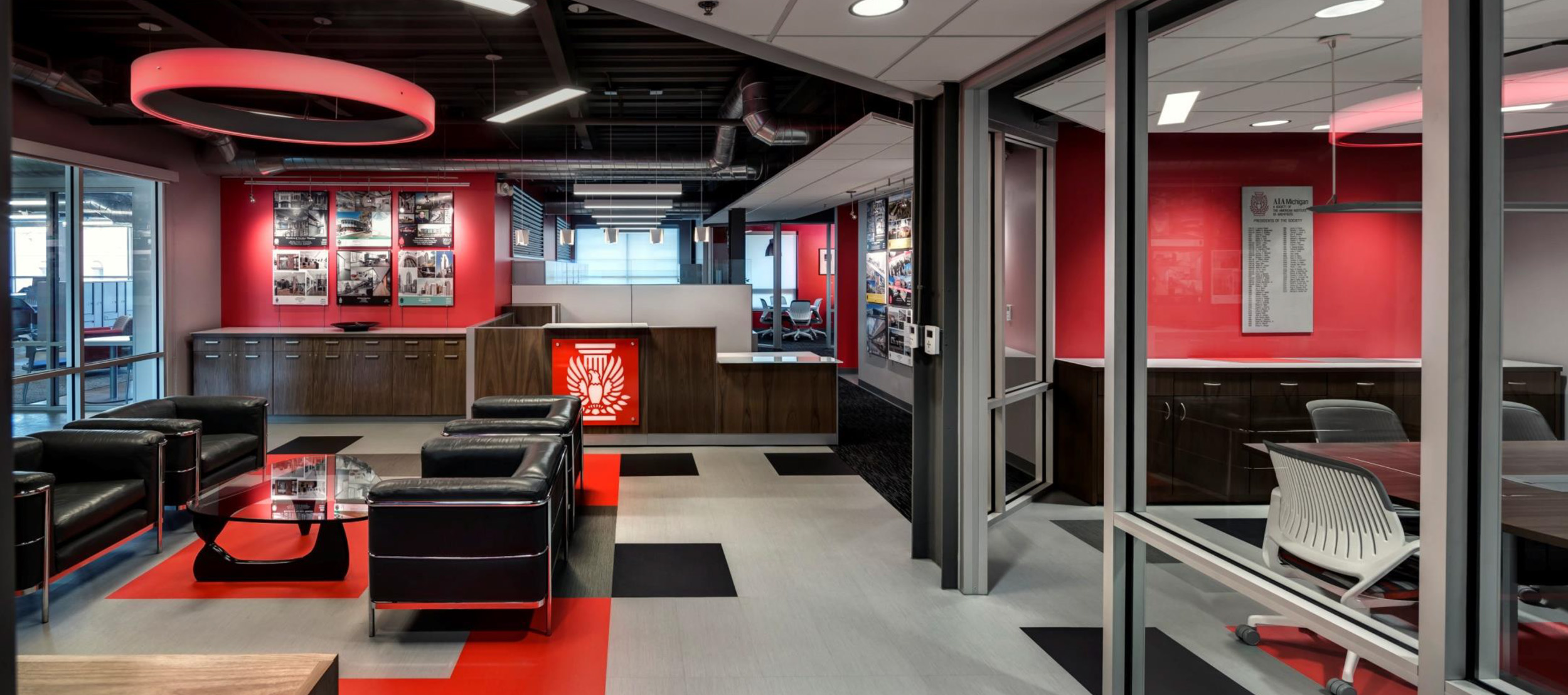 The American Institute of Architects Flint Chapter Awards
The American Institute of Architects Flint Chapter on Sept. 14 hosted 'A Celebration of Local Design & Architecture' at the Capitol Theatre in downtown Flint. The event showcased this year's AIA Flint Design Awards. The competition was judged by the AIA Saginaw Valley Chapter and the following honors were presented
:
Adaptive Reuse – Red Fox Outfitters
Gazall, Lewis & Associates, Architects, Inc.
The design challenge was to preserve the character of a 150-year-old building, which has so much history and symbolism within the community, while providing the new owner, Red Fox Outfitters, its own identity. This was achieved through utilizing and celebrating as much of the original structure as possible. Demolition of additions, not original to the Fenton Bean Co., provided clarity during the design process. The building provides a welcoming retail face as you enter downtown Fenton from both the north and the east.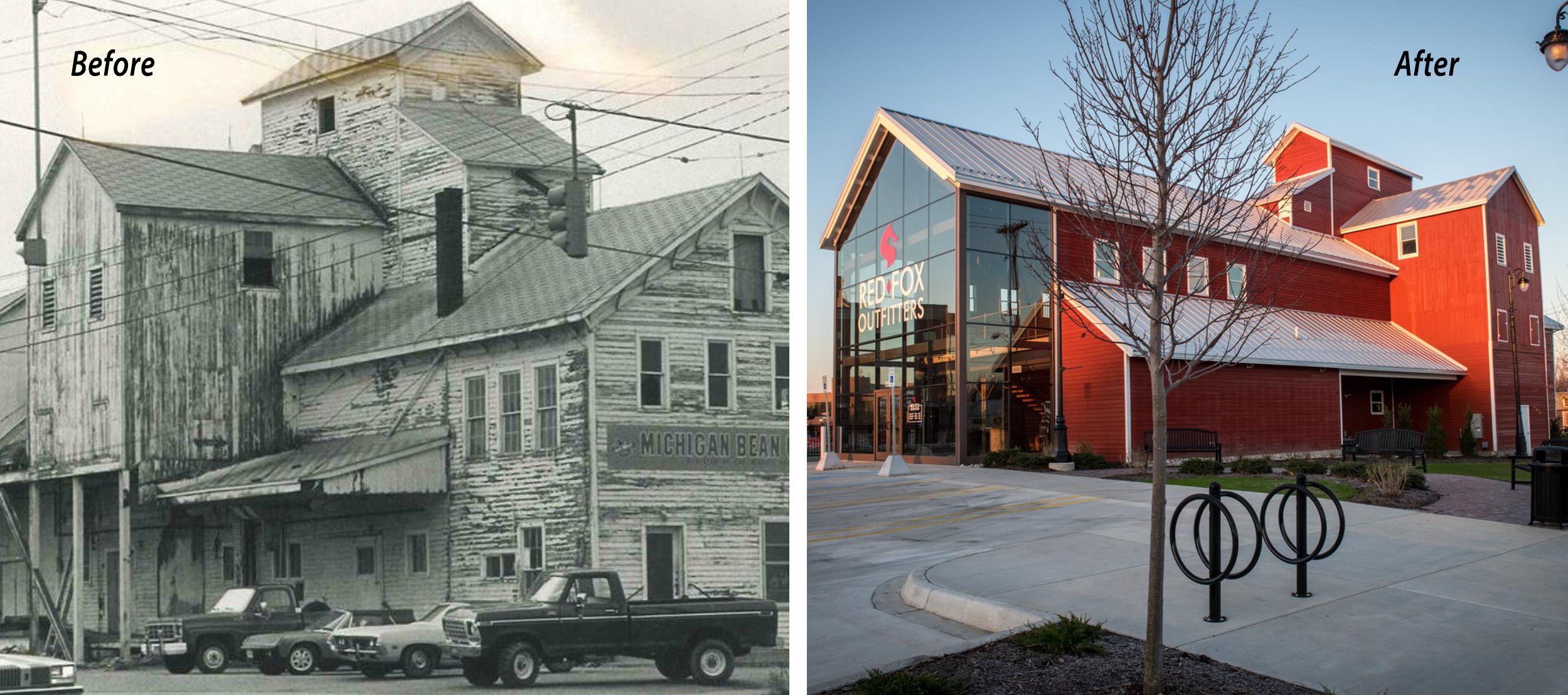 Unbuilt Innovative Project – Glenwood Cemetery Chapel
FUNchitecture, LLC
Numerous legacy families in Flint are buried at Glenwood Cemetery, including Jacob Smith, the first white settler of Flint; Charles Stewart Mott, General Motors pioneer; A.G. Bishop, developer of Bishop International Airport. The challenge was to create a chapel that was the antithesis of current/past funerary architecture – cold and forlorn – into something of timelessness beauty with comfort and warmth. The oval-shaped building provides soft features, a "hugging embrace," and natural and timeless building materials create a warm, inviting atmosphere to comfort the grieving.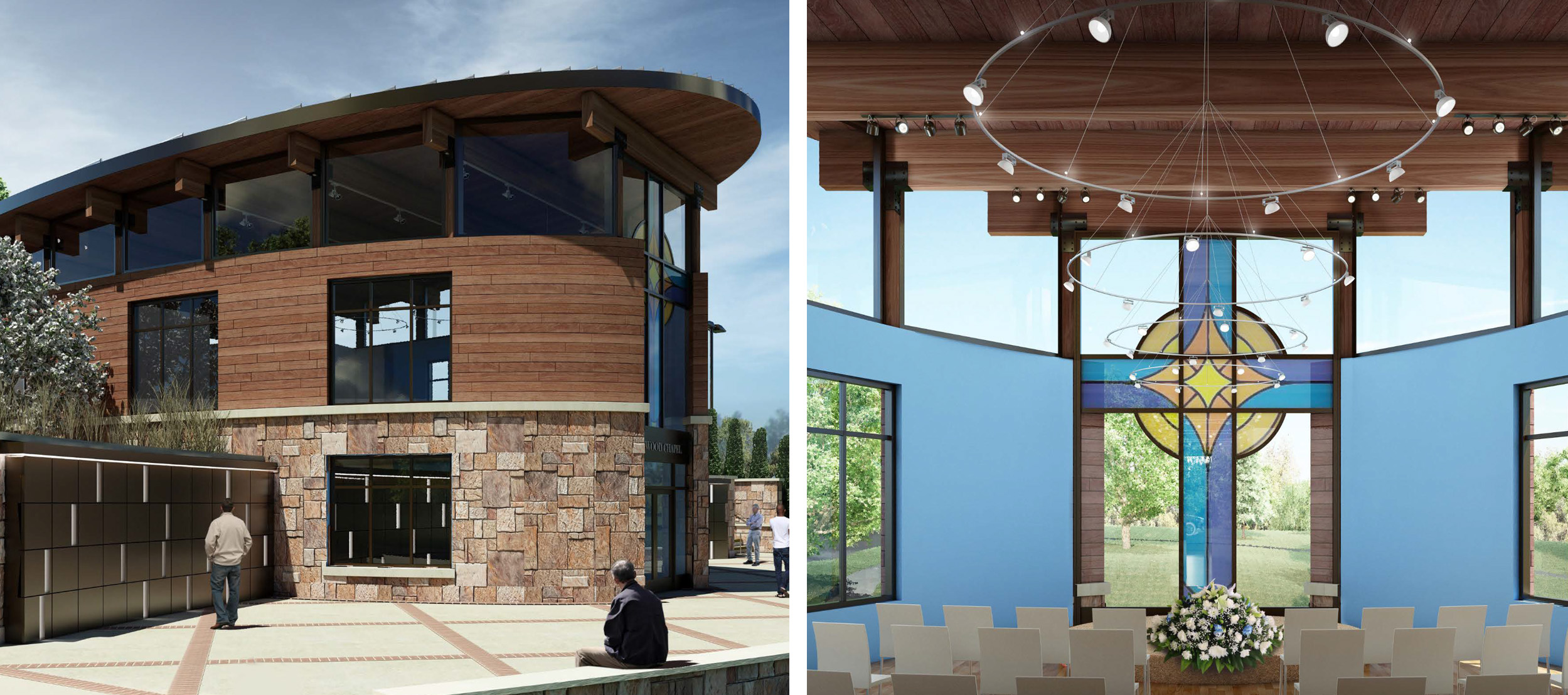 Interior Architecture – AIA Michigan Office
Sedgewick + Ferweda Architects, Inc.
The purpose and scope of the design for the new AIA Michigan headquarters in Detroit was driven by four main objectives: Emphasize the identity of the client's brand; create a flexible office environment for various membership functions; strategically introduce natural day-lighting through exterior and interior sources; Develop the interior spaces using variation in materiality, texture and color. Visibility, public access and flexibility drove the design, with careful attention to the balance of public and private spaces.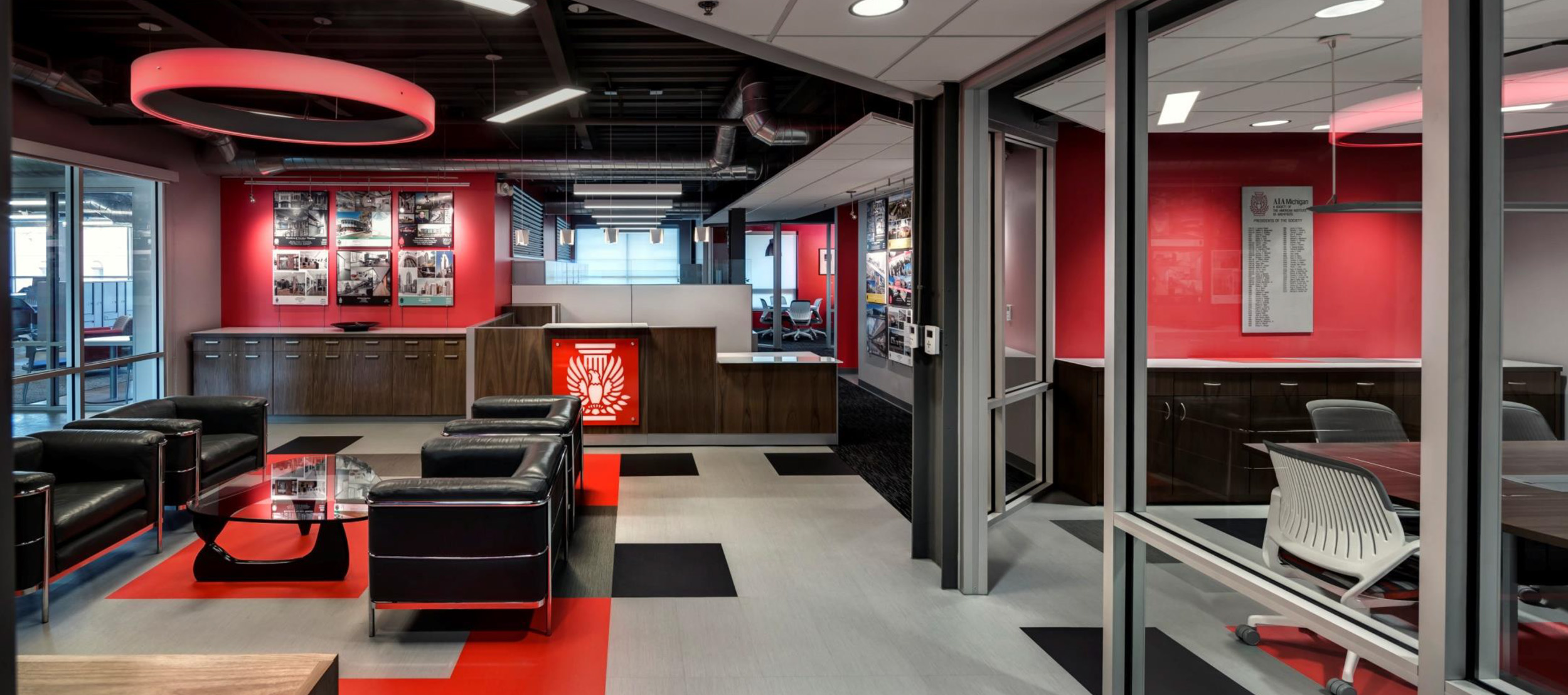 New Building – Spud Software
THA Architects Engineers
The tech company wanted to create a simple, yet modern, new headquarters to accommodate the firm's future needs and better reflect its innovative approach to developing software solutions. With clean lines, bold colors, and modern industrial finishes throughout, this state-of-the-art office building blends the company's methodology of "Define, Design, Develop, Deliver" with its "Work Hard, Play Hard" motto to create a sleek, "hip meets chic" two-story home away from home.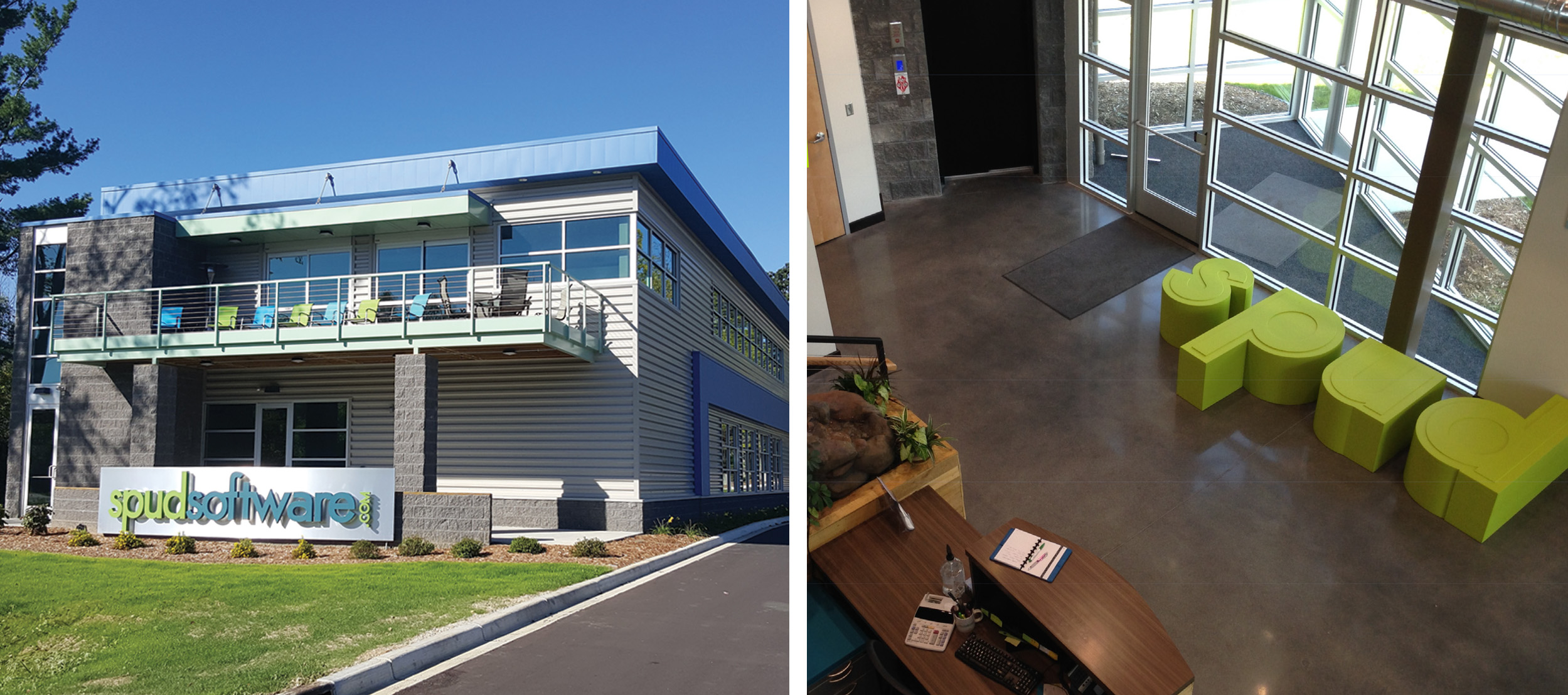 Sustainable Design – Satori Passive House
Sedgewick + Ferweda Architects, Inc.
The name is derived from the Hindu language meaning peace. Satori Passive House is not just a cabin up north, it is a complete retreat from the stresses of everyday life. Not only is it a physical respite, but also an environmentally conscious dwelling, free from the burdens of energy consumption. The wanted a modest cabin on Lake Michigan situated on a direct south facing beach lot with the discreet criterion of being of Net Zero construction.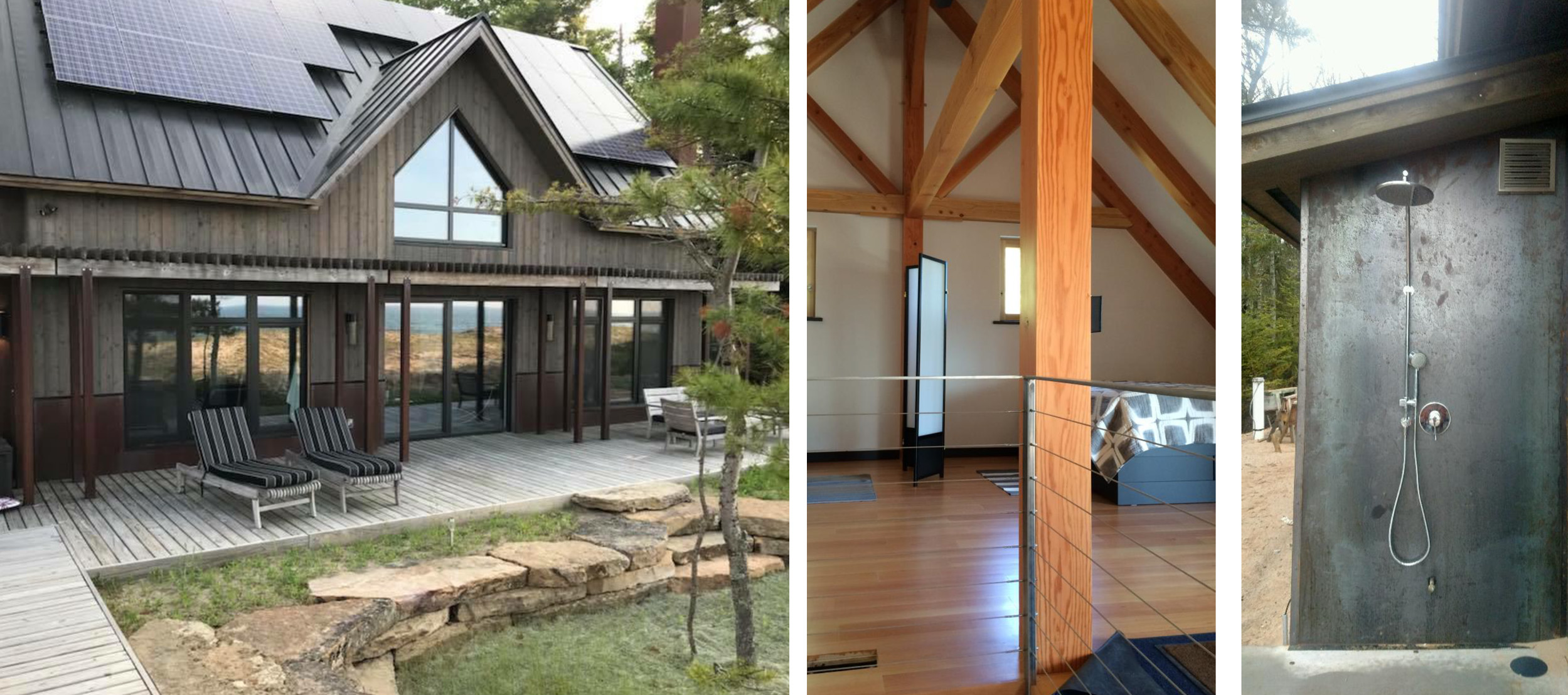 Small Commercial Design – Architect's Office
H2A Architects
Outgrowing the current office space is a wonderful thing for a company to experience. When it happened to this architectural firm, it was an opportunity to design a ground-up addition that not only reflected the firm's design approach, but how to showcase the firm's skill to its clients. The design priorities were sustainability, an economical use of space, and a flexible conference room for meeting with clients and brainstorming on the "creativity wall."